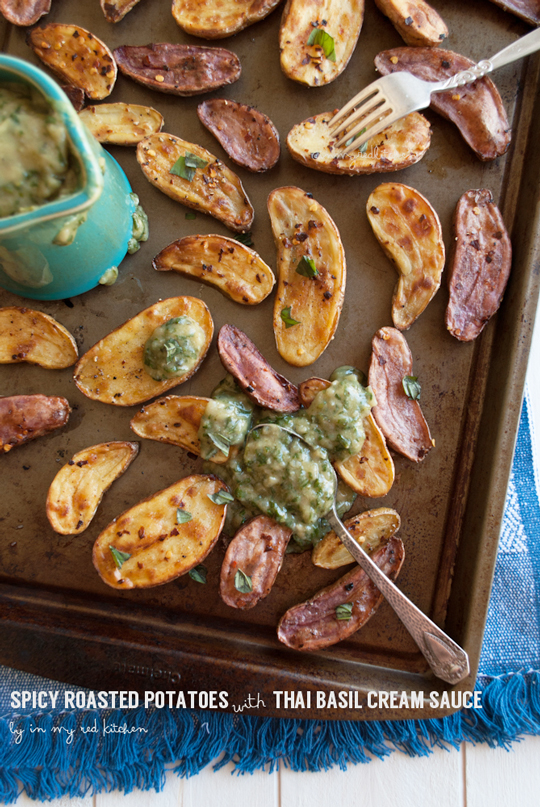 – Click here for this recipe in Dutch -> Pittige geroosterde aardappelen met Thaise basilicum roomsaus –
You haven't heard from me in a while. That's because last weekend we took an impromptu road trip to San Francisco, where we stayed for 12 hours to pick up a friend and to drive back on the Pacific Coast Highway back to LA. You're right, this was my 4th (!!) time in 10 (!!) months that I was driving on the PCH. But this time we went on a whale watching tour and we spent the night in Carmel. The PCH is beautiful but I can tell you that the next road trip that I will plan goes to a National Park or the Grand Canyon or something, I want to see more of the US than only California 😉
Coming home I got a little sick, from tiredness I think. So I was taking some rest and only thought of all the food I wanted to make, instead of actually making it!
But now I can't wait any longer, because these spicy roasted potatoes with Thai basil cream sauce is so yummy! I was doing quite good at paleo eating and my trial version of the Whole 30, but the lemon poppy seed cookies with chocolate that I made last week threw all spanner in the works. And besides the Meyer lemons, there were also fingerling potatoes in that amazing box Frieda's sent me. I received them once before and I made a curried potato salad with them, but this time I wanted to roast them.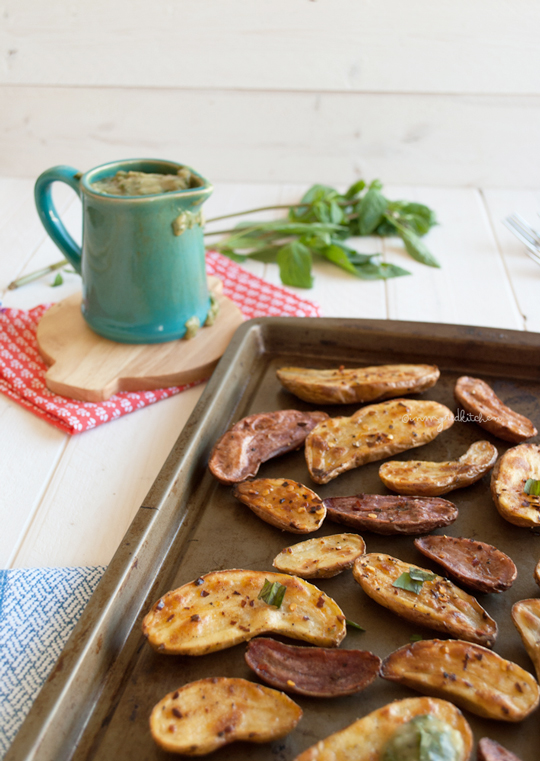 And very randomly, one of my friends gave me a large bunch of Thai basil, it was half of what she had bought at the Farmers Market. Now of course I could use the Thai basil to make that delicious Chinese dish Sanbeiji – Three Cup Chicken. But then I would still have a lot of basil left. So I'd better come up with a new recipe to use this Thai basil. The cogs in my head started working and in no time I knew it! Why not make the potatoes super spicy and a serve it with a soft and mild Thai basil sauce?
With my mouth full of roasted potatoes and the Thai basil cream sauce still on my chin I told P that this dish -with the exception of the potatoes- was completely paleo. But a day later, I happily read that white potatoes are now Whole 30 approved! Good news for Simone from Simone's Kitchen She's doing so well on her Whole 30 and now she can make my recipe 😉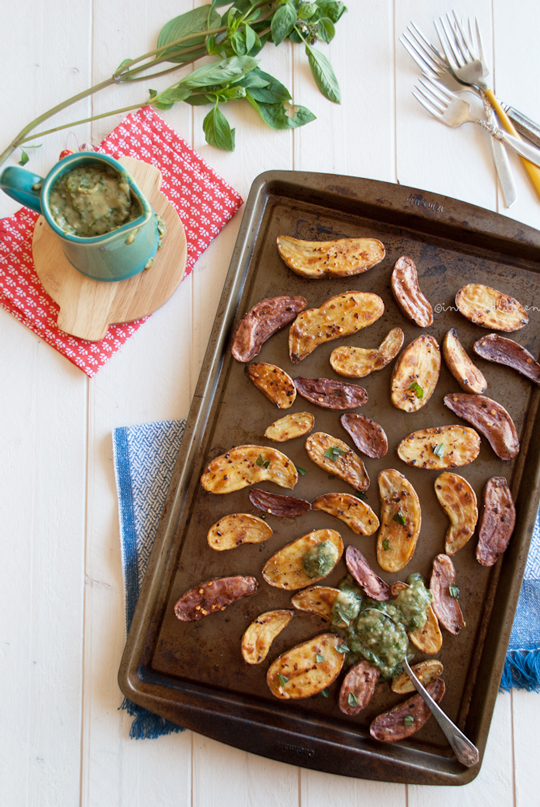 And also if you're not into paleo or Whole30, this recipe is something you should make! Especially if you like roasted potatoes, and be honest… who doesn't like that?
Spicy roasted potatoes with Thai basil cream sauce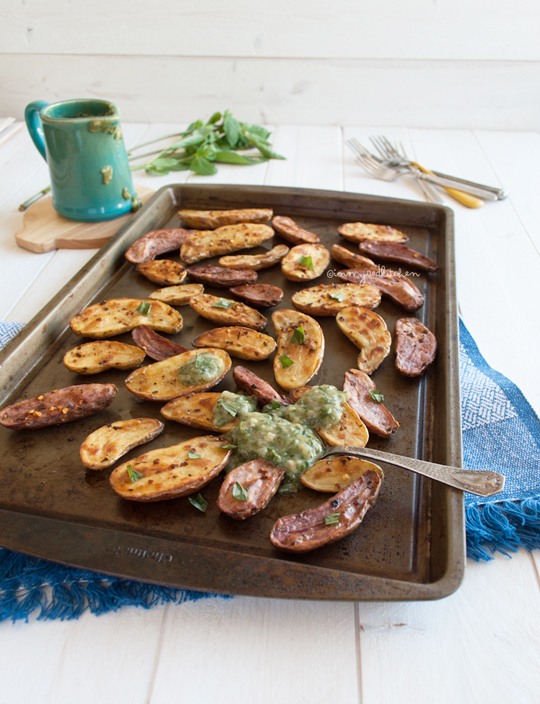 The spicy potatoes are in perfect balance with the soft cream sauce, I love it!
Ingredients
for the spicy roasted potatoes:

1 lbs (fingerling) potatoes
2 Tbsp melted ghee or butter
1 tsp chili powder
½ tsp chili flakes
salt & pepper to taste

for the Thai basil cream sauce:

1 Tbsp coconut or olive oil
1 shallot, finely chopped
2 cloves garlic, finely chopped
1 14 oz can coconut milk
2 packed cups thai basil leaves*, finely chopped
1 Tbsp coconut flour or corn starch**
pinch of salt
Instructions
Preheat the oven to 390 degrees F.
Cut the potatoes in half and place them on a baking tray:
Mix the melted ghee or butter with the chili powder, chili flakes and salt & pepper. Pour over the potatoes and toss them with your hands or a spoon. Make sure all the potatoes are skin down and cut-side up on the baking tray.
Roast them in the oven for 25 – 30 minutes, until golden brown.
In the meantime, make the sauce.
Heat the oil in a saucepan over medium heat.
Add the shallot and garlic and stir until soft, don't let them burn!
Add the coconut milk and stir for a few minutes, until the milk is warm.
Add the Thai basil and stir to combine the flavors.
If needed, add coconut flour or corn starch to thicken the sauce.
Add salt to taste and serve with the roasted potatoes.
Notes
* Thai basil has a more anise or licorice flavor than Italian basil, and the taste is more prominent. If you can't find Thai basil you can also use Italian basil.
** corn starch isn't paleo! But if you don't have coconut flour on hand and you're not into paleo, you can use corn starch: mix 1 Tbsp corn starch with 3 Tbsp hot coconut milk and stir until a lump-free sauce. Add this to the pan and stir until combined
http://www.inmyredkitchen.com/spicy-roasted-potatoes-thai-basil-cream-sauce/
Copyright Ellen Bannink- in my Red Kitchen
Enjoy!
Please note: The lovely people at Frieda's provided me with the fingerling potatoes and shallots. Thank you Frieda's!
You can find Frieda's products at Ralphs and Sprouts (LA Area). If you can't find what you're looking for, you can always ask your produce manager at the local store to order from Frieda's!