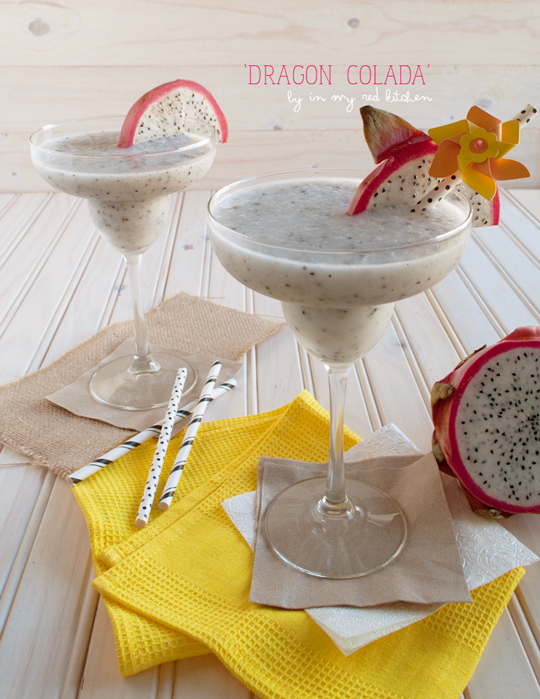 My first introduction to dragon fruit was at college and it came in the form of a processed drink, the ones that come in those little bags. Those little bags of juice that are so hard to put the straw in.
I can't remember when I had my first real dragon fruit but I do remember eating it in China. I love the flavor, it isn't too sweet and it has a smooth texture.
When Frieda's sent me a big box of fruit for their 'Fear No Fruit' campaign it made me think about myself. I grew up with 'normal' fruits like apples, pears, bananas and strawberries. But nonetheles I'm willing to try 'weird' or 'tropical' fruits now. Because the only way to know that I don't like it, is to try it first!
And I'm also way to curious to not try new fruits 😉
What about you? Do you buy fruits that you haven't had before or even never heard of before?
Moving to the US also gave me the chance to discover new fruits and vegetables. Even after a year I find myself in the supermarket with my iPhone in my hand googling fruits and veggies I haven't seen before. I bought pommelo, cherimoya, sunchokes and watermelon radishes. At the Farmers Market I tried kumquats and Asian pears.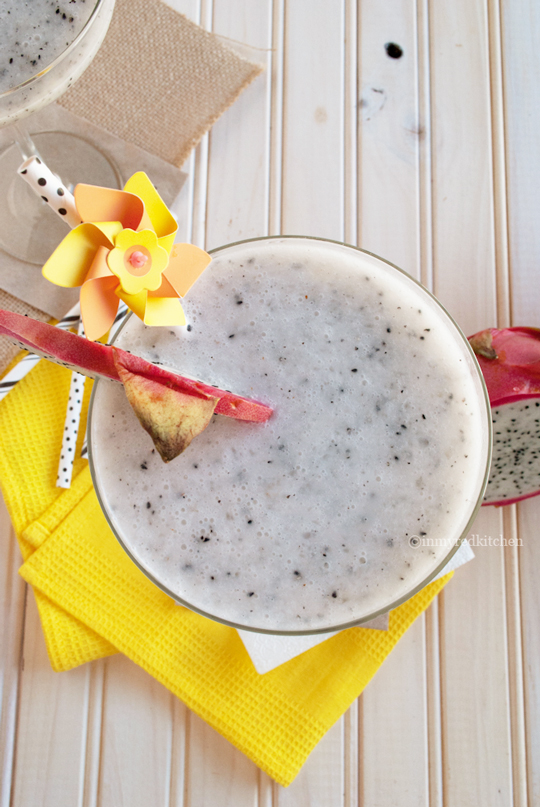 I never realized it but I'm kind of a daredevil when it comes to food. So you can see I'm a big fan of Frieda's campaign "Eat One Fruit A Day That Scares You."
I'm challenging you to put specialty fruits in your shopping cart, try it at Farmers Markets and order it at a restaurant. But most of all I would like to hear your story: do you fear fruit or not? You can leave a comment below or you can use the hashtag #FearNoFruit on social media. As you can see on Instagram, I'm already using it!
With the dragon fruits that I found in the box I made these soft and smooth Dragon colada's. It's like a pina colada but with dragon fruit instead of pineapple. Aren't those white and black dragon fruit cocktails cute? They remind me of dalmatiens! 😉
Summer is coming and I have a cocktail for you:
Dragon colada – cocktail with dragonfruit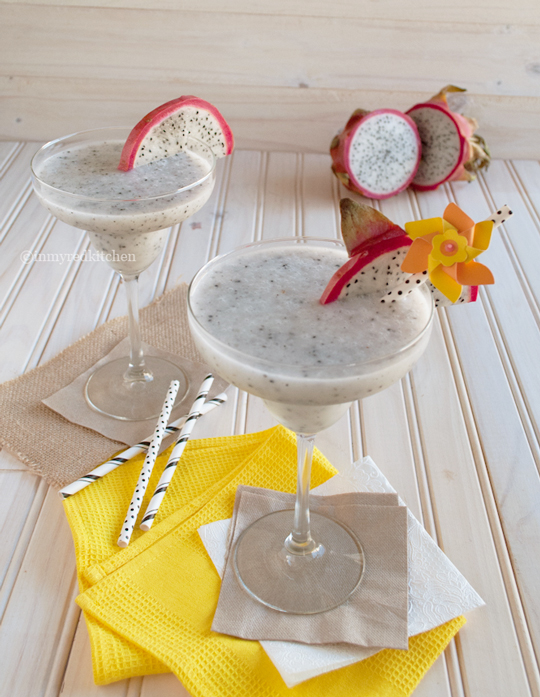 Smooth and tropical cocktails, summer is coming and you need these dragon colada's!
Ingredients
3 oz pureed dragon fruit
4 – 6 ice cubes, crushed
1 oz white rum
1 oz coconut milk
Instructions
Slice the dragon fruit in half and spoon out the inside. Puree in a food processor.
Place the ice cubes in a blender and crush.
Add the dragon fruit puree, rum and coconut milk and pulse until combined.
Garnish with a slice of dragon fruit.
http://www.inmyredkitchen.com/dragon-colada-dragon-fruit-cocktail/
Copyright Ellen Bannink- in my Red Kitchen
Please note: The lovely people at Frieda's provided me with the dragon fruits. Thank you Frieda's!
You can find Frieda's products at Ralphs and Sprouts (LA Area). If you can't find what you're looking for, you can always ask your produce manager at the local store to order from Frieda's!