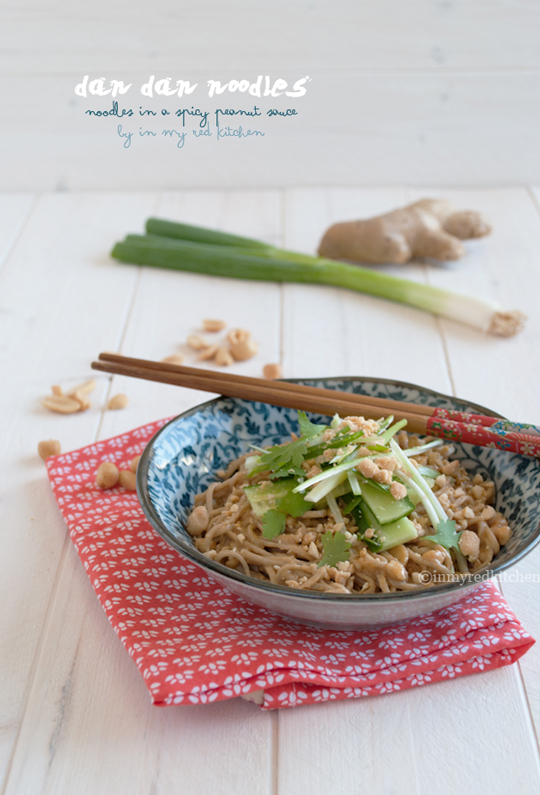 – Click here for this recipe in Dutch -> Dan dan noodles in een pittige pindasaus –
You will probably not believe me but I had my first driving lesson when I was 28 years old; and 6 months and 26 lessons later I got my driver's license. In the Netherlands this is quite fast, but when I tell this to my American friends they are all surprised. In America (or at least in LA), you need 6 hours of driving lessons to do the driving test. In the Netherlands I "only" had to spent €1.500 on my driving lessons, written test and behind the wheel test. In LA the costs are much lower, we only had to pay $33 for our Californian license. That includes 3 times a written test (if you fail, you can do it 2x on the same day to succeed) and 1 behind the wheel test. If you fail the second behind the wheel test costs… hold on… $6!
If you are over 18 then you basically don't need driving lessons to complete the tests and from 16 you can drive with a temporary license (then you're under the supervision of your parents). If that's the case, you need 30 hours of theory lessons and you have to spent 6 hours of driving lessons behind the wheel. Only 6 hours (!) That's actually a little bit bizarre because that's not enough.
There are so many benefits to having lots of driving lessons an spending much time behind the wheel. It's also a kind of process you must go through, there is so much happening around you and you should look everywhere. I still hear the voice of my driving instructor in my ear. These are small-but-crucial things: "Your brake lights are a way to communicate with your fellow drivers, think about when to brake and don't brake at every turn as it can scare the drivers behind you. Most of the times taking four foot off the gas is already enough". Driving is mainly about communication with the other drivers around you, and that's something you have to learn. You must learn to assess situations and anticipate, and that is not something that every driver controls here in LA!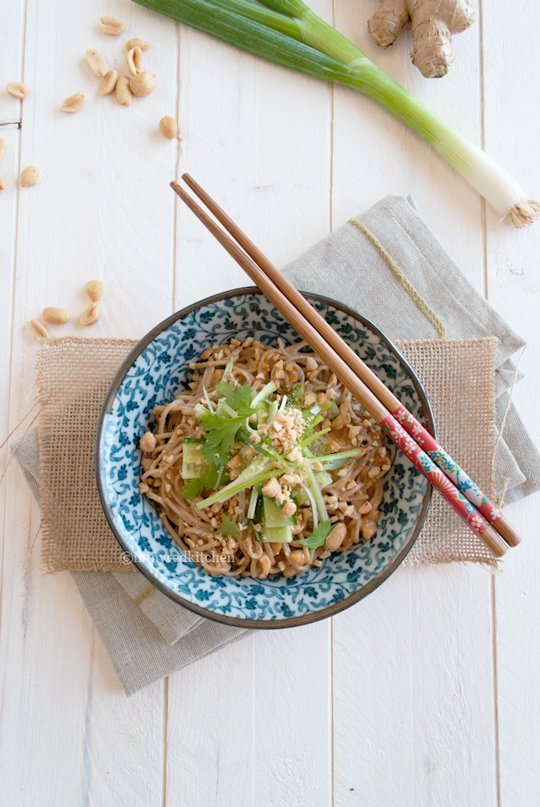 Some drivers decide at the very last minute that they have to go from the right to the left lane on the highway to exit. They then drive at high speed, crossing 5 lanes through slow moving traffic., to exit the highway over the shoulder, at the very last moment. Traffic in LA can be very bad and totally backed up so then you have to drive 20 mph instead of the usual 65. But as soon as there is some space again some drivers immediately accelerate but have to brake a few seconds later because traffic is still backed up. Space or not, I keep on driving 20 mph because I see that traffic is still backed up. You would think a driving style like that is way too restless for yourself. It's all about anticipation and looking what's happening in the distance.
And it's about giving each other space and merging. Or 'zipping' as they call it in the Netherlands. Most Angelenos just don't know how to do that. Last week for example, I drove on the right line to exit the hightway, and because I know there is a big change there will be some drivers merging in at high speed I kept some space between the car in front of me and my car. And yes, there were three drivers who decided to exit. The driver behind me frustrated and kept on using the horn. Didn't he understand that I was doing that to facilitate the flow? Because if I didn't let the car merge in then he had to stop on the lane left to it and it would back up traffic again. And it's not that our lane wasn't moving, no we were still driving to exit the highway.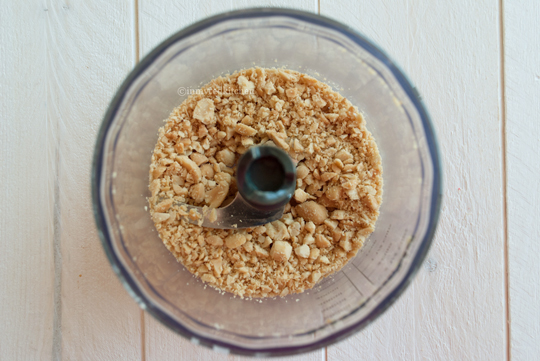 Before we moved to LA, I was scared to drive on the highway and I told P that I absolutely wasn't going to drive on the highway. Now I laugh about it, about those drivers who drive like maniacs in cars that wouldn't pass the annual vehicle inspection in the Netherlands. This vehicle inspection doesn't exist in the US and that's why you see (and hear!!) the most broken and brackish cars driving around. Often fixed with duck tape or strapped together with rope. Seriously! But I find it really funny now.
And the craziest part is: during our vacation in the Netherlands last month, I was really looking forward to drive on the LA highways again. I even longed for it! In the Netherlands there is a rule that slower traffic continues to drive right, and faster traffic drives left. You can't pass a car on the right, only on the left. But you also can't keep driving on the left so you have to go to the right lane after you've passed the car. And use the right lane again to pass another car, and so on…
In LA, I just choose a lane and keep on driving on that lane. How relaxing is that! I only change lanes if I want to pass a slow car in front of me or if I have to exit the highway. I keep an eye on my navigation and I know what to expect.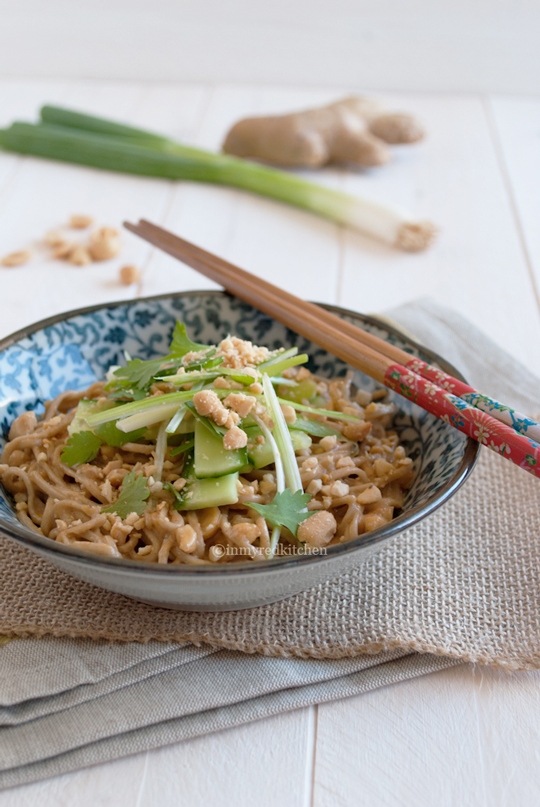 I don't mind driving (I actually love it!) so with all love I drive 30+ minutes for lunch. To the the San Gabriel Valley for example, for a Chinese Food Tour at five different restaurants. Or to Silver Lake to meet up with Maryanne from The Little Epicurean for lunch.
And at this food tour as well at Pine & Crane in Silver Lake, I ate a delicious noodle dish, dan dan noodles. It's noodles in a spicy peanut sauce.
Hmmmm, you had me at peanut sauce! I just hád to recreate this at home. It turned out super simple to make and also perfect to serve on hot summer days because it's lukewarm.
So what are you waiting for?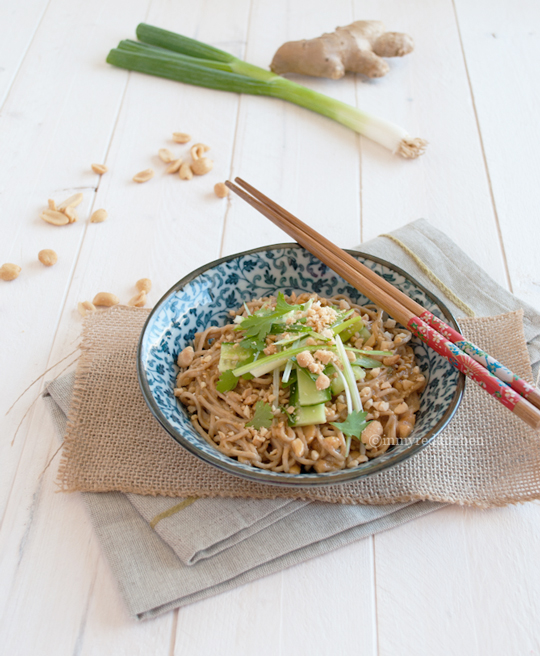 Perfect for hot summer days, you preprare these noodles in a spicy peanut sauce in just a few minutes!
Ingredients
1/3 cup creamy peanut butter
4 cloves garlic, minced
1 inch fresh ginger, grated
2 Tbsp low-sodium soy sauce
2 Tbsp chili oil
1 Tbsp dark brown sugar
1 Tbsp sesame oil
1 Tbsp rice vinegar
¼ cup chicken broth
1 cup roasted peanuts, chopped (divided)
8 ounces udon, soba or ramen noodles
3 scallions, thinly sliced
2 persian cucumbers (or ½ regular cucumber), thinly sliced
Instructions
Put the peanut butter, garlic, ginger, soy sauce, chili oil, brown sugar, sesame oil and rice vinegar in a blender.
Blend until the mixture is well combined and becomes a paste:
With the blender running in low speed, slowly add the chicken broth and process until the sauce is creamy and well combined:
Transfer to a large bowl and add half of the chopped peanuts. Stir until combined, cover, and set aside while you prepare the rest.
Cook the noodles until done, see instructions on package.
Drain thoroughly in a colander and add the noodles to the bowl with the sauce. Toss to combine and serve topped with the remaining peanuts, scallions and cucumber.
http://www.inmyredkitchen.com/dan-dan-noodles/
Copyright Ellen Bannink- in my Red Kitchen
Enjoy!