Ugh, I hate it that summer is officially over 🙁
One of the reasons is that I have to miss all this delicious summer fruit like strawberries (they're my favorite!), nectarines and raspberries.
The weather in LA is still great, it still feels like summer to me. But the nights are cooler and the wind gets colder sometimes. Also the light is getting more blue, another sign of the change of the season. But that's photographer-Ellen speaking.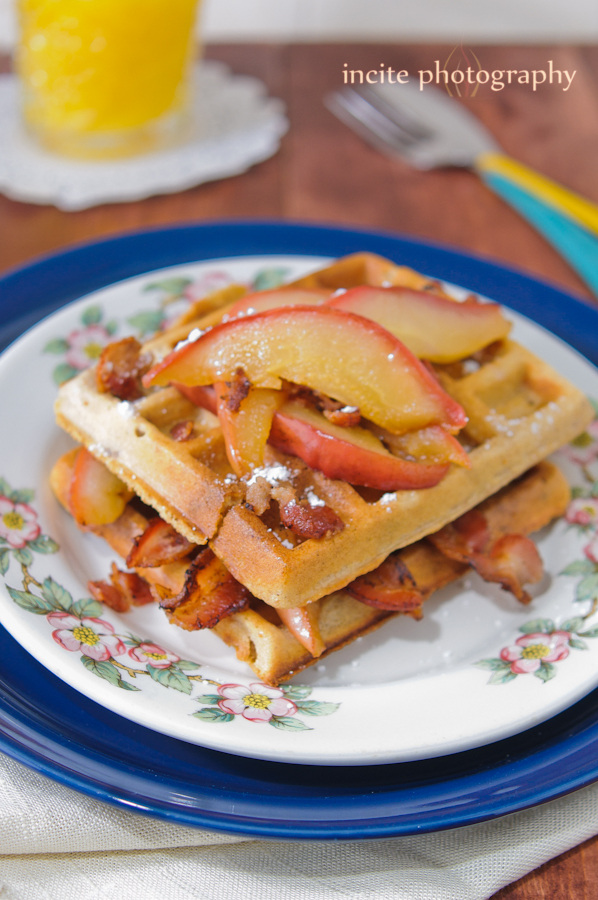 I wanted to do a recipe for fall. Different ingrediënts and hello fall fruit!!
Don't you just love pears? I do! Only not as much as I love strawberries 😉
For this recipe I teamed up with Ysa Adams of Incite Photography. She was looking for a foodblogger to develop recipes, prepare food and to do the styling so she could make photos to use or her portfolio.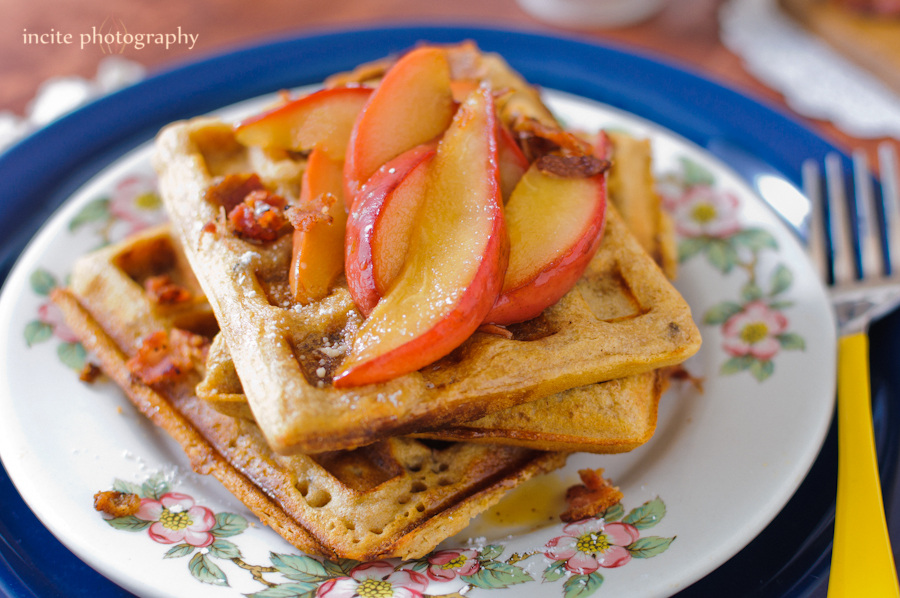 Two weeks ago we had a 'brunch' themed photoshoot, so be prepared for more brunch recipes to follow!
Using whole weat flour for these waffles works very well. Whole wheat always gives the food a healthy taste I think 😉 The crumbled bacon inside the whole weat bacon waffles are a nice surprise especially in combination with the baked waffles.
I can say: I'm ready for fall! How about you?
Whole wheat bacon waffles with baked pears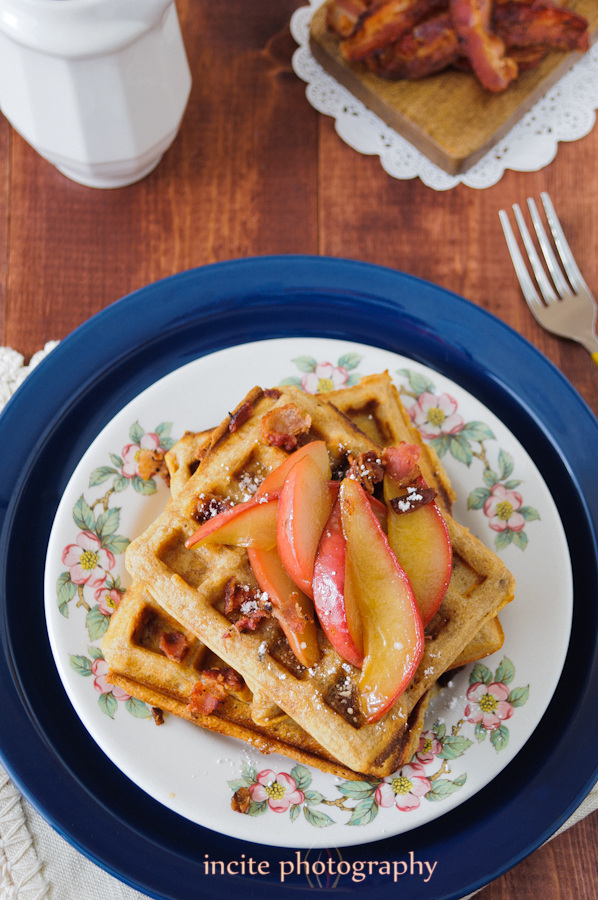 Healthy whole wheat bacon waffles with baked pears, I'm ready for fall. How about you?
Ingredients
3 cups whole wheat flour
4 tsp baking powder
1 tsp salt
4 Tbsp sugar
2 large eggs
3 cups lukewarm milk
2/3 cup coconut oil
½ cup crumbled bacon
2 pears
1 Tbsp butter
2 Tbsp maple syrup
Instructions
Preheat the waffle iron while you're make the batter.
Whisk together the flour, baking powder, salt and sugar.
In a separate bowl whisk together the egg, milk and butter.
Add the wet ingredients to the dry ingredients and stir until just combined.
Gently fold the bacon into the batter; it's OK for the batter to be a bit lumpy.
Cook the waffles as directed to the instructions of the waffle iron.
Transfer the waffles to a plate and cover them with aluminium foil to keep warm.
Wash the pears and cut them in 8 wedges each, remove the core and the stem.
Heat 1 tablespoon of butter (or more if you like) over medium-high heat in a skillet and add the pears.
Stir gently and cook until lightly brown, approx. 2 minutes.
Add 1 Tbsp maple syrup and stir for another minute.
Divide the waffles over the plates and lay the pears on top.
Serve them with a drizzle of maple syrup.
Notes
You can store the waffles in the freezer and heat them up again using your toaster.
http://www.inmyredkitchen.com/whole-wheat-bacon-waffles-baked-pears/
Copyright Ellen Bannink- in my Red Kitchen
Enjoy!
recipe adapted from King Arthur Flour.