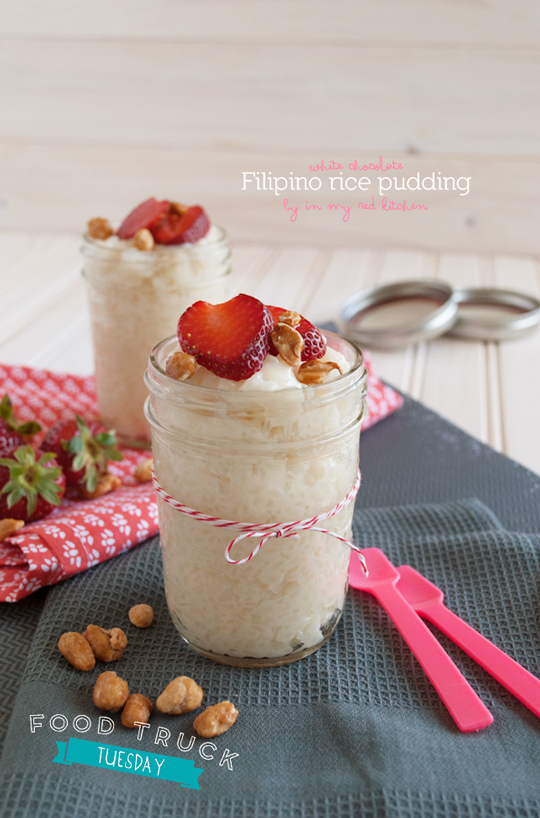 – Click here for this recipe in Dutch -> Filipijnse rijstpudding met witte chocola –
For the past weeks, since April 8, every Tuesday I've been to the Food Truck Lot in Santa Monica, that's quite often right? Okay, except for the two weeks I was in Amsterdam. But still that's 6 Tuesday evenings in a row, haha! Last week, I didn't meant going to the Food Trucks because there was enough food in the fridge, some remains of a cooking session that I did for my blog and barbecue leftovers from Memoral Day, the day before.
But my friends thought it was a good idea to meet at the Food Trucks so we could eat there all together. And heck, why not? At least the weather was perfect!
I love it to spread blankets and tarps on the grass and to order food from three different food trucks. Because yes, that's what P and I did! I only skipped the Ben & Jerry's ice cream afterwards because I already stuffed my face in truffle fries, everyday is not a Sunday 😉
And yet this week I give this 'Food Truck Friday' a festive touch with this delicious champorado, a Filipino rice pudding with white chocolate instead of dark chocolate. So yummy! Normally I never buy desserts at the food trucks, simply because I still want to lose weight and the fries are often my sin.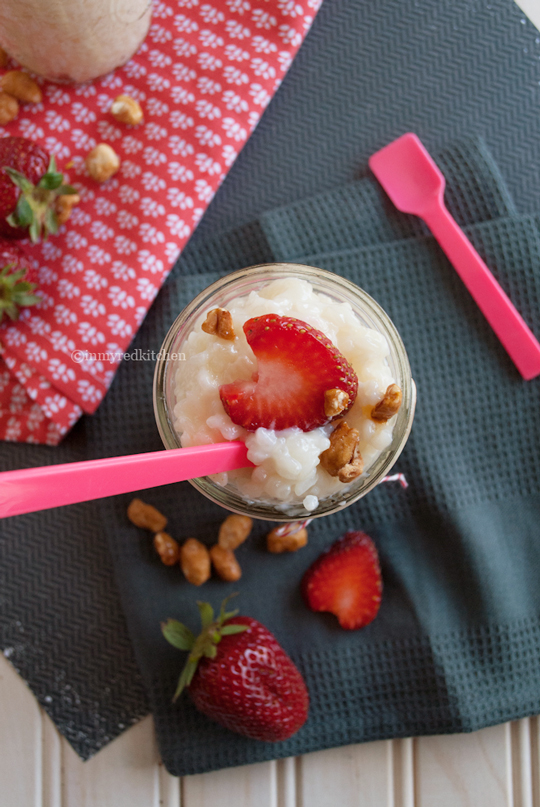 But my sister was visiting a few weeks ago and she really wanted to order this rice pudding at a food truck that was new to me but where we ordered delicious food.
Although there are quite some Filipino's living in LA and even though I have a few Filipino friends (second generation immigrants) I'm not familiar with Filipino food. Oh wait, except for the kare-kare stew then 😉 But the Chicken Adobo taco I ordered at the Filipino Fusion Truck 'White Rabbit' was certainly delicious! And the White chocolate champorado as well!

The champorado was so good and it also made me curious. I grew up with eating a Dutch rice pudding as dessert but never had it with chocolate.I discovered that champorado is traditionally eaten as breakfast, yummy! Those Filipino children are lucky! ;-)
Every morning a breakfast of sticky rice with chocolate and condensed milk, that sounds good !
But the champorado we ate was made ​​with white chocolate, so the condensed milk was not really necessary, the white chocolate is already sweet and filling enough.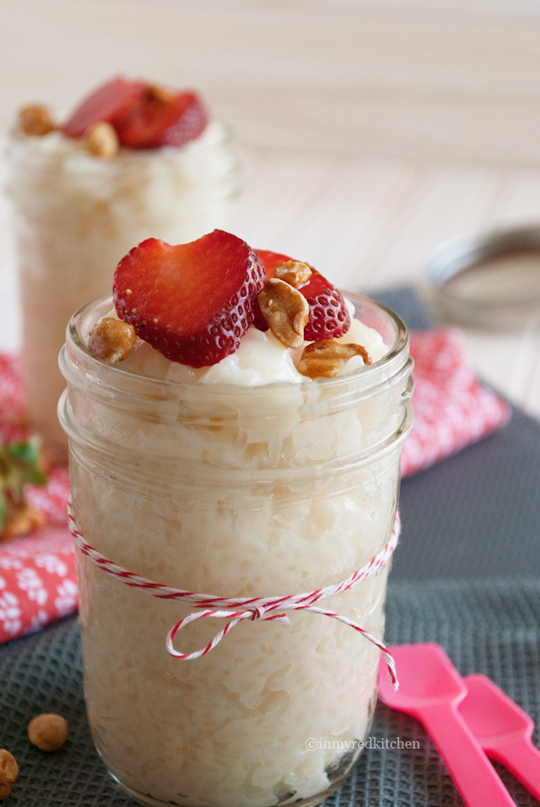 I used sushi rice for this recipe, because "sticky rice" is high in starch and therefore 'sticky'. It's a short grain rice and the rice has a matte/opaque color. If you can find 'sticky rice' you can use that, but sushi rice is better available at the supermarket.
This is a super simple recipe, but pleasebe aware that you don't wash the sushi rice before cooking, even though the instructions on the box says you should. The rice will be super sticky now, just what you need for this recipe!
White chocolate Filipino rice pudding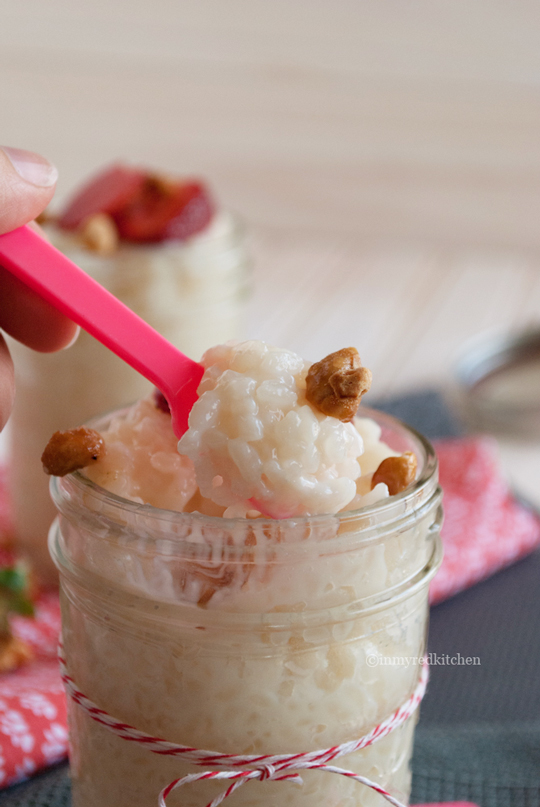 Champorado is a Filipino rice pudding with dark chocolate. I made this version with white chocolate after I ate it at a food truck!
Ingredients
½ cup sweet rice or sushi rice
1 ½ cup water
½ cup white chocolate chips
¼ cup granulated sugar
¼ teaspoon vanilla extract

Strawberries and crushed candied nuts to serve
Instructions
Don't wash the rice but add it with the water to a saucepan and bring to a boil over high heat. Turn down the heat to medium-low when the water starts boiling.
Slowly cook the rice in 20 minutes until done, stir once in a while.
Turn out the heat and add the chocolate chips, sugar and vanilla extract and stir until dissolved.
Serve immediately with the strawberries and nuts.
http://www.inmyredkitchen.com/white-chocolate-filipino-rice-pudding/
Copyright Ellen Bannink- in my Red Kitchen
Enjoy!
Every first Tuesday of the month it's Food Truck Tuesday at in my Red Kitchen! Curious about the other Food Truck Tuesday recipes? Click here!