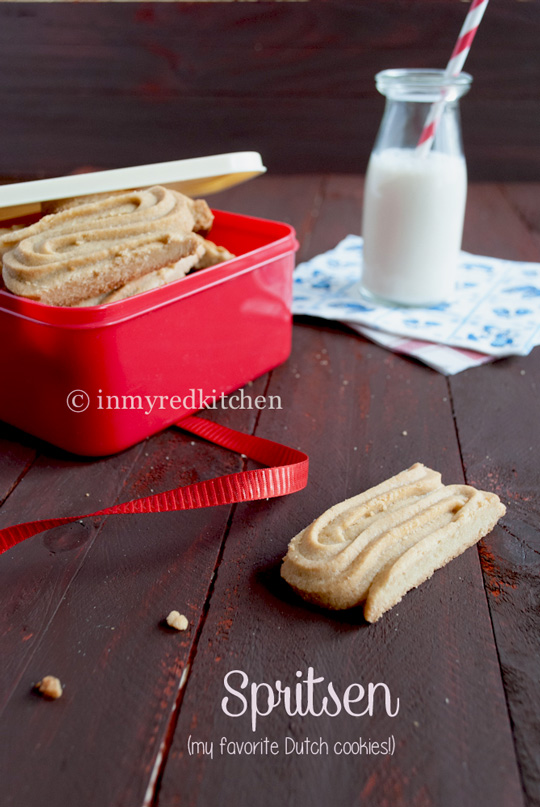 I didn't had to think about it when I read about the Great Food Blogger Cookie Swap. Of course I'm participating in this! Who doesn't like cookies? I love every part of it: baking them, eating them (still warm out of the oven? yes please!) and handing them out to friends to surprise them.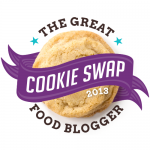 And of course I'm participating in this cookie swap with some typical Dutch cookies! Right before we left the Netherlands I bought an adorable Dutch cookbook called 'Cookie', it has over 100 cookie recipes (101 to be exact, haha!) and half of the recipes are for typical Dutch cookies. Those recipes are from Cees Holtkamp, an Amsterdam pastry chef. A-NY-THING your can think of is in this book. Stroopwafels, Jan Hagel, pepernoten, Fryske Dumkes, Zandkoekjes, bokkepootjes, eierkoeken, lange vingers, taaitaai, jodenkoeken and speculaasjes.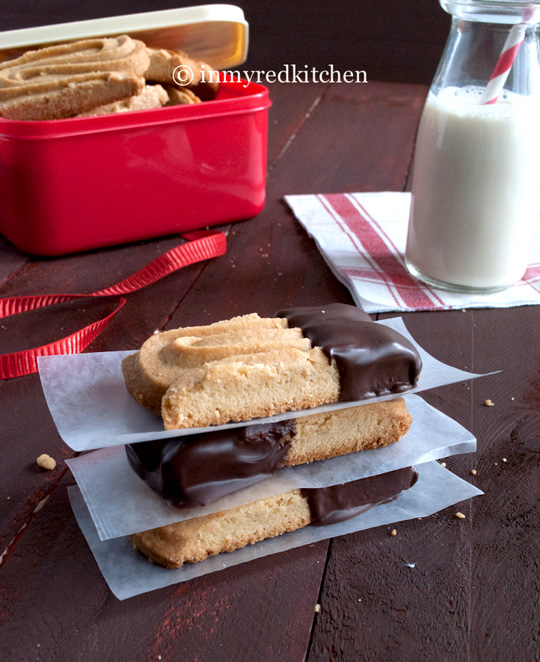 Which one should I make?
I decided to go for the Spritsen, buttery cookies in a curly shape. These were my absolute favorite growing up, I couldn't stop eating them. I really liked the ones that were dipped in chocolate on one side. Oh boy, I'm again salvating thinking and writing about this. If I didn't sent them out I would be eating them right now! 😉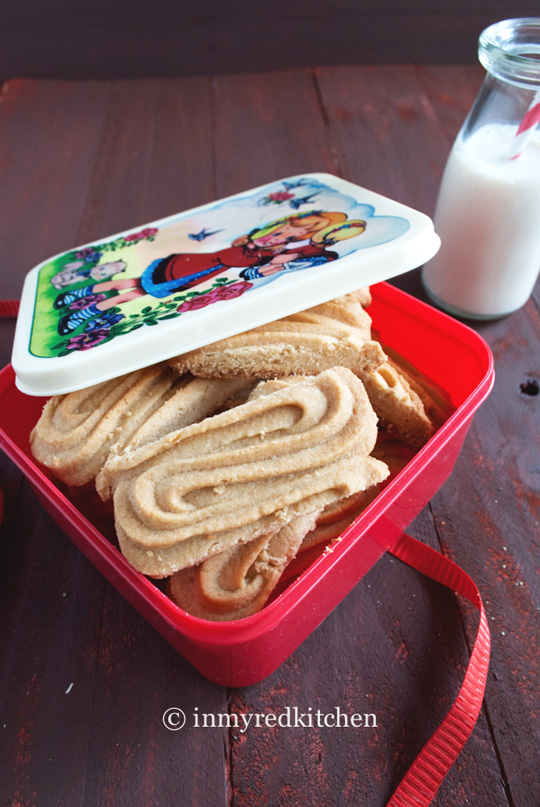 So how does this cookie swap works?Well really simple, I signed up by donating to Cookies for Kids' Cancer and early november I received the addresses of three other food bloggers. I baked 36 cookies, wrapped them carefully in three boxes and send them of to their new homes, to three lucky recipients:
Carrie of 3595
Ashley of Chronicles of a Foodie
KB of Home-Baked Happiness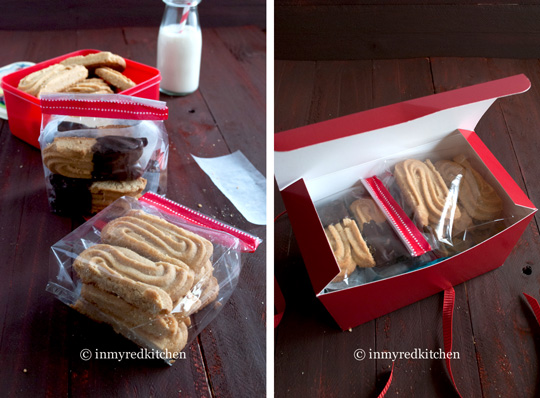 And then the waiting began. When do I receive my cookies? Who will send me the cookies? How will my cookies taste like?
It was a lóóóóóóóng wait. OK, I'm exaggerating, I'm not patient at all and when you are waiting for delicious cookies to be dropped of on your doorstep it's even harder to be patient 😉
Last week on Tuesday the wait was finally over! I got some delicious cookie dough billionaire bars, shortbread cookie crust topped with a layer of caramel, eggless chocolate chip cookie dough and a final layer of chocolate, baked by Stracciatellabella. Damn these were good! Absolutely addicting and amazing, just like she promised 😉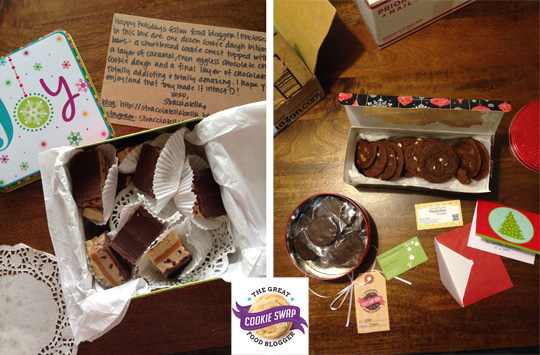 And on Wednesday it became even more fun: Susan of A Less Processed Life sent me a tin with thin mint cookies and Nicole of The Marvelous Misadventures of a Foodie sent me Nutella White Chocolate Chip Cookies. Two boxes of cookies in one day!
I couldn't stop eating the nutella cookies so that says enough. And about the minty ones: mint + chocolate + Ellen = a match made in heaven. Yum yum yum!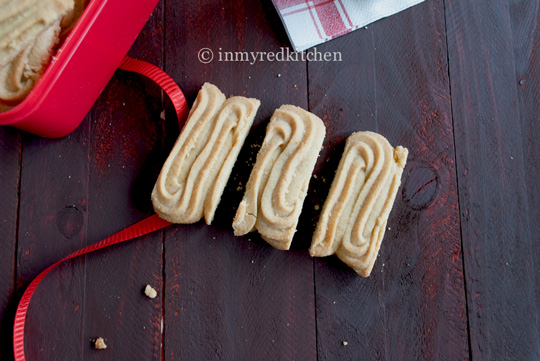 I can't wait to read their recipes!
But enough talking about other cookies, here is my recipe!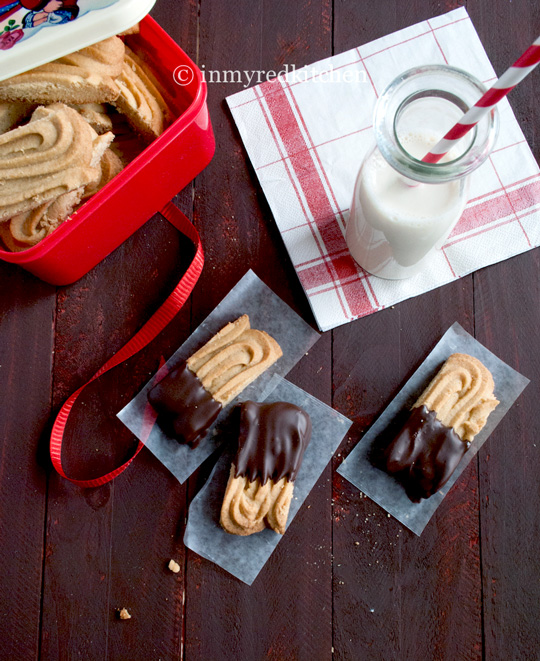 My favorite Dutch cookies, I ate boxes full of Spritsen when I was studying. Delicious buttery cookies, they are even better dipped in chocolate 😉
Ingredients
1 egg, beaten
13 oz butter, softened at room temperature
1 cup packed light brown sugar
1 tsp salt
1 tsp vanilla extract
3 ½ cups flour, sifted

also needed: Piping bag with a large open star tip
Instructions
Preheat the oven to 365 degrees Fahrenheit and line a baking sheet with parchment paper.
In a large bowl, mix the beaten egg with the soft butter until creamy.
Mix in the light brown sugar, salt and vanilla extract.
Add the sifted flour and mix until combined.
Transfer the dough to the counter and rub the dough a few times until it's soft.
You see that the dough will turn lighter every time you rub it. Do this! You want the dough to become soft and smooth.
Transfer the dough to the piping bag and make nice swirls on the parchment paper, like this:
Bake them in de preheated oven for 15 – 20 minutes until light golden brown.
Take the baking sheet out of the oven and immediately cut them in 1.5 inch cookies:
Do this within 2 minutes when the cookies are still soft. If you wait longer you're unable to cut them without breaking.
Leave to cool.
Notes
Want to dip them in chocolate? Let the Spritsen cool down completely. Heat up 2/3 cup of chocolate chips au bain marie. Once melted, remove the pan from the heat and stir in another 1/3 cup of chocolate chips. Stir until all the chocolate is melted and smooth and dip the cookies in the warm chocolate. Place on a lined baking sheet and give them an hour to harden.
Need more information about making this cookies? Here is video of Cees Holtkamp himself, although it's in Dutch you can see how he handles the dough 🙂
http://www.inmyredkitchen.com/spritsen/
Copyright Ellen Bannink- in my Red Kitchen
Enjoy!
in my Red Kitchen on Facebook
in my Red Kitchen on Twitter
in my Red Kitchen on Pinterest
in my Red Kitchen on Instagram