– Click here for this recipe in Dutch -> Heerlijke luchtiger eierkoeken –
Those egg cakes ("eierkoeken") are very popular in the Netherlands. Especially since a famous weight loss guru prescribed them in her menu's. This woman is also known as Sonja Bakker, she is blond and always smiling (of course, she has to sell her diet!) and she is from West-Friesland, an area North of Amsterdam known for its huge greenhouses. So she also has an accent which I find very annoying.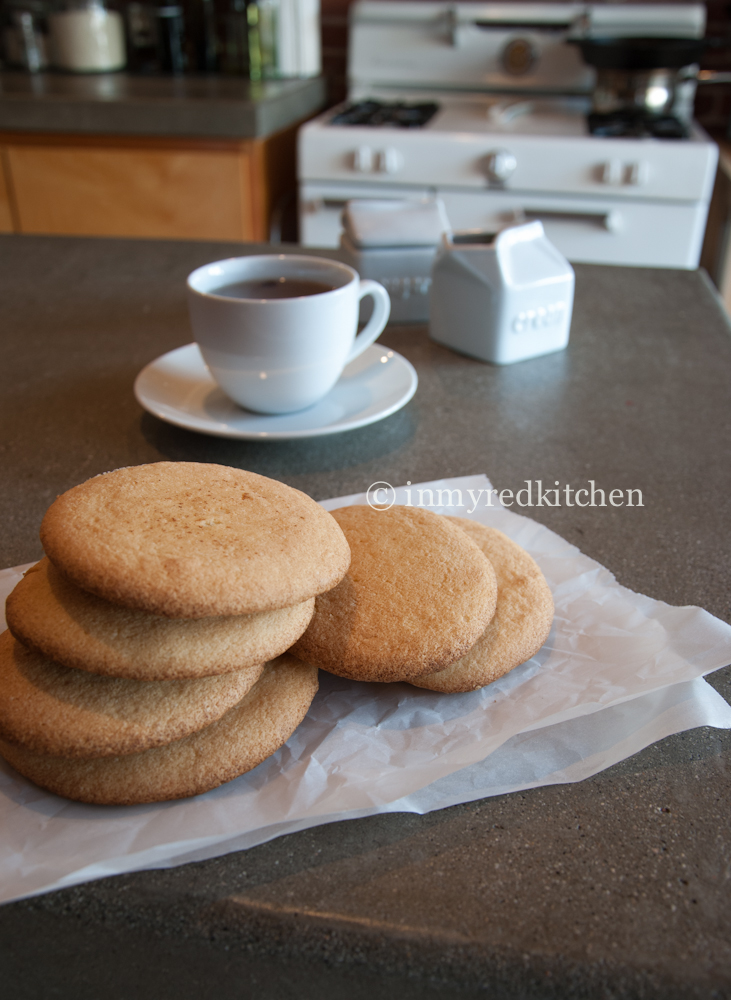 I've never followed her diet, I mean… it is a crash diet! I don't believe in that! Sonja wrote books with weekly menus and she sold a lot of those books. For some reason these Dutch egg cakes where part of the diet. And suddenly these eierkoeken became populair in the Netherlands.
A lot has changed the past years: Sonja got a divorce, a populair Dutch singer that lost weight on her diet gained some weight again, Sonja found a new man and Sonja herself gained some weight again. She recently got married and had another baby at 38.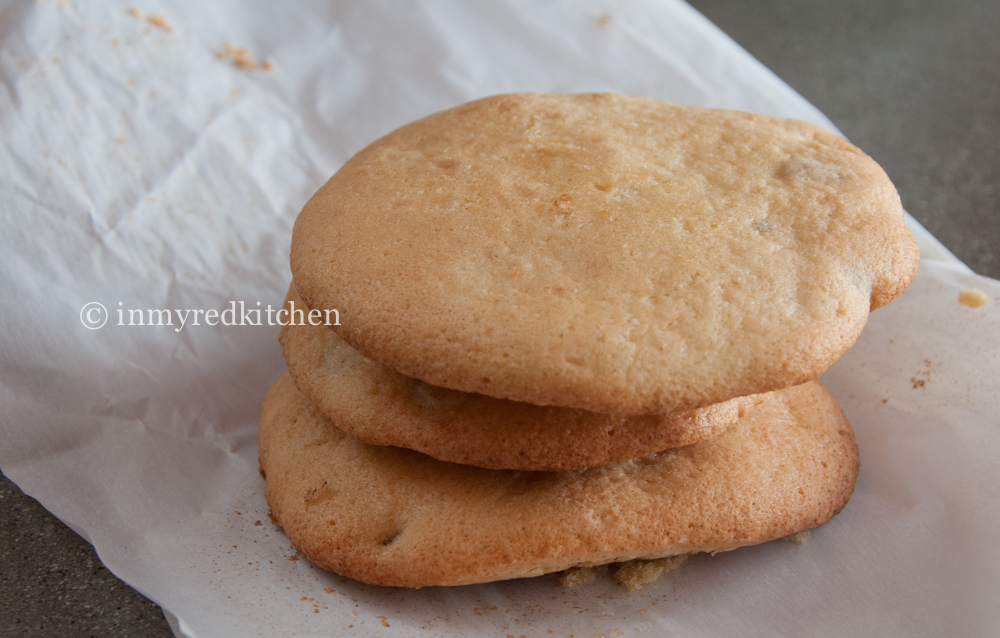 But these egg cakes… they still are delicious!
They're also really easy to make with just 4 ingrediënts. And I definitely have to tell you it takes just 15 minutes to make ánd bake them.
The egg cakes are soft and delicious. You can add raisins or chocolate chips to the batter, or anything you want! I like them plain or with raisins.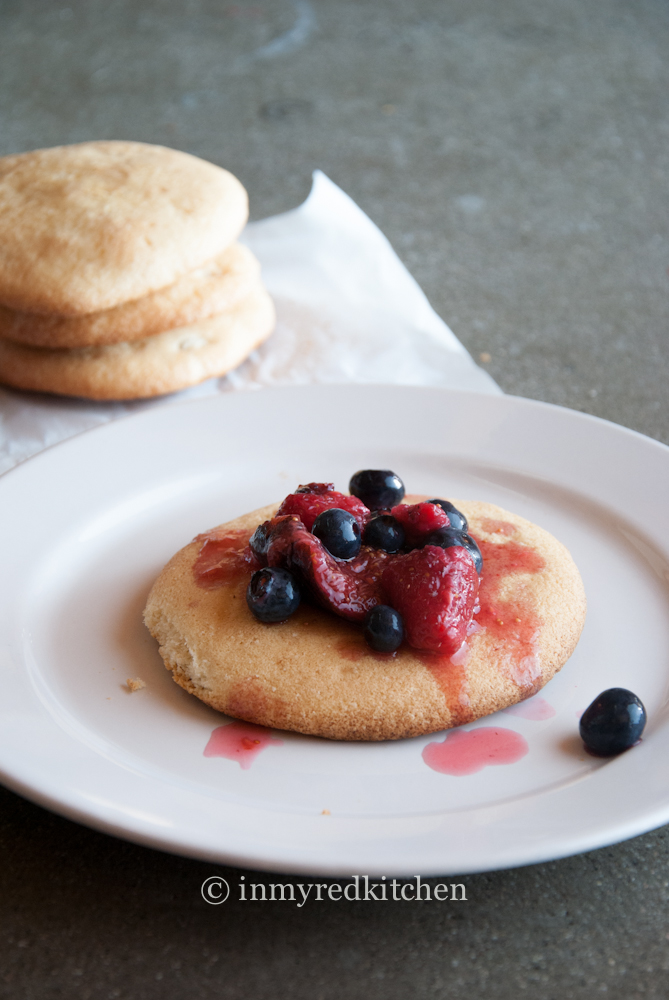 Oh and how delicious they are with the berry compote Christine made!
You can eat them as dessert with some ice cream, fresh fruits or whipped cream. Or as a snack with some tea or coffee. And even a lot of them as lunch 😉
This recipe makes 12, the egg cakes can be stored for a few days in a ziploc bag or airtight container and you can even freeze them.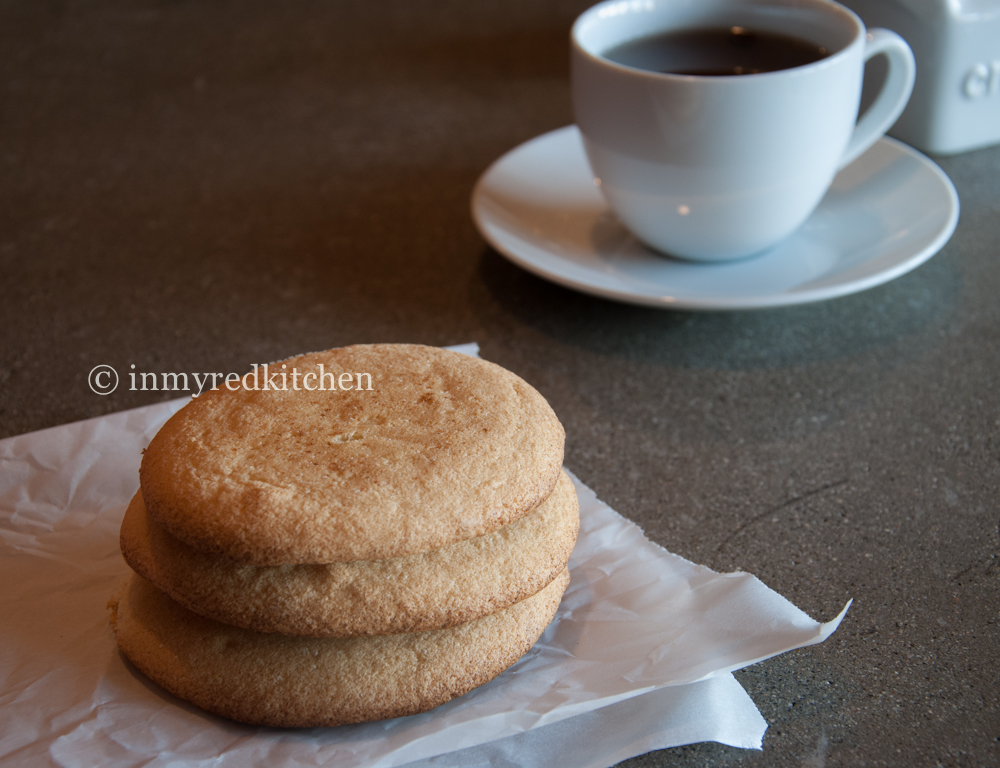 Deliciously soft Dutch egg cakes. They are so easy to make and they make a great snack or dessert. Add raisins or chocolate chips to the batter for a more festive touch.
Ingredients
4 eggs
3/4 cup of sugar
1 1/4 cup of flour
1 Tbsp + 1 tsp baking powder

1/2 cup raisins or chocolate chips, optional
Instructions
Preheat the oven to 360°F and line two baking sheets with parchment paper.
In a large bowl, beat the eggs and sugar for 3 minutes until foamy.
Gradually add the flour and the baking powder and mix well.
Use a ice cream scoop like this to make six scoops of batter on each baking sheet. Make sure to leave enough room, like this:
Place one rack at the time in the middle of the oven.
Bake them for 10 minutes until they are golden brown. The egg cakes has to stay soft so you don't want to bake them too long.
Take the sheet out of the oven and let the cakes cool down on a rack.
Repeat with the 2nd baking sheet.
http://www.inmyredkitchen.com/dutch-egg-cakes/
Copyright Ellen Bannink- in my Red Kitchen
Enjoy!