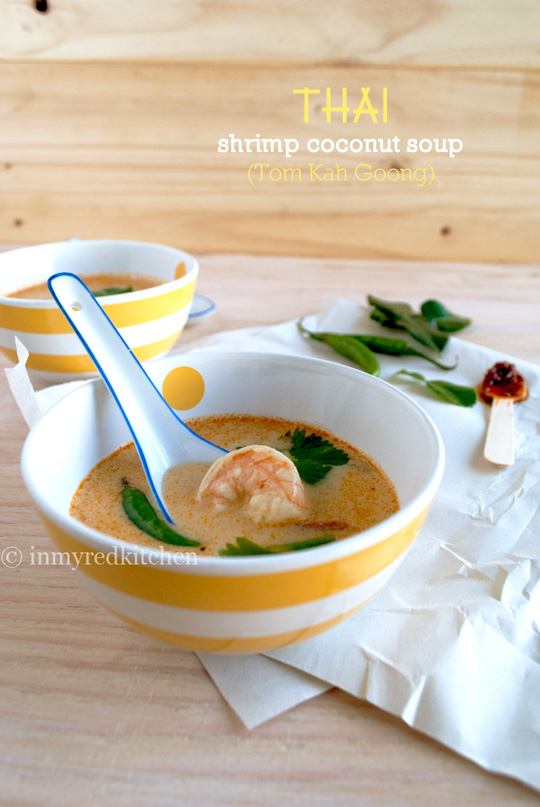 If you browse through my recipes you see a mayority of Asian recipes. Kinda weird if you know that I'm a 100% Dutch girl, with no foreign roots. I also grew up in a small town in the east of the Netherlands, near the German border with no oriental influences at all over there.
I do have a Chinese aunt, she married my Dutch uncle almost 12 years ago when I was 20. She taught me some of her recipes and three years ago I travelled with her to her home town in China for four weeks.
But despite that I have never travelled to other places in Asia.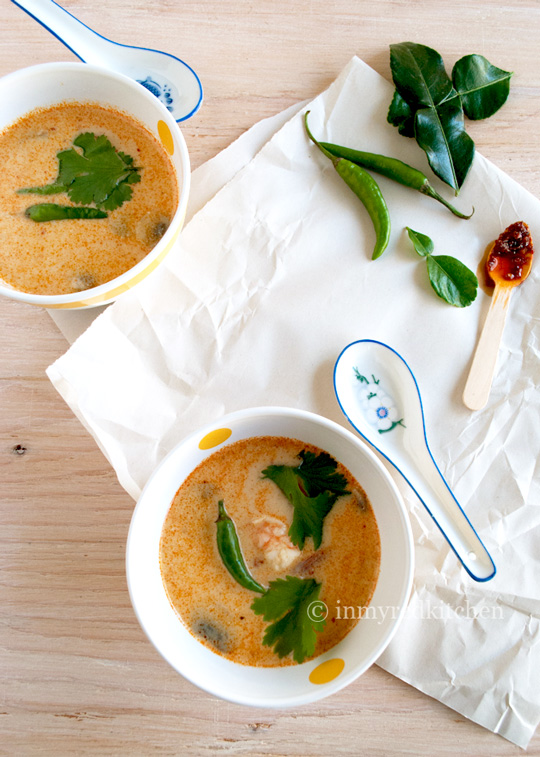 But I love love love Asian food. Japanese ramen, Chinese dumplings, Indonesian rice table, Vietnamese spring rolls. You can literally wake me up for it, I can eat Asian food every day if I have to.
So far I wasn't very familiar with Thai cooking (I only cooked Pad Thai with shrimp twice since posting a recipe on my Dutch blog) so when I got an invitation for a Thai lunch to celebrate Katie Chin's book Everyday Thai Cooking I knew I had to go!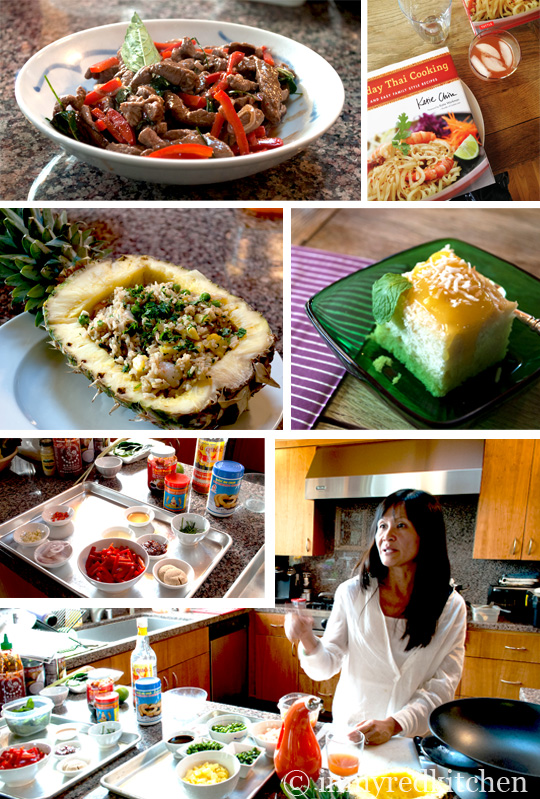 Katie told us everything about common Thai ingredients such as galangal (similar to ginger root but more fresh and citrussy in my opinion), lemongrass, thai chili paste and kaffir lime leaves. And she cooked us an amazing lunch: Pineapple Fried Rice (page 115), Beef with Red Chili Paste and Lime Leaves (page 87), Coconut Cake with Mango Sauce (page 133) and this Shrimp Coconut Soup (recipe below and page 44 in the book).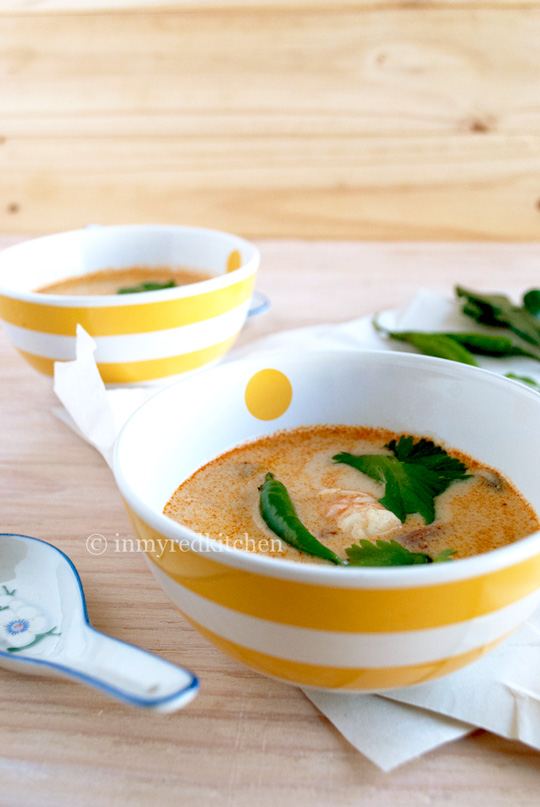 Everything was so delicious! I tried making a coconut soup with lime and shrimp before but failed miserably, I didn't like the combination at all. But the soup Katie made was different… it was so much better! And then this cake with mango. Wow! I never liked mango, it reminds me of soap (don't ask me why…) but this was a whole new level! I loved it 🙂
Besides delicious, the food was also really easy to prepare and done in minutes. Literally quick and easy as the subtitle of the book says. Me like! I can't wait to try more Thai recipes from this book and I hope you can't either.
Because I can give away one copy of Everyday Thai Cooking!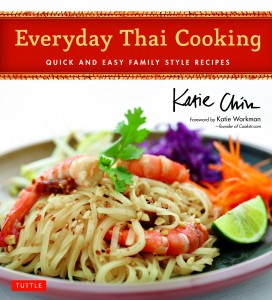 All you have to do is leave a comment under this post telling me which Thai recipe you like most and enter this giveaway here:
a Rafflecopter giveaway

GIVEAWAY DETAILS:
Next Friday, December 20th at 10.00am PST the rafflecopter will choose one winner who will receive one copy of Everyday Thai Cooking. Everybody can enter once, it doesn't matter where you live but you must be 18 years or older to enter.
And in the meantime: get the delicious ingredients (I found everything I needed at 99 Ranch Market, hooray!) and make this Shrimp Coconut Soup. It's so flavorful and also ready in a few minutes. Since I have all the ingredients at home now I'm sure I will make this soup more often, it would also be a great lunch!

Shrimp coconut soup (Tom Kah Goong)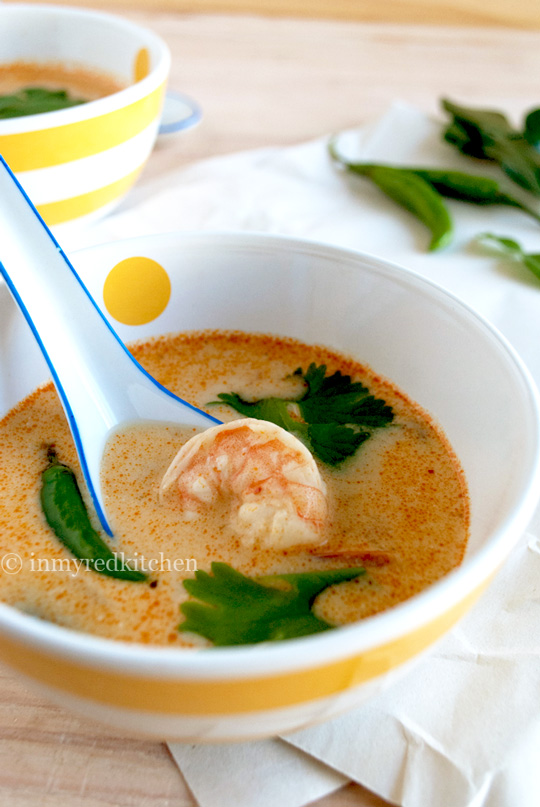 Although this soup sounds very exotic, this is great recipe to make at colder days.
Ingredients
2 cups (500 ml) chicken stock
6 pieces of ¼ inch (6 mm) thick slices galangal or fresh ginger
2 stalks lemongrass, cut into 2 inch (5 cm) long pieces and bruised
4 kaffir lime leaves, torn in half,

optional

1 Tbsp palm or brown sugar
1 ½ tsp Roasted Red Chili Paste (nam prik pao),

optional

1 cup (500 ml) coconut milk
1 cup (70 gr) sliced white mushrooms
3 Tbsp freshly squeezed lime juice
2 Tbsp fish sauce (nam pla)
8 shelled and deveined medium-sized raw shrimp
2-3 fresh hot red or green chilies, preferably Thai, smashed
Fresh coriander leaves (cilantro) for garnish
Instructions
Put the chicken stock, galangal, lemongrass, kaffir lime leaves (if using), palm sugar and Roasted Red Chili Paste (if using) in a medium saucepan and bring to a boil over medium heat.
Add the coconut milk and mushrooms, reduce the heat and bring to a simmer. Simmer for 5 minutes.
Quickly stir in the lime juice and fish sauce and –with a slotted spoon- remove the galangal, lemongrass and kaffir lime leaves.
Remove the saucepan from the heat and add the shrimp.
Let stand for 4-5 minutes until the shrimp is cooked through.
Float the chilies on the soup and serve in bowls. Sprinkle with coriander leaves and serve immediately.
Notes
Note from Katie: you can make this soup in advance and throw in the shrimp right before serving as the shrimp cooks in just 4-5 minutes.
Katie also told us you can freeze the kaffir lime leaves, thai chilies, lemongrass (chopped!) and galangal root (chopped!). Perfect! That way they don't go to waste 🙂
http://www.inmyredkitchen.com/shrimp-coconut-soup-giveaway/
Copyright Ellen Bannink- in my Red Kitchen
Enjoy & good luck with the giveaway!
For more information on Katie: she has a great blog with delicious recipes: Sweet & Sour Chronicles and her own channel on YouTube. Make sure to check those out.
You can get your own copy of Everyday Thai Cooking on Amazon or on bol.com (for my Dutch readers).