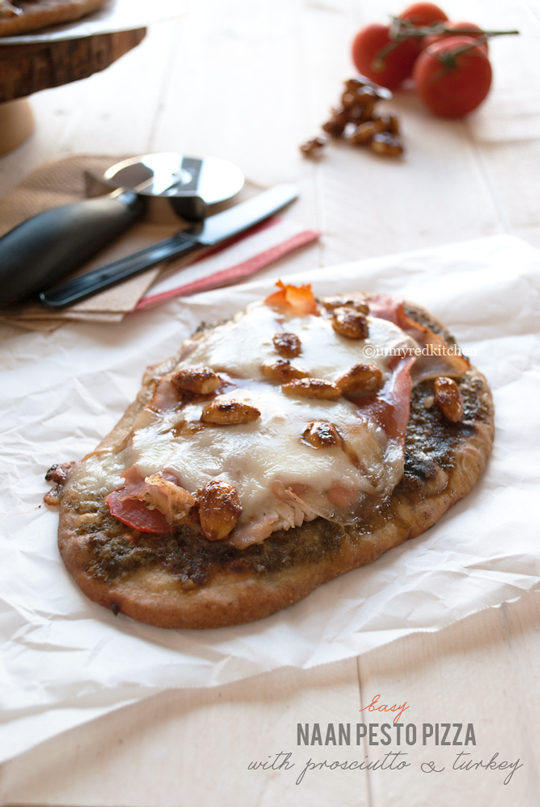 – Click here for this recipe in Dutch -> Naan pizza met pesto en parmaham –
The soft bread, the prosciutto and turkey pairing so well together with the mozzarella and pesto, and then those crunchy almonds! Whoever came up with the idea to put the 'Prosciutto and Free Range Chicken' sandwich on the menu of Mendochino Farms is a genius!
It's my favorite sandwich to order there, and it never disappointed me. So that's why I made a pizza version of this amazingly delicious sandwich. And not just a pizza, no it's an easy-peasy pizza made with naan bread.
P and I have both declared this naan pesto pizza with prosciutto and turkey the BEST pizza there is. And we can say that after eating this pizza two nights in a row. Because a food blogger need to test recipes first you know 😉
And yes, I substituted the chicken in the Mendocino sandwich for slices of Turkey. Because turkey is a staple in our fridge. But feel free to use thinly sliced roasted chicken breast if you want that.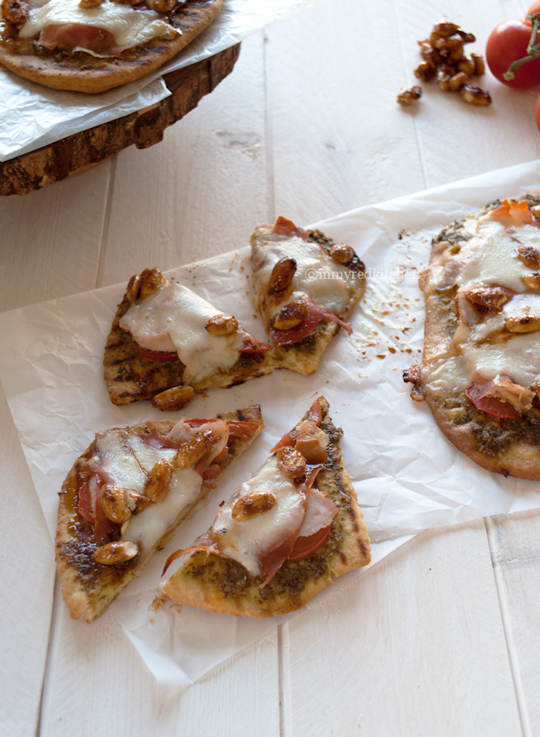 Another staple (in my freezer this time) is naan bread. I always make them myself, I can't remember the last time I've bought naan bread at the store. I know, I should post a recipe some time but the recipe I always use is Esmee's recipe. What are you saying? Yes of course I can give you the link but be warned it is in Dutch: Naanbrood zelf maken.
So make naan bread first, put a large batch in the freezer and you can pull out a few naans to make quick and easy-peasy pizza's when you come home after a long day of working at the office. Serve them with a salad and you have a delicious and well-balanced week night meal!
But now I'm thinking of it, these naan pesto pizza with prosciutto and turkey would also work well on a party or as an afternoon snack. I know what I'm talking about because of course I ate one of those pizza's after this shoot (and the others I shared with P that night for dinner).
Naan pesto pizza with prosciutto and turkey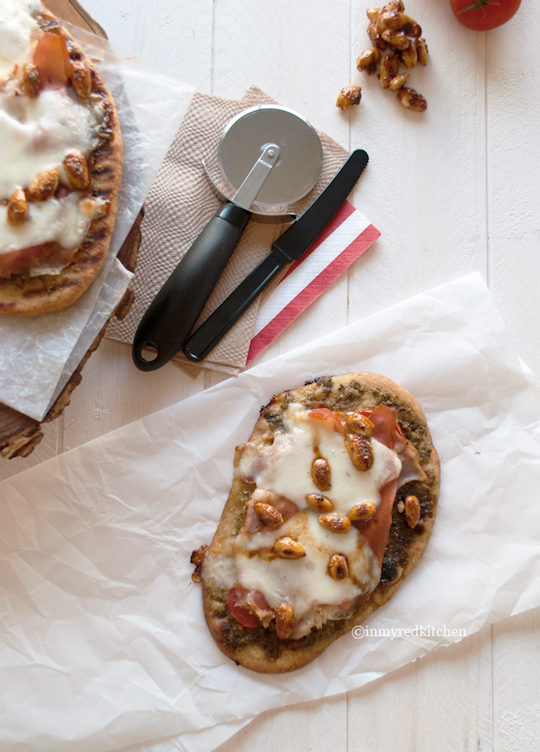 The best and easiest pizza I've ever made!
Ingredients
4 naans
4 Tbsp pesto
2 tomatoes
8 slices of turkey
4 slices prosciutto
1 mozzarella bulb
1 handful candied almonds
Instructions
Preheat the oven to 400 degrees F.
Place the naans on a baking sheet lined with parchment paper and spread the pesto evenly over the naans.
Slice the tomatoes, remove the seeds and divide them over the pizza's, together with the turkey and prosciutto.
Slice the mozzarella and divide over the pizza's, top with the almonds and bake them for about 20 minutes until the cheese has melted.
Notes
http://www.inmyredkitchen.com/naan-pesto-pizza-with-prosciutto-and-turkey/
Copyright Ellen Bannink- in my Red Kitchen
Enjoy!