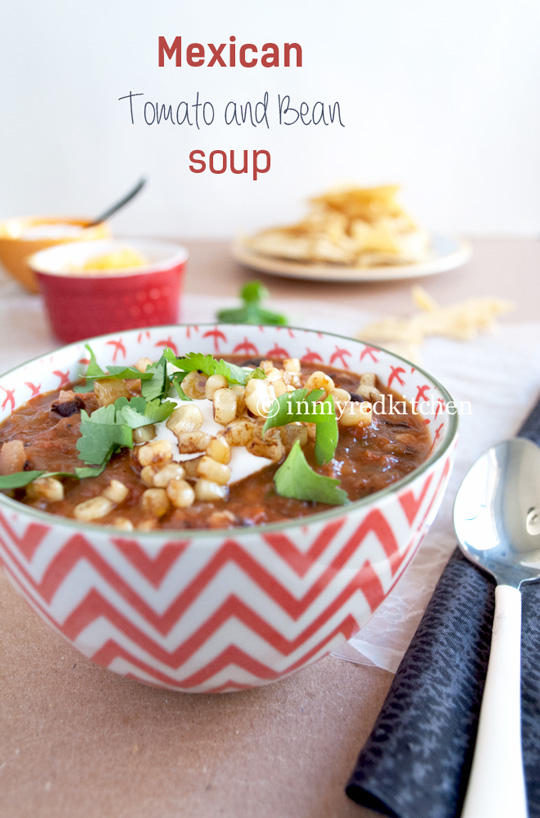 Los Angeles is such a great city, it has so much to offer and is really really big. So big that we haven't seen everything yet so in the weekends we try to explore the city. I say try because we also have to go out for brunch on Sundays and go on hikes on Saturdays 😉
A few months ago we went to Silverlake on a sunny Saturday. We walked around, had some drinks and visited the cute boutiques.
And in one of those cute stores I saw it: the cookbook I wanted to buy for a long time but still hadn't done it because of our move.
I told P this was a cookbook I wanted to buy, although I wasn't planning to buy it there. We were still getting our finances straight and most of all, I didn't want to carry this big book around while we were strolling around 😉
But P said: 'well, buy it now!' and I think his approval was all I needed so I bought the book. And P carried it around for me, like a real gentlemen 😉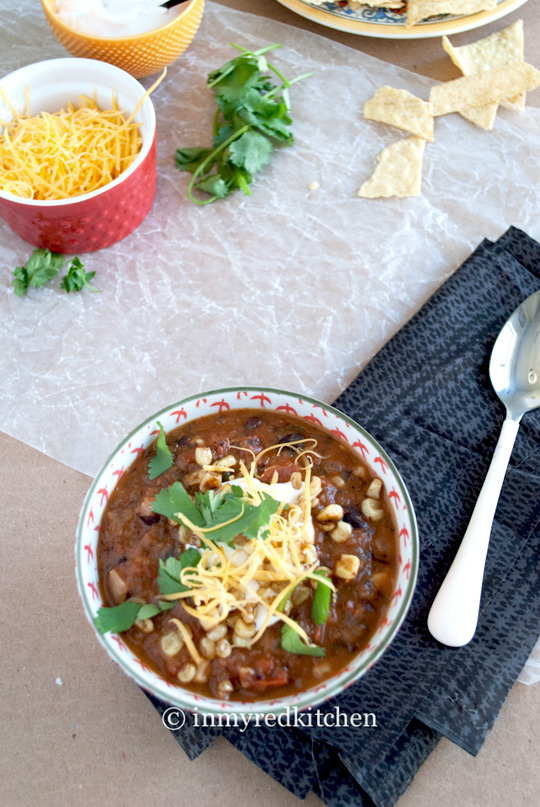 And oh boy, I don't regret buying this book at all. The only thing I regret is that I didn't bought it sooner. It's just fantastic, and up until now this is definitely the cookbook of which I cooked many recipes already. Don't get me wrong, I love cookbooks and I think you can never have too many. But I rarely cook recipes from cookbooks. This one is a different story, I use it every week and it sort of became my bible.
I'm talking about River Cottage Veg: 200 Inspired Vegetable Recipes
you guys, a cookbook by Hugh Fearnley-Whittingstall which I simply call 'VEG!'.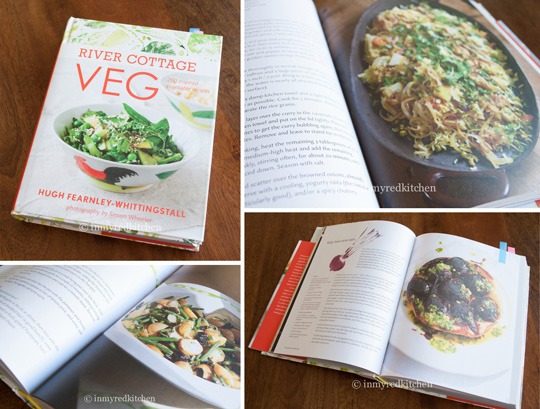 And now I want to share one recipe with you. Just one because I think you have to buy this cookbook yourself and try out every recipe in there. All the recipes are just great, so creative and inspiring but yet so simple. And it's easy to skip meat with these recipes, you won't miss it.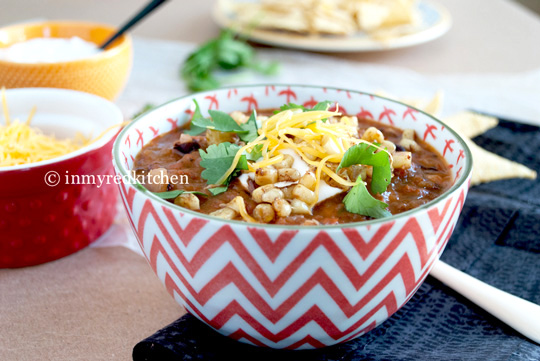 This Mexican Tomato and Bean Soup is great and it's ready within 30 minutes. Well that's also because I cheated a little 😉 Hugh gives you the recipe for a roasted tomato sauce which you need for the soup. But I wanted to make something easy and quick and used a 14 oz can of diced and fire roasted organic tomatoes with chilies from Trader Joe's. Easy does it! Because this can of tomatoes already has some chilies in it I used only 1 jalapeño. Feel free to adjust that to your own taste. Add more sugar and/or stock if the soup turned out too spicy.
Mexican tomato and bean soup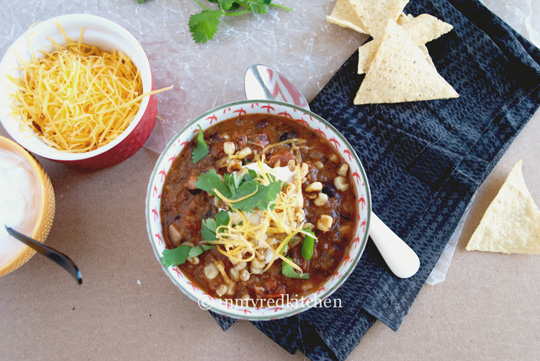 Create a Mexican fiesta with this Mexican tomato and bean soup from my favorite cookbook VEG!
Ingredients
2 Tbsp olive oil
2 red onions, finely chopped
3 garlic cloves, finely chopped
1 or 2 jalapenos, seeded and finely chopped
½ tsp ground cumin
3 cups vegetable stock
1 14 oz can diced and fire roasted tomatoes (_optional:_ the one with chilies)
2 ripe Roma tomatoes, cored, seeded and finely chopped
1 14 oz can black beans, drained and rinsed
1 Tbsp dried oregano
pinch of sugar
sea salt & black pepper to taste
juice of 1 lime
a small bunch of cilantro, coarsely chopped

to serve (all optional):

sour cream
roasted corn
tortilla chips
grated cheddar
Instructions
Heat the olive oil in a saucepan over medium-low heat and add most of the onions (reserving a little to garnish the soup). Sauté for about 5 minutes until the onion is softened.
Add the garlic, the jalapenos and the cumin and stir for about a minute.
Add the stock, the diced and fire roasted tomatoes, the Roma tomatoes, the black beans, the oregano and sugar and bring to a boil.
Let it simmer gently for 15 minutes, add salt and pepper to taste and add the lime juice and half of the cilantro.
While the soup is simmering you can think of garnishing. I like this soup with some roasted corn so I took some corn out of the freezer (i love frozen corn, you can't buy it in the Netherlands so I'm glad I live in the US now ;-)) and baked it in a skillet using some butter until it's brown and roasted.
So get your garnishes ready: the sour cream, the remaining chopped red onion and cilantro, some roasted corn, grated cheddar, ground black pepper and/or tortilla chips. Anything you like!
Serve the soup in bowls and garnish with whatever you like for a real Mexican fiesta!
http://www.inmyredkitchen.com/mexican-tomato-bean-soup/
Copyright Ellen Bannink- in my Red Kitchen
Enjoy!
Buy this book!
(link goes to my Amazon Affiliate store so you can support in my Red Kitchen)
And I'm ready to buy new cookbooks, do you have any suggestions?