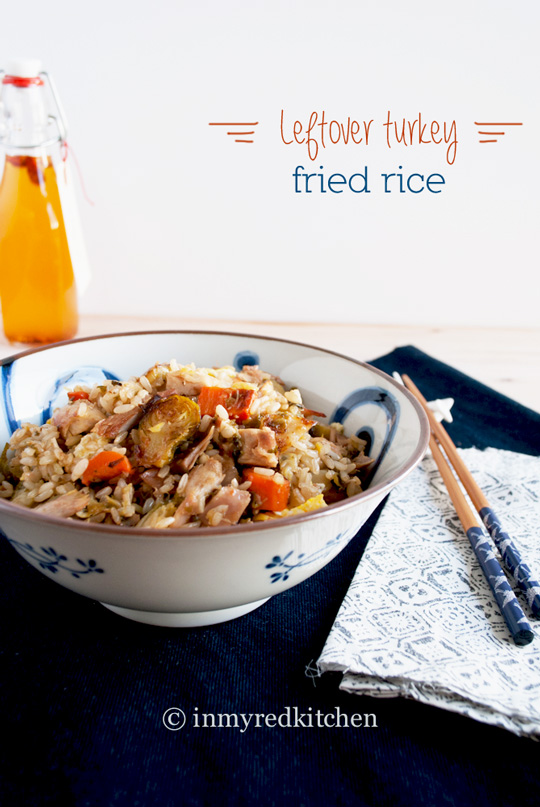 Last week we celebrated our first real Thanksgiving in the US. The first of many to follow 🙂 It was great, we spent the day with friends and I made the turkey, the gravy and some delicious pumpkin pies.
I did a lot of reading to prep for this holiday, I bought some magazines and checked this BuzzFeed over and over again 😉 'Cause c'mon, this was my first turkey day!
Luckily everything went really smoothly so we could enjoy a traditional Thanksgiving dinner with sweet potato casserole (including marshmellows and cornflakes of course), roasted carrots and parsnips, stuffing, mac 'n cheese, brussels sprouts, roasted potatoes, cranberry sauce and traditional English Yorkshire puddings. For the turkey and gravy I used recipes from Bon Appétit magazine, the dry brine of page 23 turned out great!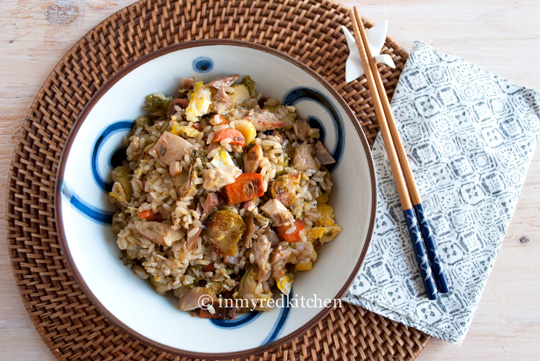 I bought a 9.75 lb turkey at a new-and-not-open-yet butcher shop on Santa Monica Blvd. Can't wait for them to open for real and to buy all our meat there!
And luckily this 9.75 lb turkey was way too much for 6 people so we all took leftovers home. Together with the other Thanksgiving leftovers I made a delicious fried rice. Hmmm, maybe I should call this recipe 'Thanksgiving leftover fried rice'. 😉
The turkey is the star in this dish. OK, also the Brussels sprouts. It turned out great!
So hopefully you also saved the turkey fat that dripped in the pan. I did. I just transferred all the drippings in a bowl and let it cool down. Once hardened, I could scoop off the fat to save it for later. One hint: bake some potatoes in it…. Waaaaah, that taste great!
But… you can also use it to make this leftover turkey fried rice.
Leftover turkey fried rice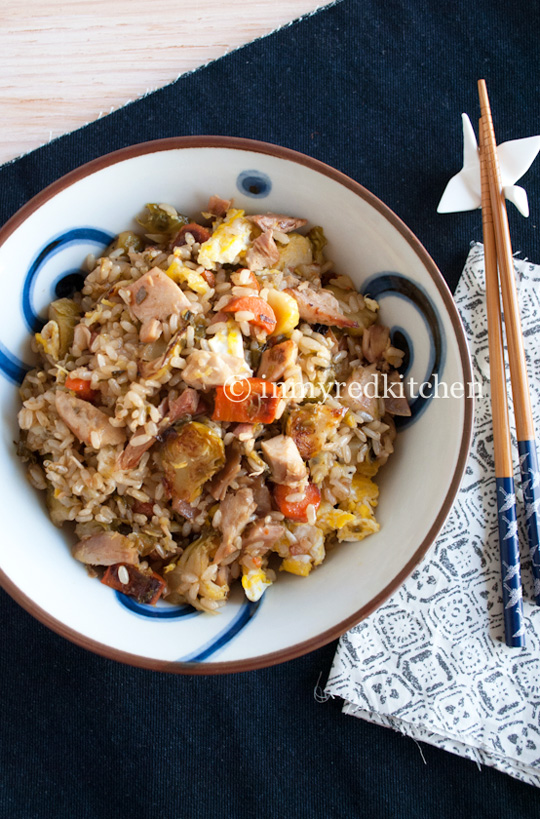 Can it get any better than this? I adore the taste of grilled turkey (and chicken!) and this Leftover turkey fried rice turned out amazing!
Ingredients
1 cup brown rice
2 Tbsp turkey fat or canola oil
2 eggs
1 heaped cup leftover shredded turkey
1 cup leftover cooked brussels sprouts, chopped
½ cup leftover grilled carrots, chopped
¼ cup cubed bacon
2 Tbsp soy sauce
Instructions
Cook the brown rice according to the instructions. Let it cool, preferably overnight or during the day for at least 4 hours.
Heat 1 Tbsp of the turkey fat in a wok over high heat and scramble the eggs in it. Transfer to a bowl and set aside.
Heat the other Tbsp of the fat in the wok and fry the turkey, brussels sprouts, carrots and bacon until it's heated.
Add the rice and stir fry for 2 minutes until warm and a little crispy.
Stir in the soy sauce. Believe me, it doesn't need anything else. The turkey itself is already great and also the brussels sprouts are a great addition.
Last but not least, stir in the scrambled eggs and serve in bowls.
Notes
Turkey can be substituted with chicken. Brussels sprouts and carrots can be substituted with any sort of vegetables. Go wild!
http://www.inmyredkitchen.com/leftover-turkey-fried-rice/
Copyright Ellen Bannink- in my Red Kitchen
Enjoy!