One of the great things of living in California are jalapeños. Spicy, green, fresh and fiery jalapeños.
Believe it or not but it is impossible to find fresh jalapeños in the Netherlands. Unless you grown them yourself of course. I was about to start a jalapeño project this year, but then P found a job in Los Angeles so we moved.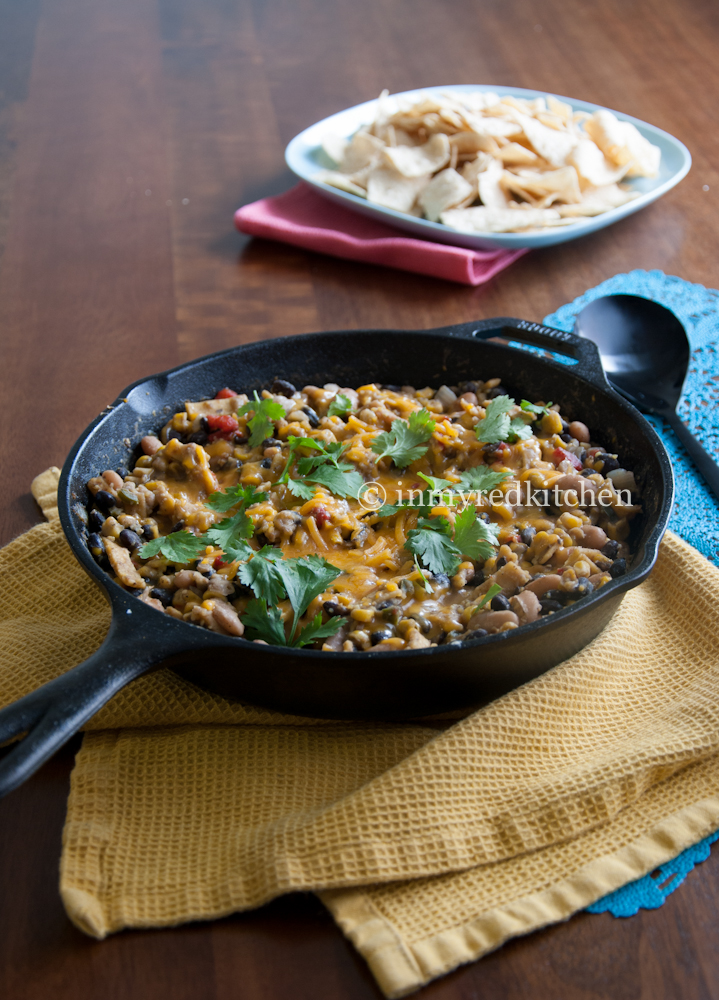 And I bought a jalapeño plant in LA! So I'm harvesting like crazy now, and we have to eat a lot of spicy Mexican food.
But I'm not complaining… not at all. You don't know me that well yet, but I don't complain… never-ever 😉
Ok, maybe I have to complain about the thief who stole P's bike last week. Or complain about the dude who rear-ended our brand new car on the highway. I can also write a book about the old-fashioned way of financial transactions in the US.
But no, I won't do that. I live in LA now where it's always summer and where I can buy jalapeños at the supermarket or grow them on my balcony. I'm so happy that I can cry of happiness sometimes.
Cooking Mexican food is the summit of happiness. If I did not know better I'd think I was born in Mexico and had Mexican parents. I could definitely eat Mexican food every day. Besides sushi 😉
This corn chili skillet is delicious. Creamy and full but also vegetarian. Great for dipping some crispy nachos in it, or roll it in a tortilla.
Oh man, I still have something in the freezer and I think I will get it out now so we can have some for dinner tonight!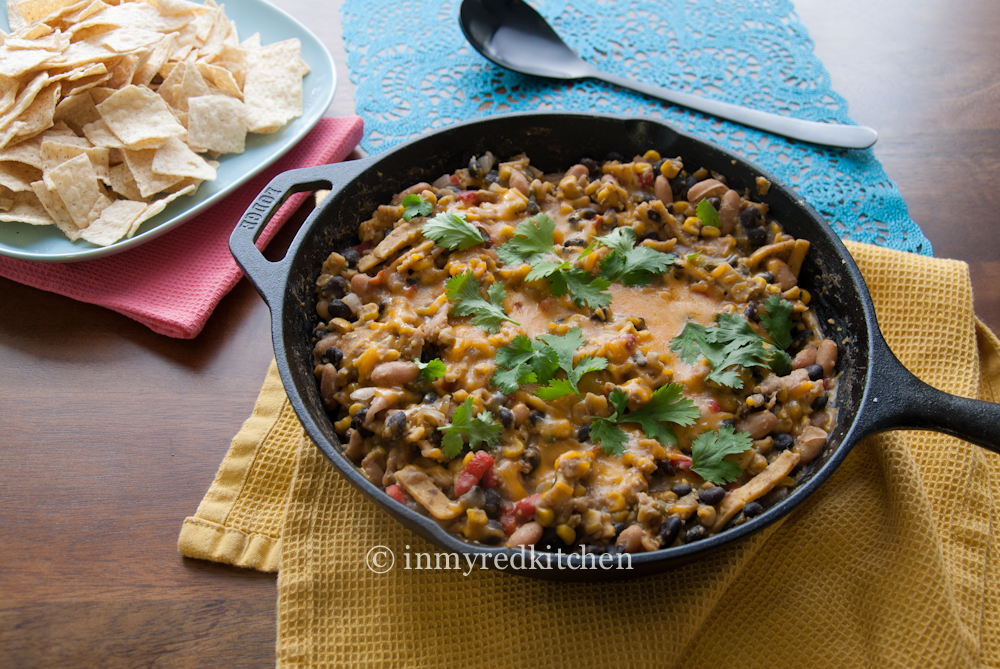 Easy does it. Just one skillet filled with beans, corn and soft tortilla strips. Serve it directly out of the pan!
Ingredients
1 Tbsp butter
1 cup onion, diced
1/2 cup fire roasted peppers, diced
1 jalapeño, minced
2 tsp cumin
1 tsp salt
1/2 tsp black pepper
1/4 tsp garlic powder
2 14-oz cans beans (mixed/black and or canelli)
1 14-oz can corn
2 1/2 cups stock (vegetarian, from 1 cube)
1/2 cup corn meal
4 small corn tortillas
1/4 cup cheddar, shredded
Instructions
Heat the butter in the skillet over medium heat.
Cook the onion, red pepper and jalapeño until soft, about 5 minutes.
Add the cumin, salt, black pepper and garlic powder and stir for about 1 minute.
Add the beans and the corn, give it a good stir and add the stock.
Bring the heat back to low and let it simmer for 15 minutes until the chili is thickened.
Add the corn meal and let it simmer for another 5 minutes, give it a good stir now and then to prevend sticking.
Cut the corn tortillas in halves and then in thin strips of 0.4" (1cm).
Add the tortilla strips to the chili, stir again so every strip is coated in sauce and keep stirring for 1 minute.
Scatter the cheddar over the chili, turn off the heat and let it melt.
Serve with nachos and dip it!
http://www.inmyredkitchen.com/corn-chili-skillet/
Copyright Ellen Bannink- in my Red Kitchen
Enjoy!
And don't forget to dip!