Summer has begun and we bought a barbecue grill last weekend. I'm the cook at home, P once said he can prepare food but he can't cook. That's exactly how it is! But when it comes to grilling, he's my man!
Three years ago -when P & I just met- I invited some friends over for a barbecue party at my roof terrace. I would practically be away the whole summer so this would be a nice thing to do before I had to miss all the fun that summer. And of course I already figured out this was a nice opportunity to see P again, I already had a small crush on him 😉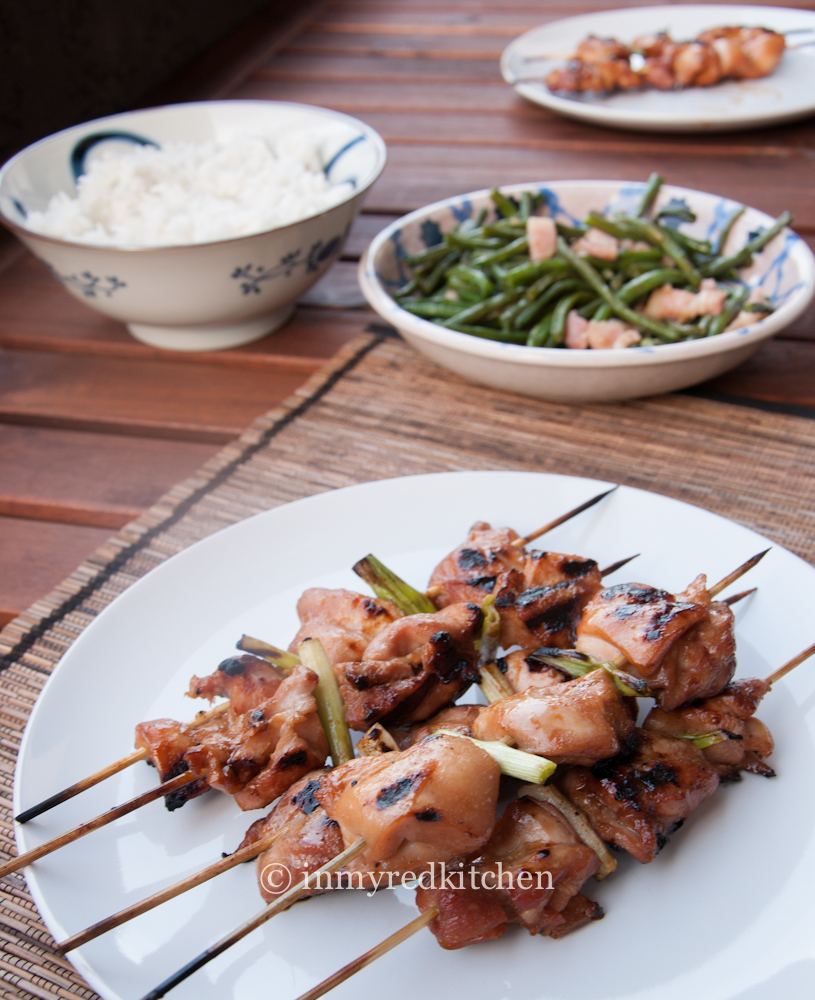 Luckily he showed up, bringing some shrimps in a fantastic marinade. 'Wow, a man who can cook!' I thought, and I liked him even more.
But when I offered him some of my grilled dates filled with goat cheese and wrapped in bacon he declined. He didn't like goat cheese and he wasn't very fond of dates. 'Hmmm', I thought: 'too bad he doesn't like goat cheese. But at least he can cook!'
Unfortunately I was wrong. He later told me he had looked up a recipe from the internet and he followed it. And be honest, how can you possibly go wrong with some soy sauce, honey, garlic, ginger and chili pepper?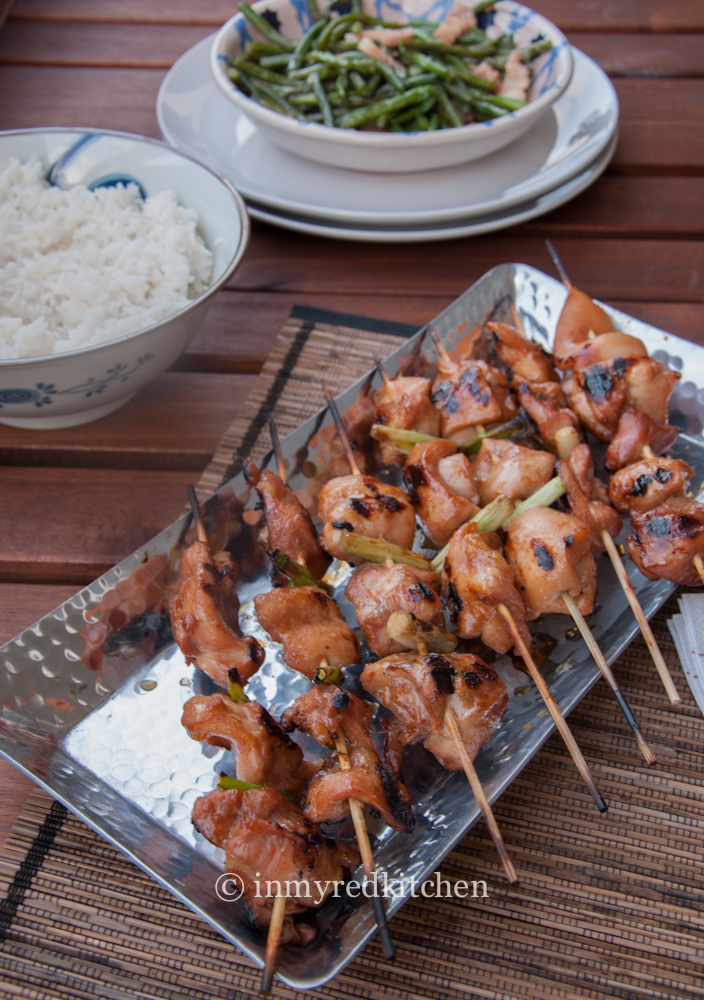 He used to have a charcoal grill back in Amsterdam but we used it -let's say- twice a year. But here in LA the weather is always good and we eat our dinner at the balcony almost every evening. And although I love to cook, it's so nice that once in a while somebody else makes you dinner.
So here is a delicious recipe for Chinese Chicken Skewers to celebrate summer! I like to use chicken thighs but if you want a more skinny version you can use chicken breasts. P and I both love hoisin sauce, I already needed to buy a new bottle after 8 weeks in LA! Hoisin has a sweet but also salty and rich taste, you can use it for glazing, in marinades but also as a dip. It's delicious with Peking duck, but even more delicious in this marinade: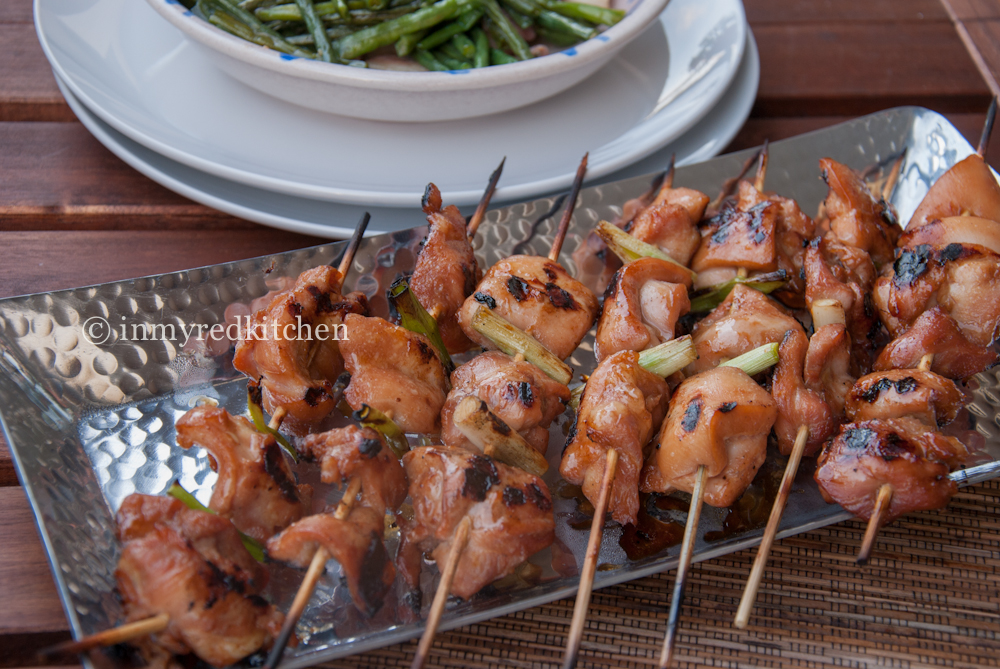 Some delicious juicy chicken skewers, marinaded in a even more delicious Chinese sauce. Perfect for the barbecue!
Ingredients
5 chicken thighs, boneless and skinless (about 17 oz)
1 Tbsp Mirin (Japanese cooking wine)
2 Tbsp Hoisin sauce
3 Tbsp soy sauce
1 Tbsp brown sugar
1 Tbsp canola oil
1" piece of ginger, grated
3 scallions, in 1" pieces
6 – 8 wooden skewers
Instructions
Mix the mirin, hoisin sauce, soy sauce, sugar, oil and ginger in a large bowl.
Cut the chicken in 1-1.5" pieces and add them to the marinade, stir well.
Cover the bowl and allow the chicken to marinade for 20-30 minutes.
Soak the wooden skewers in for 30 minutes water so they won't burn on the grill (as you can see on the photos I was too impatient, I soaked them for 10 minutes).
Skewer the chicken and the pieces of scallions onto the skewers. Give them some space inbetween and don't smash them together so they can cook evenly.
Cook them on the barbecue grill or in a griddle pan for about 8 minutes, flipping them over after 4 minutes.
Serve with rice and green beans.
Notes
Fry the green beans or string beans in a wok with some bacon and oyster sauce, and you will have a delicious side!
No barbecue? Just bake them in a griddle pan!
http://www.inmyredkitchen.com/chinese-chicken-skewers/
Copyright Ellen Bannink- in my Red Kitchen
Enjoy!