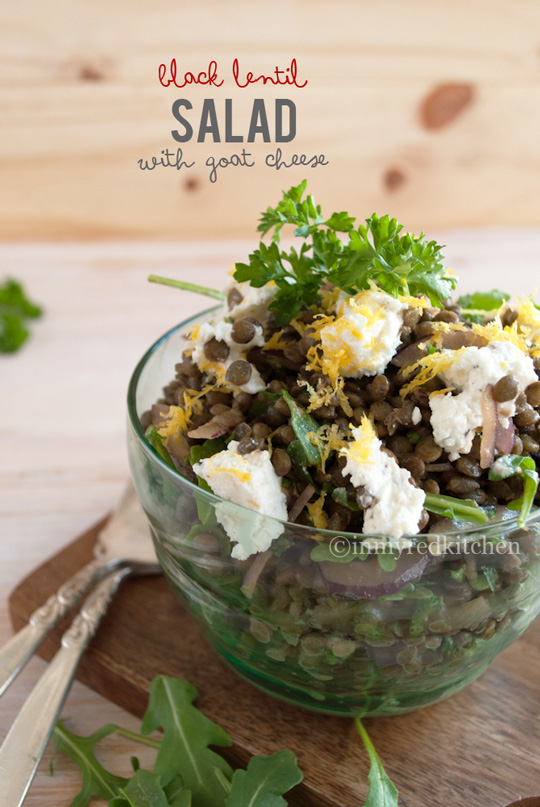 People often ask me if there is anything I miss from the Netherlands. I have to disappoint them (and you), because I don't. Of course I'm happy when I stumble upon typical Dutch products in LA, like appelstroop, stroopwafels or beschuit. And the Christmas Stollen and bitterballen I made myself where also to die for.
But really missing those things? Nah… And you know why not?
I connect 'missing' to something negative, as if you can't live without it. As if you can't function without that one thing being there. As if there is a hole in your heart and it's hurting.
And concerning all thoses typical Dutch things: I never had stroopwafels at home, or beschuiten. Let alone hagelslag – those chocolate sprinkles you put on your bread. Of course I like it but I can also live without it, so imho I'm not missing it. Cheese? The American 'Gouda' isn't halve as good as the real Dutch one but in return I can buy delicious cheddar cheese.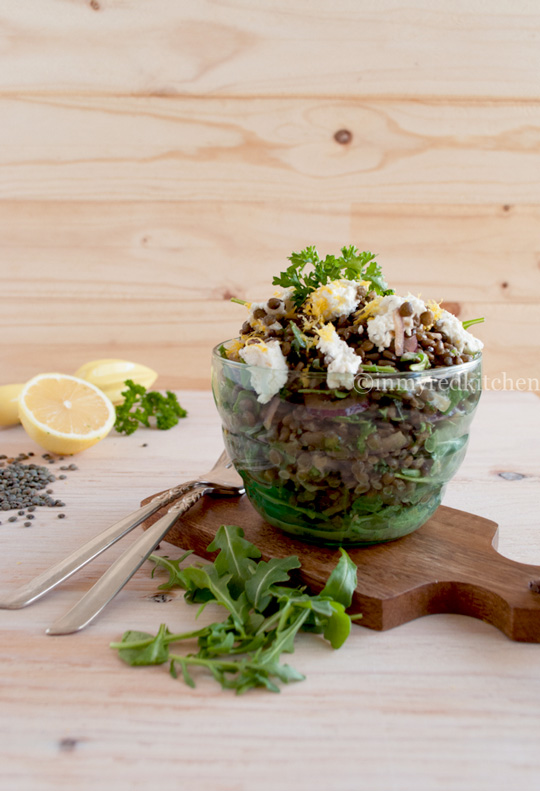 Cracotte crackers? Forget about them, I lunch with corn tortilla's instead! Good bread? I buy sourdough bread now or I make it myself, no problemo. Going to the 'snackbar' to get some fries, a cheese souffle or a 'bamischijf'? Ah well, those weren't good for me, I'll get some ramen instead!
You see, everything is interchangeable when it comes to products 😉 Of course I bought some pate when my buther shop was selling it and of course I loved it to eat a beschuit with hagelslag when my family sent me some.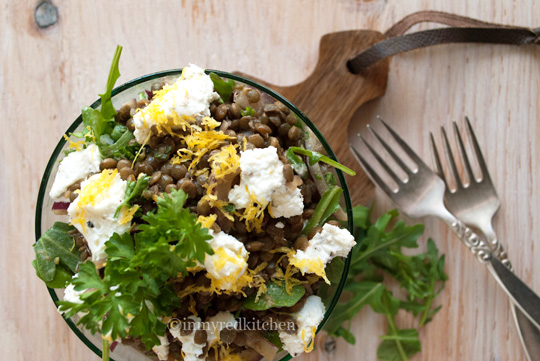 And when I'll visit Amsterdam in a few months I will definitely eat all those delicious treats! Tony Chocolonely chocolate, a 'bamischijf' at the snackbar, 'ontbijtkoek' for breakfast and Indonesian food for dinner. I will go out for dinner at my favorite restaurants, like Aan de Amstel and I will go shopping at my favorite supermarket, it's called Marqt and it's similar to Whole Foods.
It's at Marqt where I often bought this black lentil salad with goat cheese. Months ago I stumbled upon the recipe on social media, I saved it so I could make it myself. It's great! I make this salad for lunch for myself because P doesn't like goat cheese. Poor boy, he doesn't know what he is missing 😉
I added arugula to the original recipe because I used to buy the black lentil salad with goat cheese and mix in some arugula myself. It's perfect as lunch but can also be served as dinner with some toasted bread on the side.
Black lentil salad with goat cheese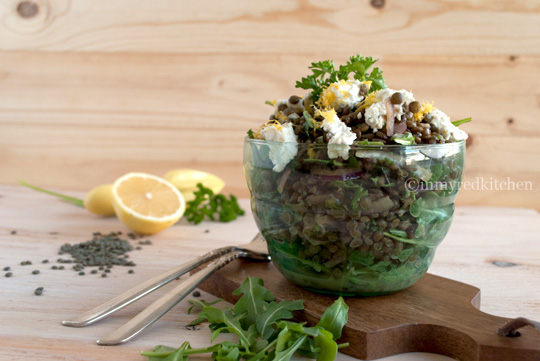 Black lentils with lemony goat cheese make a delicious lunch together!
Ingredients
¾ cup Du Puy lentils or similar black lentils
2 Tbsp + 1 tsp olive oil, extra virgin (divided)
1 Tbsp balsamic vinegar
salt & pepper to taste
about 1 cup thinly sliced red onion
1/3 cup chopped parsley
2 cups arugula
5 oz soft goat cheese
1 Tbsp lemon juice + zest of 1 lemon
Instructions
Rinse the lentils under cold running water for a couple of seconds and add them to a pan with 2 ½ cups of cold water. Bring to a boil and let them cook for approx 20 minutes until tender. Drain and rinse with cold water.
Mix 2 Tbsp olive oil with the balsamic vinegar and add it to the lentils. Add salt and pepper to taste.
Stir in the red onion, parsley and arugula, mix well.
Mix the goat cheese with the remaining 1 tsp olive oil and the lemon juice, add black pepper to taste.
Serve the lentil salad with chunks of goat cheese on top and garnish with the lemon zest and some extra parsley.
http://www.inmyredkitchen.com/black-lentil-salad-goat-cheese/
Copyright Ellen Bannink- in my Red Kitchen
Enjoy!