I wanted to post this recipe for a Roasted garlic and lentil soup here on this blog but somehow I ended up posting it on my Dutch blog first.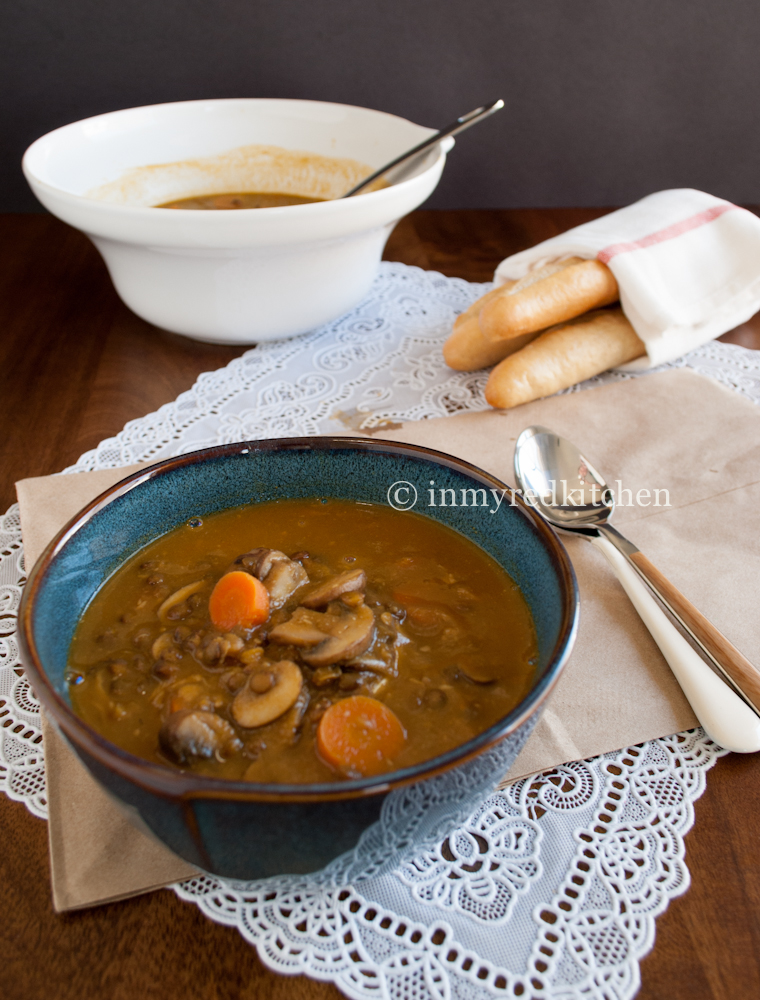 I love soup, but this will be the first soup recipe on this blog. Shame on me!
Maybe the weather in LA is still too good to start making soup? I don't know about you but I guess I only think of soup in connection to fall or winter. Maybe I should promise myself to make a big pan of soup each week. Tomato soup with meatballs, Potato leek soup, Mushroom soup, Chick Pea soup, Pumpkin soup, My mom's chicken soup, Dutch pea soup, Surinamese peanut soup…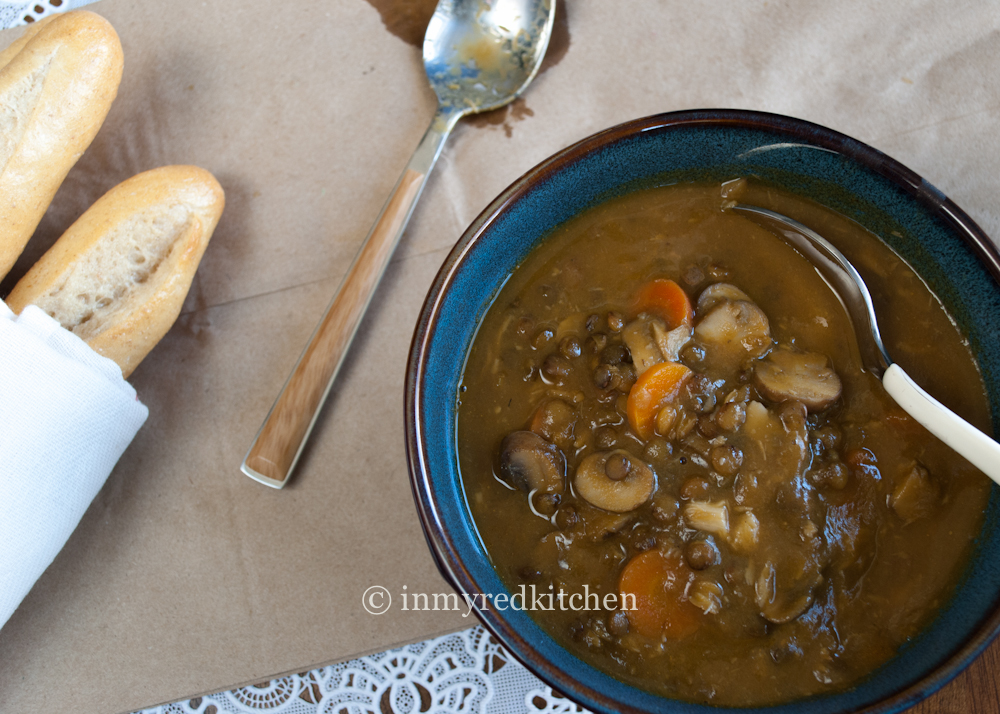 You see, I can already name some soups without trying hard. It isn't a bad idea to eat soup at least once a week right? So as soon as I finished the above list I need your help: what is your favorite soup? I will try them all!
But back to this one. When we just moved to LA I bought a can of soup which name sounded ok. And it had Wolfgang Puck's face on it. Now you've got my attention. But the problem with canned soup is that I always think: I can do that better. And yes, I could do this better! My version is so much better than Wolfgang's soup! So much tastier, so much more 'real'. The sweetness of the roasted garlic combines so well with the earthy flavor of the lentils and the mushrooms. Wolfgang didn't put mushrooms in his soup but I think it's a great addition!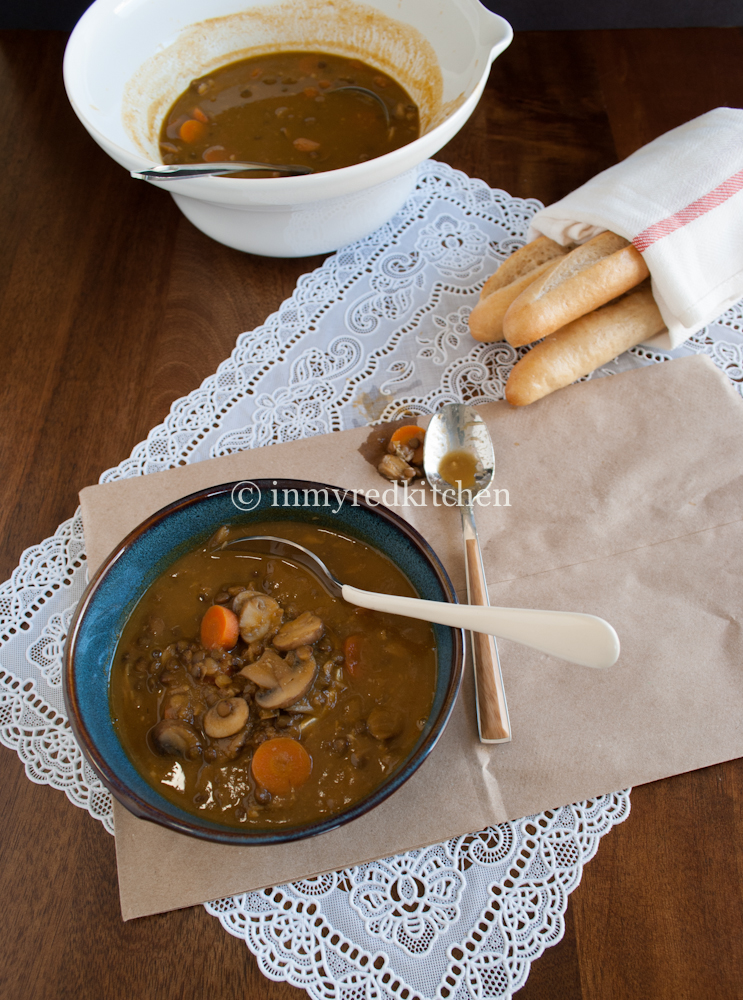 First you roast the garlic for an hour. And while you're doing this: why aren't you roasting some extra bulbs? You can keep the roasted garlic paste in a jar in the fridge for several weeks. Roasted garlic taste so good in some mashed potatoes or on toast. And it definitely gives a great flavor to this Roasted garlic and lentil soup.
Try it yourself:
Roasted garlic and lentil soup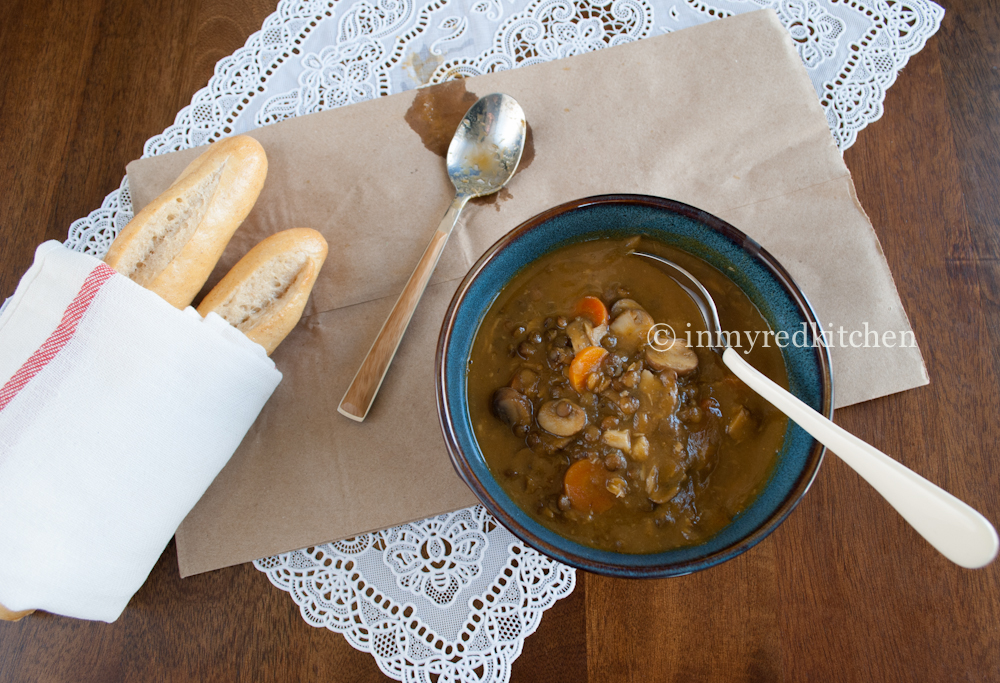 This soup is perfect for fall with its sweet roasted garlic flavor and hearty lentils
Ingredients
2 bulbs of garlic
2 Tbsp butter
4 oz mushrooms, cleaned and sliced
32 floz vegetable broth
½ cup black lentils
3.5 oz carrots, cleaned and sliced
salt & pepper to taste

optional:

Red chili flakes
Instructions
Preheat the oven to 375°F.
Cut out two squared pieces of aluminum foil of 10" and brush them with some butter.
Cut off the top off the garlic bulbs and fold them in the foil. Lay them on a baking sheet and roast them for 45-60 minutes in the oven. The garlic will get soft and golden brown:
Unwrap the garlic and let them cool off.
Once cool, push the roasted garlic out of their skins. Mash it with a fork until you have a garlic paste. This will be about two tablespoons.
Slice the mushrooms and melt 2 tablespoons of butter in a soup pan.
Fry the mushrooms for 3 minutes over medium high heat, keep stirring.
Add two tablespoons of the roasted garlic paste, stir for a few seconds and add the vegetable broth.
Add the lentils and carrots and stir well.
Bring the soup to a boil and turn down the heat to medium low. Let the soup simmer for 20 minutes until the lentils are done. Stir every five minutes.
Add salt and pepper to taste, and if you want to give the soup some spice add some red chili flakes.
https://www.inmyredkitchen.com/roasted-garlic-lentil-soup/
Copyright Ellen Bannink- in my Red Kitchen
Enjoy!