Welkom! (that's Dutch for 'welcome')
10 things you should know about me:
I like to clean the kitchen sink with soft scrub. I like the actual scrubbing but most of all the shiny bright sink afterwards
I'm the oldest of 4 and I didn't like it having 'so much' siblings growing up. But now I wouldn't want to miss them for the world.
I'm not a native English speaker/writer (so please be nice to me ;-))
I don't like bell peppers, olives, mangoes, organ meat or raw tomatoes (unfortunately)
I like grocery stores, especially abroad
I spent 2 years in art school until I decided I'm not an artist
I'm always trying to lose weight but I realise I will never be a thin girl (that's not a good combination isn't it?)
You can wake me up at night for some good limoncello, macarons, authentic pancetta, truffle, risotto, lemon meringue pie, good quality chocolate, real butter, garlic knots, home made bread and a Dutch shrimp 'kroket'.
I like skirts and dresses and my flipflops. When I walk around on high heels or wedges I feel like a lady, which is nice too 😉
I have the best husband in the world but it was never our intention to get married.
So I'm Ellen, a 35 year old Dutchie living in San Diego (California) with my husband 'P' and daughter Stella. Maybe you already found my Dutch foodblog inmyredkitchen.nl but on this website I will tell you all about my food and myself, living this sunny life in San Diego (and previously LA).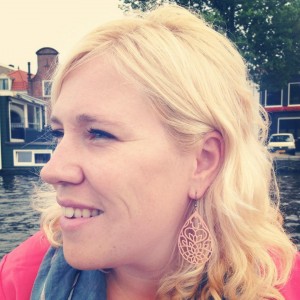 I'm totally into home made food and I like to make the products that you normally buy in the store myself, like tortillas, bread, pasta sauce and marinades.
I started my blog 'in my Red Kitchen' living in Amsterdam and cooking in a red kitchen. My LA kitchen was black, and my San Diego kitchen is white!
As you can see I'm not a native English speaker and writer but I will try my best 😉
You can contact me by sending an email: info[a]inmyredkitchen.com
Have a good one & enjoy my blog!