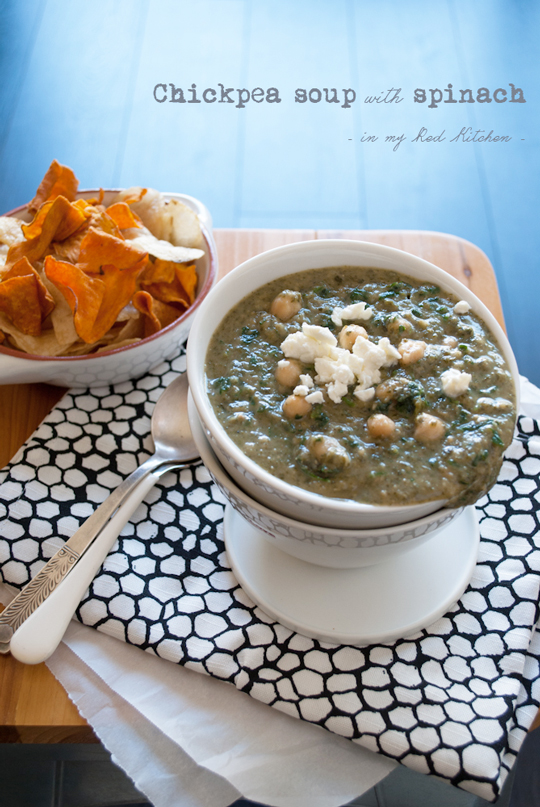 – Click here for this recipe in Dutch -> Kikkererwtensoep met spinazie –
You know it's fall when you're craving chickpea soup with spinach! This soup is one of my favorites as it has two of my favorites: chickpeas and spinach!
6-year old Ellen would have never thought that spinach would be one of 32-year old Ellen's favorites 😉 I hated spinach, as well as lots of other vegetables. My mom always served the spinach cooked with a boiled egg on the side. And boiled potatoes and meat, like sausages or pork chops. That's a Dutch thing you know, if you serve (boiled!) potatoes, vegetables and meat as dinner then you're serving a typical Dutch meal.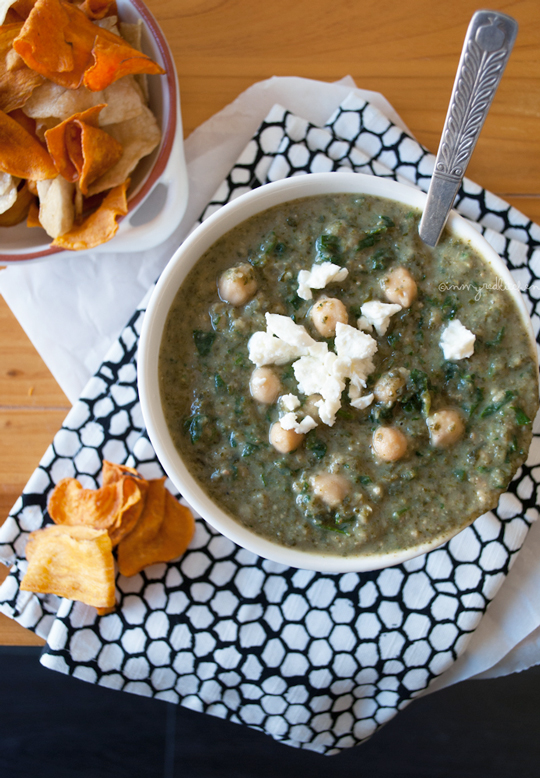 I sneak spinach in almost everything I'm eating now. Smoothies, omelettes and salads. Well, that's not exactly in everything but you get the idea 😉
The chickpea soup with spinach is with me for a while now. I don't remember how I got the recipe, maybe one of my friends gave it to me? Years ago I would scribble down notes in Word and I would keep them in my recipe folder on my computer. Without a source or a link. This recipe is one of those, but it doesn't keep me from sharing with you!
So here you are, indulge in Fall and make this hearty soup!
Chickpea soup with spinach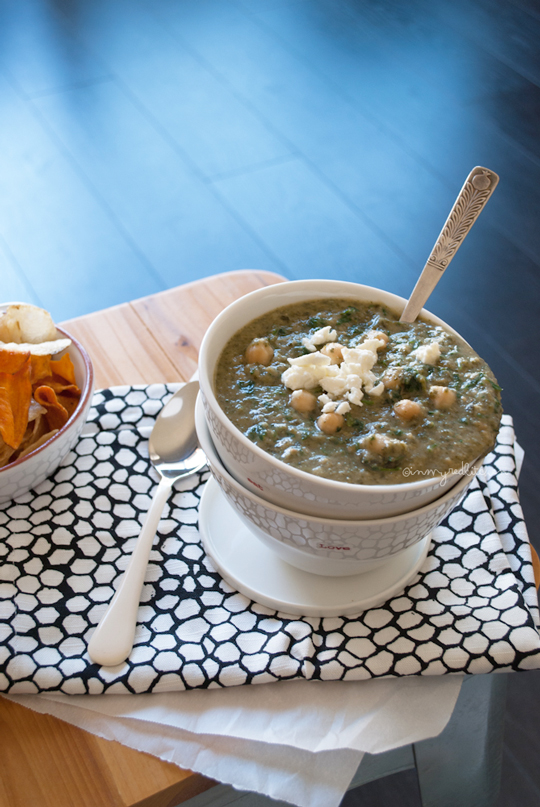 A soup made with two of my favorites: chickpeas and spinach! And I absolutely love the addition of tahnini in this soup
Ingredients
2 Tbsp olive oil
4 cloves garlic, minced
1 onion, chopped
2 tsp ground cumin
2 tsp ground coriander
1 medium-large russet potato of about 12 oz, peeled and cubed in 1 inch cubes
40 fl oz vegetable broth
2 14 oz cans chickpeas, drained
2 Tbsp tahini sesame paste
1 Tbsp corn starch
2 cups frozen spinach
salt & black pepper to taste
pinch of cayenne pepper
feta for garnish
Instructions
The best way to prepare this soup is to have everything ready and set out when you start cooking.
In a large pan, heat the olive oil over medium high heat.
Add the garlic and onion and cook for 5 minutes until the onion is soft.
Add the cumin and coriander, stir and cook for another minute.
Add the potatoes and vegetable broth, bring to a boil and cook for 10 minutes.
Add the chickpeas and let cook for 5 minutes until the potatoes are just done.
In a small bowl, mix the tahini and corn starch until smooth. Add to the soup together with the spinach.
Bring to a boil, let it simmer for 2 minutes and remove the pan from the stove. Use an immersion blender to puree the soup. I like my soup chunky so I make sure that some chickpeas will stay whole.
Add salt & pepper and cayenne pepper to taste.
Serve the soup with some crumbled feta on top.
https://www.inmyredkitchen.com/chickpea-soup-spinach/
Copyright Ellen Bannink- in my Red Kitchen
Enjoy!