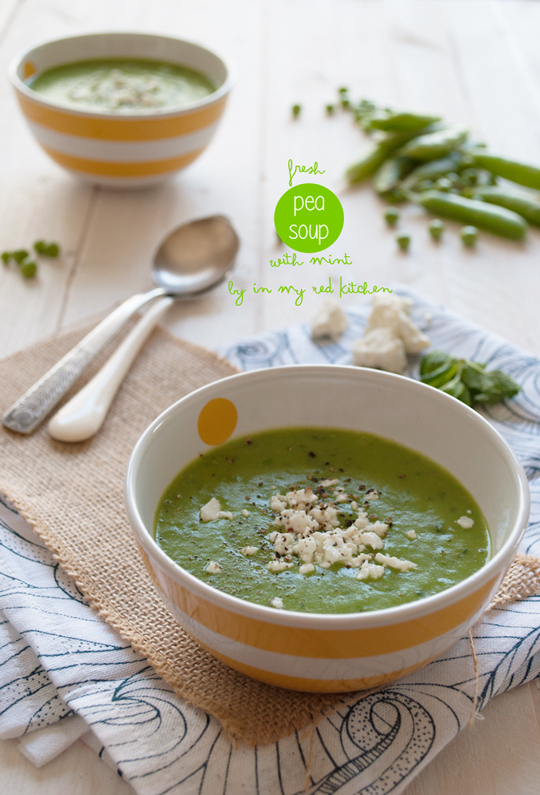 – Click here for this recipe in Dutch -> Doperwtensoep met munt –
Growing up at the east side of the Netherlands, my aunt and uncle had a huge farm, not too far from our house.
I can recall many happy moments there; playing with my cousins at the hayloft and finding a dead mouse, seeing a cow giving birth to a calf at night while we are watching through the video system how my uncle was assisting, camping in a little tent in the front yard, drinking really fresh cows milk and just playing games at the huge courtyard.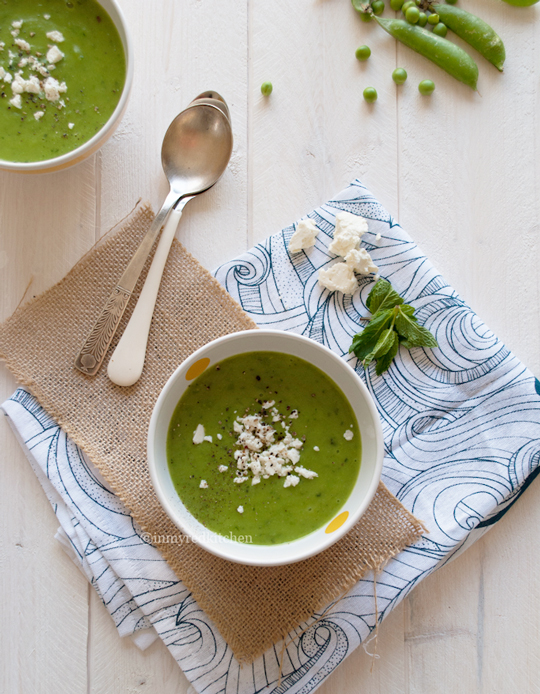 Another thing I remember is helping my aunts mother with shelling peas. Both my cousin, her grandmother and me had a bowl on our lap and we sat outside with lots of peas, just harvested from the garden. Snap – snap – snap and tok – tok – tok… our tiny fingers pushing on the pods so they would snap open and those big green peas would be revealed. I loved it!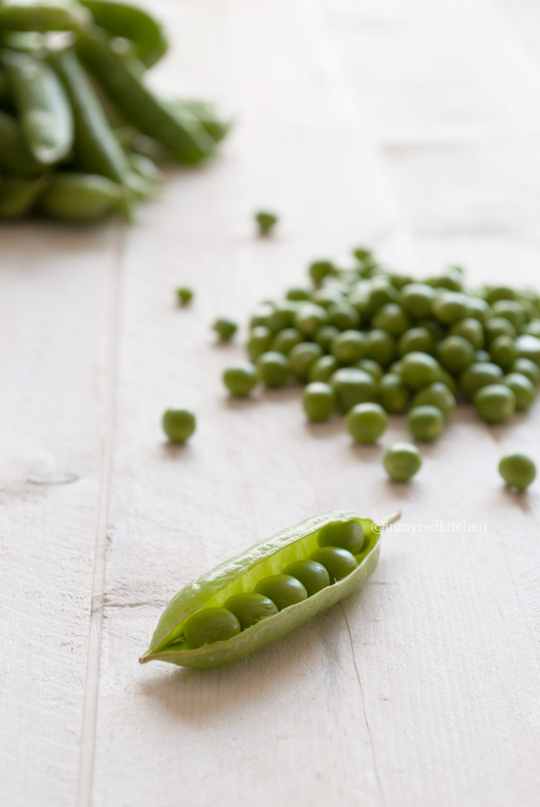 And every time I buy fresh peas and I start shelling them, I think back to that summer when I was a little girl and I helped with shelling the peas.
I'm so lucky that I could spent a part of my childhood at a farm, I think that's a really precious gift you can give to a kid. Seeing (and tasting!) where milk comes from, experiencing all the hard work a farmer has to do to grow food and just lots of space to play around!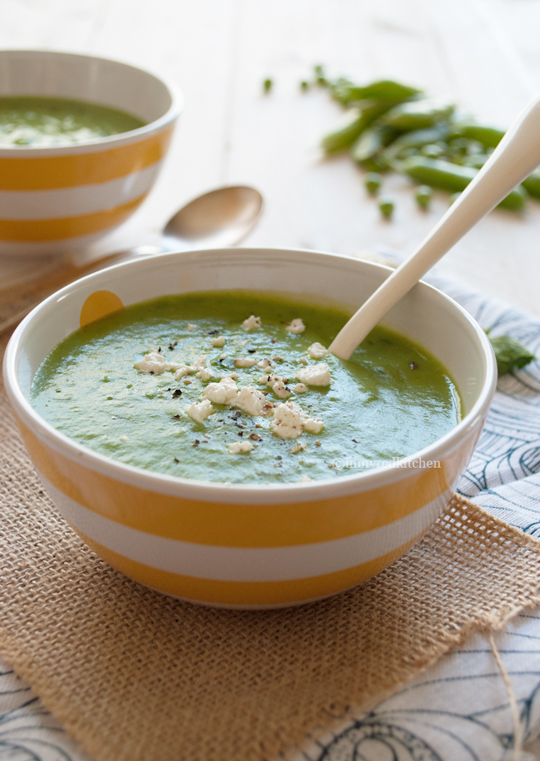 I always loved peas and you can find a bag in my freezer all year round. But I'm most happy when the fresh peas are in season, and I also like shelling them. It's a surprise every time to see how many peas are in a pod and if they are big or small.
My favorite way to serve peas is as a delicious and creamy fresh pea soup with mint. It has spring (and summer!) written all over it, without adding any cream at all. It's so simple, I recommend you make this as soon as possible! 😉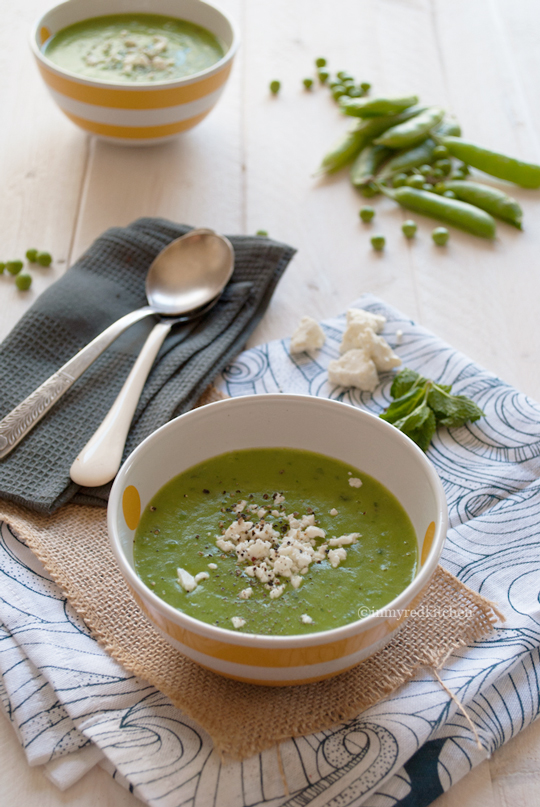 This soup has spring and summer written all over it! It's so creamy without adding cream!
Ingredients
1 Tbsp butter
½ onion, coursely chopped
10 oz potatoes (about 3 medium sized ones), peeled and cubed
2 ½ cups vegetable broth
9 oz fresh peas (about 2 oz when still in their shell)
1 handful mint leaves
salt and pepper to taste
crumbled feta for garnish
Instructions
Heat a large saucepan over medium-high heat. Melt the butter and add the onion. Cook the onion for 5 minutes until soft.
Add the potatoes and the broth and bring to a boil. Turn down the heat to medium-low, cover and let simmer for 10-15 minutes until the potatoes are done.
In the meantime, shell the peas: squeeze the pods softly with your thumb, starting at the round part of the pod.
The pod will break open and you can release the peas.
Add the peas to the pan and let them cook for 3 extra minutes.
Take the pan off the stove and add the mint leaves. Use an immersion blender to blend the soup until smooth.
Add salt and pepper to taste ans serve with crumbled feta.
https://www.inmyredkitchen.com/pea-soup-with-mint/
Copyright Ellen Bannink- in my Red Kitchen
Enjoy!