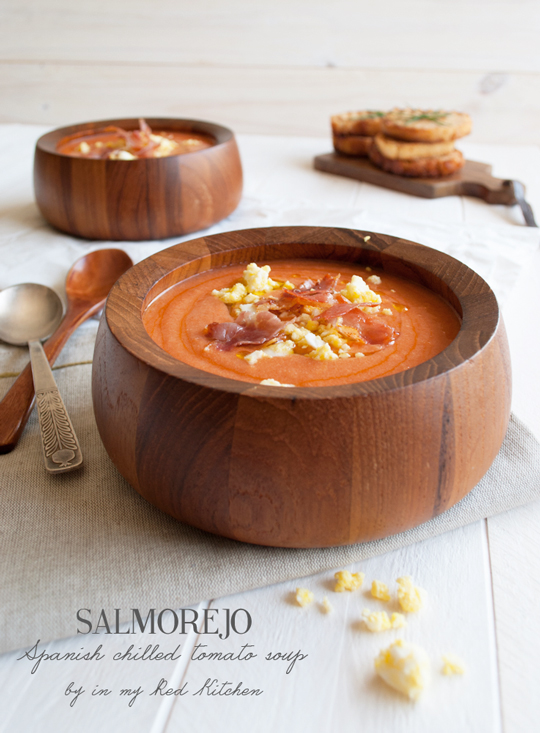 – Click here for this recipe in Dutch -> Salmorejo – koude tomatensoep –
What is a person without friends? Not much in my case. It's so fun though, moving to the other side of the world with just your husband and spending lots of time together. But of course I also need to do things with friends: going to see a movie, going for a walk around the block or simply meeting for coffee.
Those moment are important for talks about all things women. Dieting, running a household, clothes… you know the drill. Things that P doesn't care about, because why should he care when I walked out of the beauty salon with a bloody scrape after they waxed my eyebrows to liberal? Or why should he care when I leave the store with a bag full of cute tops and dresses for less than $50 (yay for additional sale on top of the regular sale!). And not to speak about those cute sandals that I bought for just $19 and that look alike the Steve Madden shoes that my sister bought.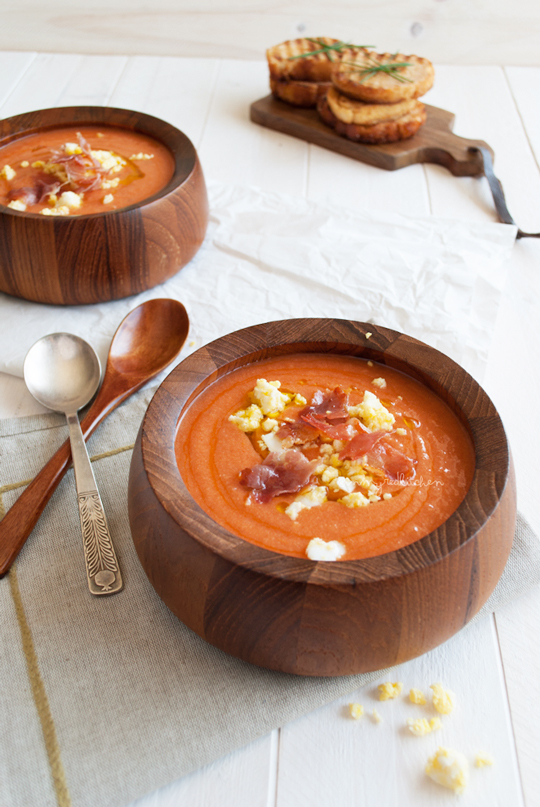 The recipe and photo for this delicious Salmorejo is partly created thanks to friends. What do I say? Without girlfriend I. I wouldn't even have known about the existence of this delicious chilled tomato soup. It must have been around the same time, I just posted the recipe for Gazpacho and I shared the pics as usual on social media. Friend I. responded by asking me whether I knew Salmorejo. Uhm nope! I started googling and it seemed great! Salmorejo is originally from Andalusia, in southern Spain and just like gazpacho it's a tomato soup that you serve cold. Only this is much creamier because it contains a baguette. Waaaaaah! Sounds good right?
Shortly after discovering Salmorejo my girlfriend S. gave me six very beautiful wooden bowls, as she was moving to a smaller apartment and thought that I could appreciate those beautiful bowls. Good thinking S.! They are beautiful and they make me very happy. And such wonderful bowls ask for an equally wonderful recipe for a delicious creamy chilled tomato soup.
I knew it, this combination was destined! I had to make almorejo and shoot it in those beautiful wooden bowls.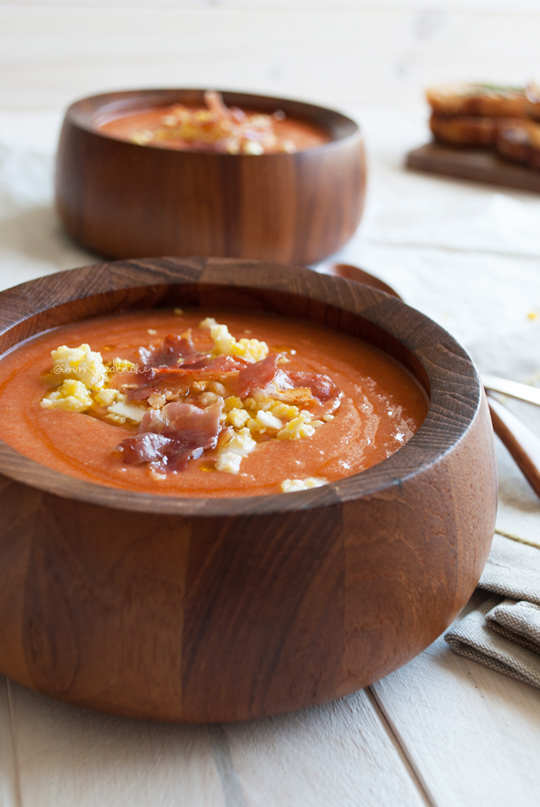 I read a few Salmorejo recipes, one recipe slightly differently than the other. One chose to peel the tomatoes first and the other used only the inner white bread of the baguette. But the most fun recipe to me is the recipe that I found at Saveur, where the tomatoes and bread are first soaked for an hour in boiling water. Fun! Playing with your food, count me in! So I went to work with a delicious soup as a result. And shall I tell you a secret? I think Salmorejo is actually way better than Gazpacho 😉
Salmorejo is traditionally served with crumbled hard-boiled eggs and serrano on top. Serrano's hard to get in LA, so I used prosciutto. And I loved to bake those briefly and crumble them in pieces. Yum! Extremely perfect for those hot LA summers, and it leaves me with the feeling that I "cooked" without having to stand in a hot kitchen for a long time.
Salmorejo – chilled tomato soup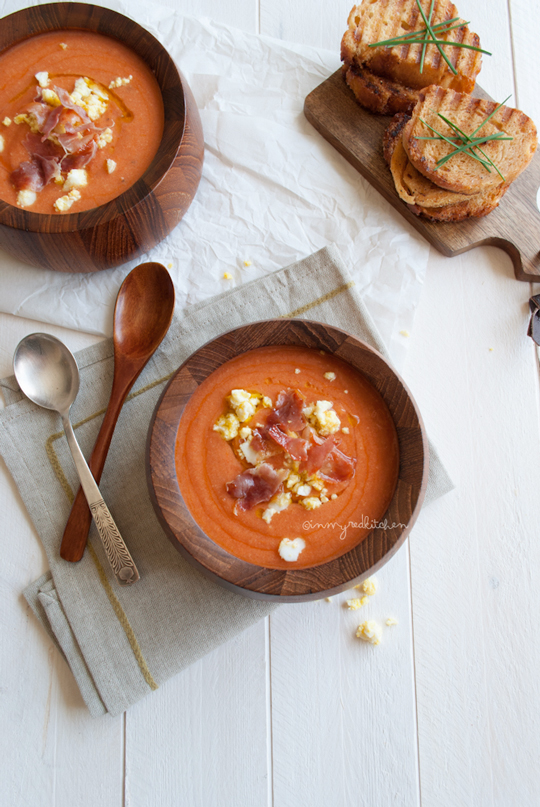 Can you keep a secret? This chilled tomato soup is só much better than gazpacho! 😉
Ingredients
4 large plum tomatoes (approx 14 oz)
½ baguette (about 5 oz)
½ small yellow onion
1 clove garlic, crushed
1,5 Tbsp kosher salt (or 1 Tbsp regular sea salt)
½ cup olive oil
1 Tbsp red wine vinegar
1 Tbsp tomato paste
Freshly ground black pepper, to taste
2 hard boiled eggs, crumbled
6 slices prosciutto, teared in pieces
Instructions
Slice the tomatoes in quarts and remove the seeds and core. Transfer them to a large bowl.
Cut the baguette and the onion in big pieces and add them with the garlic and salt to the bowl.
Stir and cover with boiling water, about 3,5 cups should be enough.
Leave to soak for an hour, just on the counter.
Prepare a colander with a bowl placed under it to save some of the liquid. Drain the tomatoes and bread.
Get a blender ready, transfer the tomatoes and onion to the blender. Squeeze the water from the bread, this goes best using two flat hands. Add the bread to the blender as well as ½ cup of the soaking liquid, the olive oil, red wine vinegar and tomato paste. Blend it until smooth and transfer to the big bowl you used for soaking. Add black pepper to taste and some salt, if needed.
Place in the fridge until serving so it can cool off.
Serve with the crumbled eggs and prosciutto and drizzle with some extra olive oil.
https://www.inmyredkitchen.com/salmorejo-chilled-tomato-soup/
Copyright Ellen Bannink- in my Red Kitchen
Enjoy!
recipe adapted from Saveur