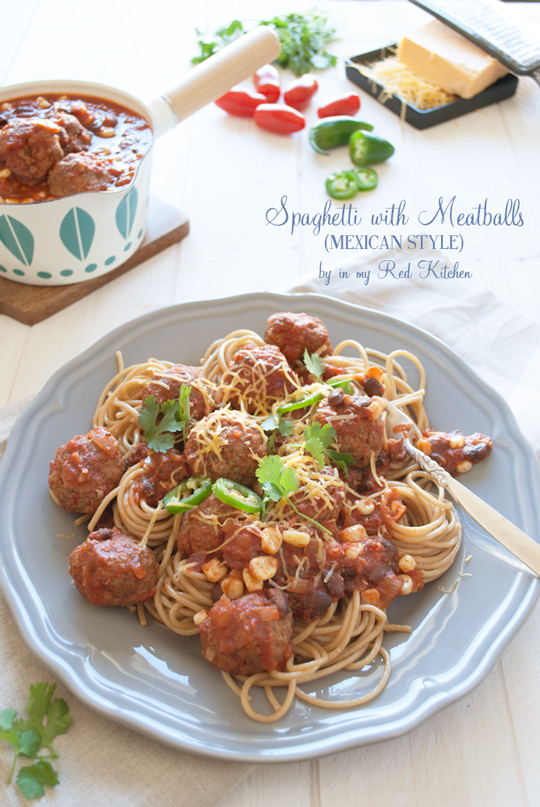 – Click here for this recipe in Dutch -> Mexicaanse spaghetti met gehaktballen –
Oh Mexico! What I would like to come and visit you on vacation! But unfortunately we already used our vacation days this year for our visit to the Netherlands. Maybe next year then? Or should we go to Hawaii?
Last weekend I happened have to a very Mexican weekend in LA, filled of good food. And not Mexican food as I know it from the Netherlands, but real Mexican food.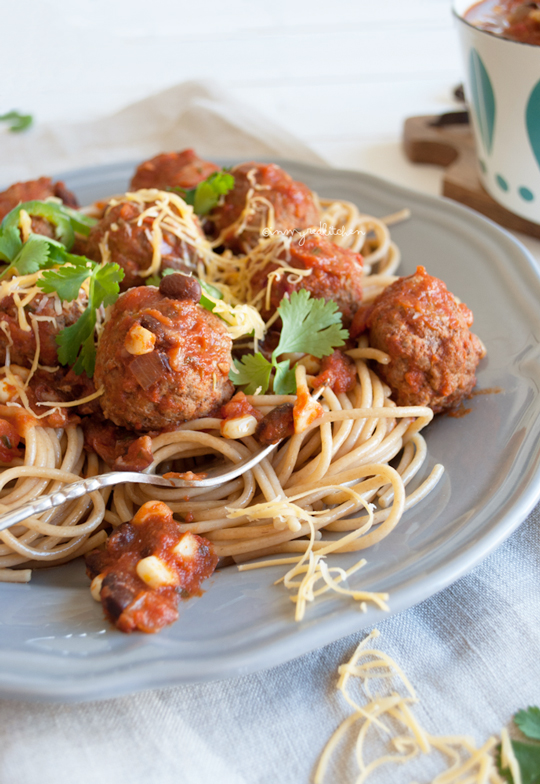 We started Saturday at the Grand Central Market in downtown Los Angeles. It is a large covered market with several stalls: with dried peppers and beans, one with dried fruit and nuts, a fruit and vegetable stall, but best of all: lots of tasty food shops. Super-duper hipster ones with rows of an hour long wait but also older Mexican and Persian eateries. I love it how that goes together!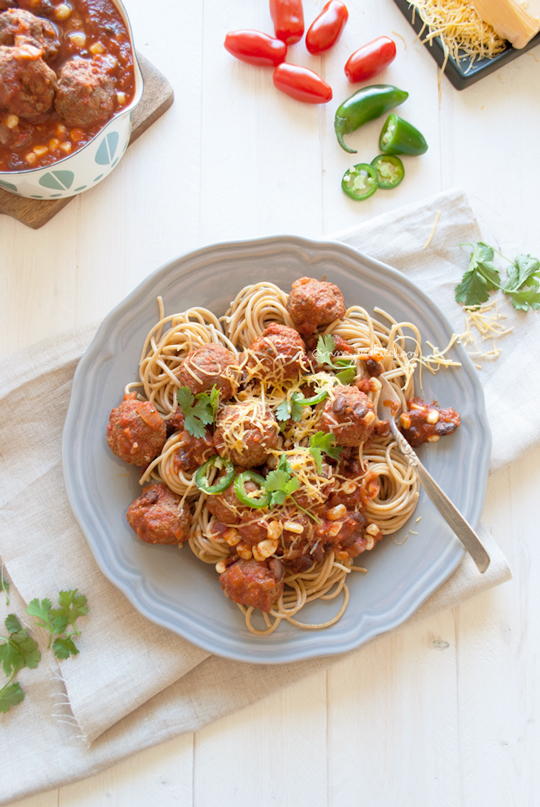 We were a bit too hungry to stand in line for an hour so we chose a Mexican place. Because I like to try something new, I ordered sopes, which is a thick corn pancake with toppings on it. I had seen it before but never eaten it, so it was about time! And as a topping, I chose 'cracklings', besides the usual beans, tomato, lettuce, guacamole and hot sauce. With cracklings you think you get crispy fried pork skin, but alas… it was greasy and slippery pieces of skin in spicy sauce. There was nothing wrong with that because it was tasty, but a bit of a disappointment as I expected something crispy.
The next time I will order 'just' pollo, carne asada or carnitas on sopes, because there was nothing wrong with that!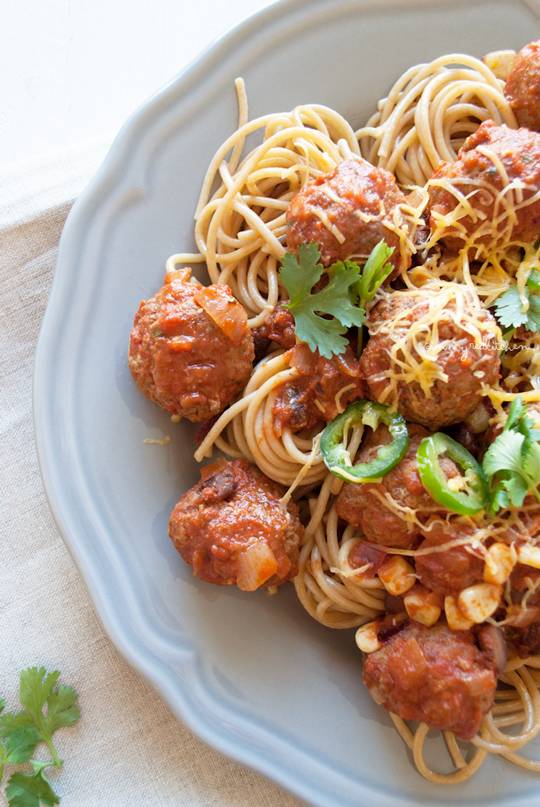 Sunday night our Mexican adventure continued, this time we went to eat at a place near our house. It was recommended to me several times before, and to be honest I would otherwise never go there. This restaurant specializes in Oaxacan food. Oaxaca is a region in southern Mexico and 'mole' is their local dish, a sauce made ​​from chili peppers, many other spices and often CHOCOLATE. Yep, you read that right: chocolate! I had read about it many times so again it was about time to try it out. After a delicious appetizer of crispy taquitos with heavenly creamy guacamole, I started eating a huge burrito which was covered in mole sauce.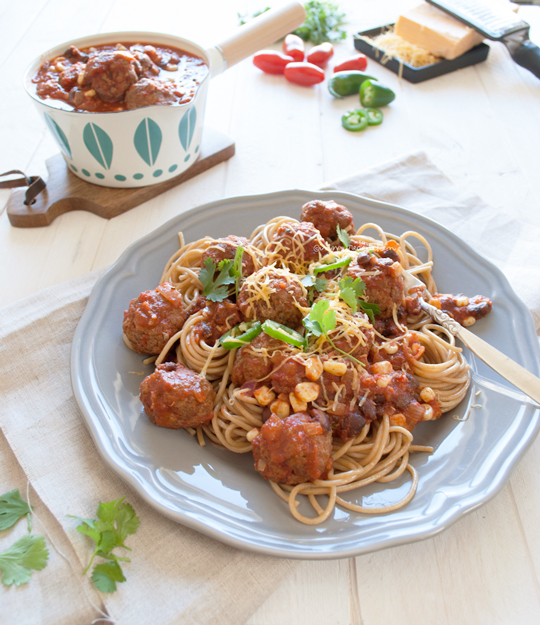 It had a smoky flavor with a chocolate aftertaste, very special to eat that! The first bites I had to get used to the flavor but I will definitely order it again. I mean… chocolate on your burrito! 😉 I was so stuffed from the burrito (I only ate 1/3 of it) that dessert wasn't going to happen. But next time I would like to try the 'Nieves Oaxaqueñas', which is a ice cream dessert with 'burn milk that was also recommended to me.
But now I had enough 'strange' Mexican food, so for the foodblogswap of August I saw a recipe for Pasta with Mexican meatballs on Miss Craftsy, Joyce's blog. It was not difficult to choose and I made this Spaghetti with meatballs Mexican style. Because when I think of Mexico I think of cumin powder, corn, salsa, cilantro, tomatoes and beans. All the ingredients for an amazing sauce! After all, why not heat the salsa and use it to make a tomato sauce?
The result is a mild spicy tomato sauce with tasty meatballs, corn and beans, and whole grain pasta! It was spicy enough for us but feel free to use more or less jalapeño's!
Spaghetti with meatballs Mexican style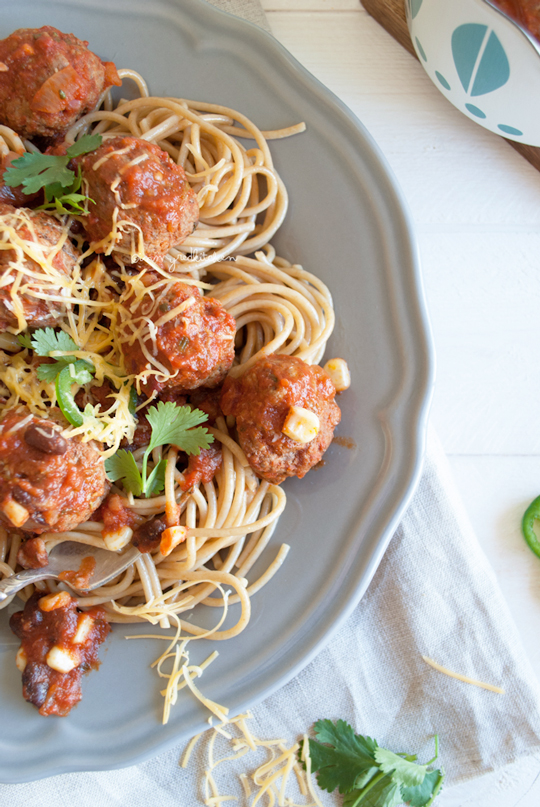 A mild spicy Mexican tomato sauce, who will join me when I go to Mexico tomorrow? 😉
Ingredients
1 lbs ground beef
5.5 oz chorizo
4.5 oz whole wheat spaghetti

for the salsa

8 oz tomatoes
½ red onion
2 cloves garlic
½ jalapeño peper
juice of 1 lime
½ tsp cumin
pinch salt
fresh cilantro to taste

for the tomato sauce

½ onion
1 15 oz can tomato sauce
1 cup corn
1 14 oz can black beans, rinsed
Salt to taste
Instructions
Preheat the oven to 400 degrees F.
Mix the beef with the chorizo until combined and form 18 balls.
Place them in an iron cast skillet and place the skillet in the preheated oven. Cook for 20 minutes until done.
In the meantime, cook the spaghetti according to the instructions on the box. Drain and add a few drops olive oil to the pasta to prevent it from sticking.
Make the salsa: Give all the ingredients for the salsa a coarse chop and place in a blender. Use the 'chop' function to blend everything together for a chunky salsa. Set aside.
Start with the sauce: chop the onion fine and heat some olive oil in a large deep skillet over medium heat. Fry the onion until soft and add the tomato sauce, corn, black beans and your freshly made salsa. Stir, bring to a soft boil and let it simmer for 10 minutes. Add salt to taste.
Place the hot meatballs in the tomato sauce, stir and serve over the spaghetti.
http://www.inmyredkitchen.com/spaghetti-meatballs-mexican-style/
Copyright Ellen Bannink- in my Red Kitchen
Enjoy!