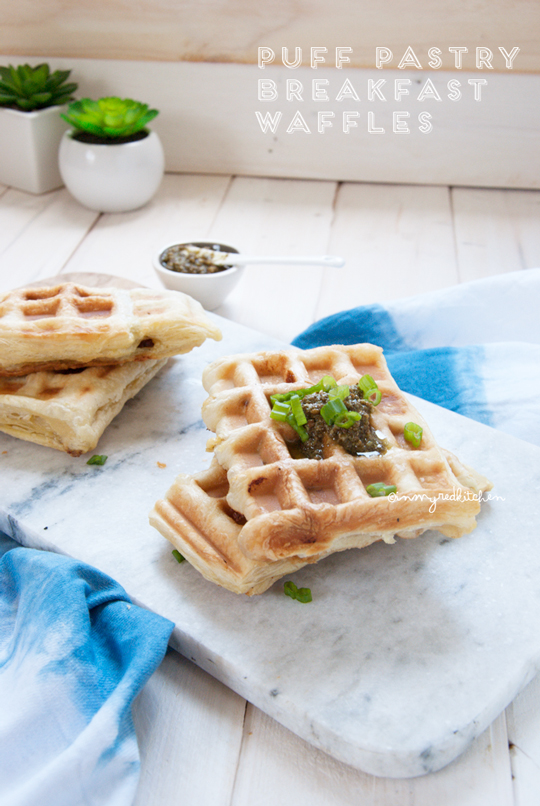 Hi, it's me again 😉
This time from a new kitchen and a new city, with a new recipe for my new favorite: puff pastry breakfast waffles!!
For a long time now I was planning to use my waffle maker for other things than just the plain ol' waffles.
I'm still curious for things like tater tot waffles, potato waffles and grilled cheese waffles, but I'm not sure if I will really ever try those because puff pastry waffles are GENIUS!
You should definitely get a waffle maker
if you don't have one yet! I like a square one, as it's easier to make puff pastry breakfast waffles with it.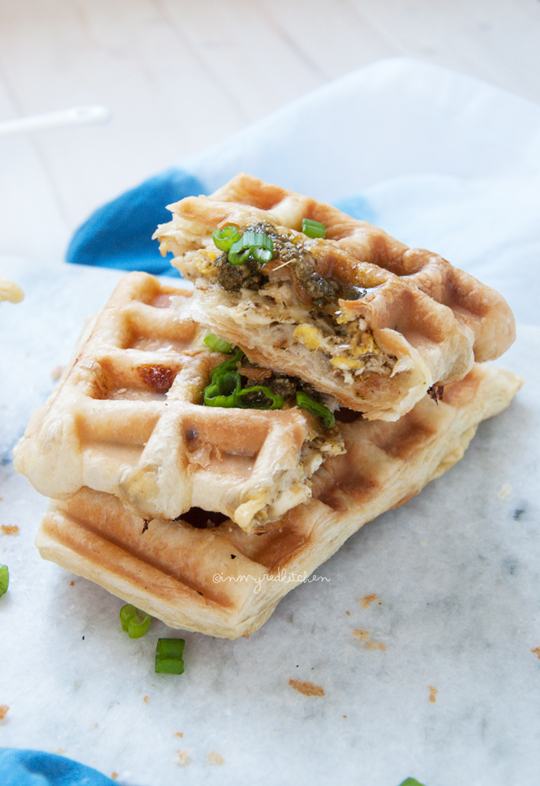 For starters: you can easily put a whole sheet of puff pastry in a square waffle maker, for some plain puff pastry waffles.
Or you can cut up the puff pastry sheet in four equal squares to make stuffed waffles. What do you think of plain chocolate waffles, as you fill the puff pastry with chocolate chips. Or make it fancy, with white chocolate chips, cherries and sliced almond. Make easy apple turnovers using cubed apples, raisins, brown sugar and cinnamon. What about pear, goat cheese and honey?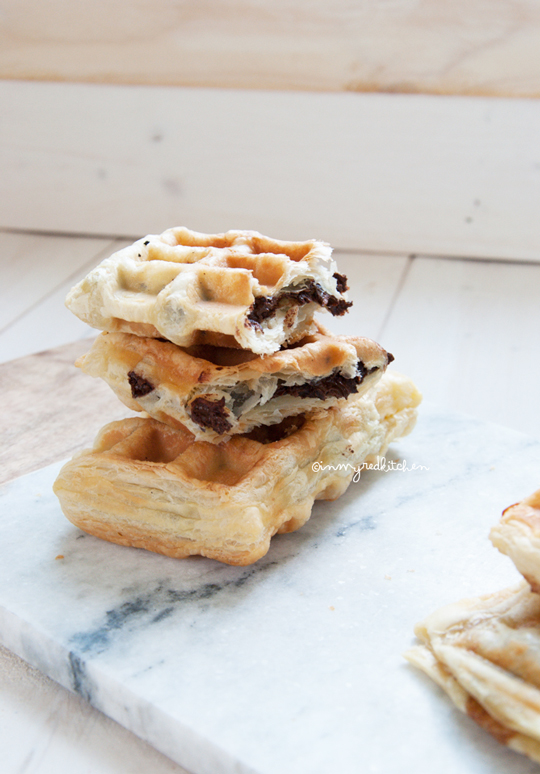 Do you think that's crazy? Okay, let's make some breakfast waffles instead! The stuffing options are endless, but I kept it easy with some eggs, bacon (duh!), pesto and cheese.
We all love these, even little Stella!
Puff pastry breakfast waffles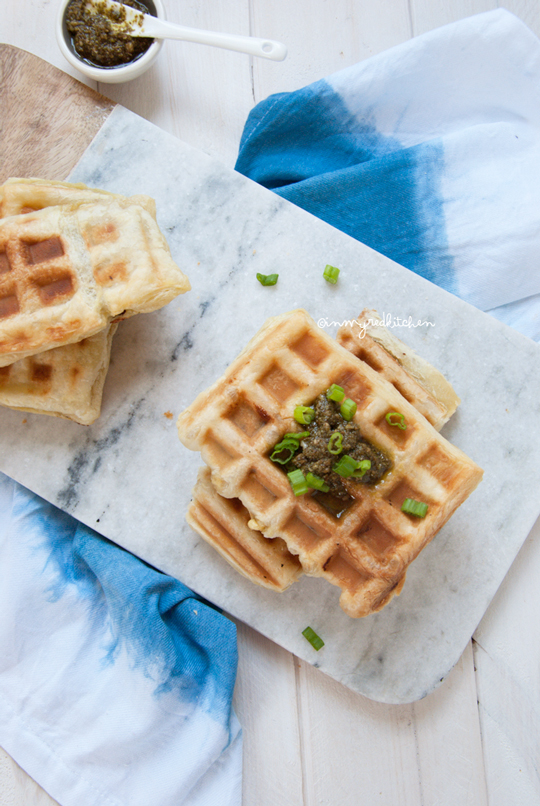 These stuffed puff pastry breakfast waffles are just too easy, and with puff pastry, eggs, bacon and cheese... what's not to love?
Ingredients
1 sheet puff pastry
2 slices bacon
2 eggs, beaten
1 Tbsp pesto
½ cup grated cheese, like cheddar or mozzarella
Instructions
Defrost the puff pastry sheet according to the instructions on the box.
Cut the bacon in smaller pieces and cook in a small pan over medium high heat until almost crispy, about 5 minutes. Remove from pan with a slotted spoon, set aside in a bowl.
Quickly scramble the eggs in the remaining hot bacon grease (you can remove some grease if you want), until just done.
Add the scrambled eggs to the bacon and stir in 1 tablespoon of pesto. Mix until combined.
Mix in the grated cheese.
Turn on the waffle maker while you assemble the stuffed waffles.
Cut the defrosted puff pastry in 4 squares of approx. 4.5 inches.
Put ¼ of the egg mixture in the middle of each square and fold. Press the edges down, and use a fork if needed.
Place each puff pastry pocket in a pocket of the waffle maker. Cook until done, approx. 3-5 minutes.
Serve immediately*.
Notes
• you can place them back in a hot waffle maker to crisp up when needed!
http://www.inmyredkitchen.com/puff-pastry-breakfast-waffles/
Copyright Ellen Bannink- in my Red Kitchen
Enjoy!