– Klik voor het recept in Nederlands -> pastasaus –
Always make sure to have some portions of this pasta sauce in the freezer. It can save lives.
Because it's the best pasta sauce in the world, believe me!
This pasta sauce recipe is an easier version of the classic Italian bolognese sauce, which includes carrots and celery.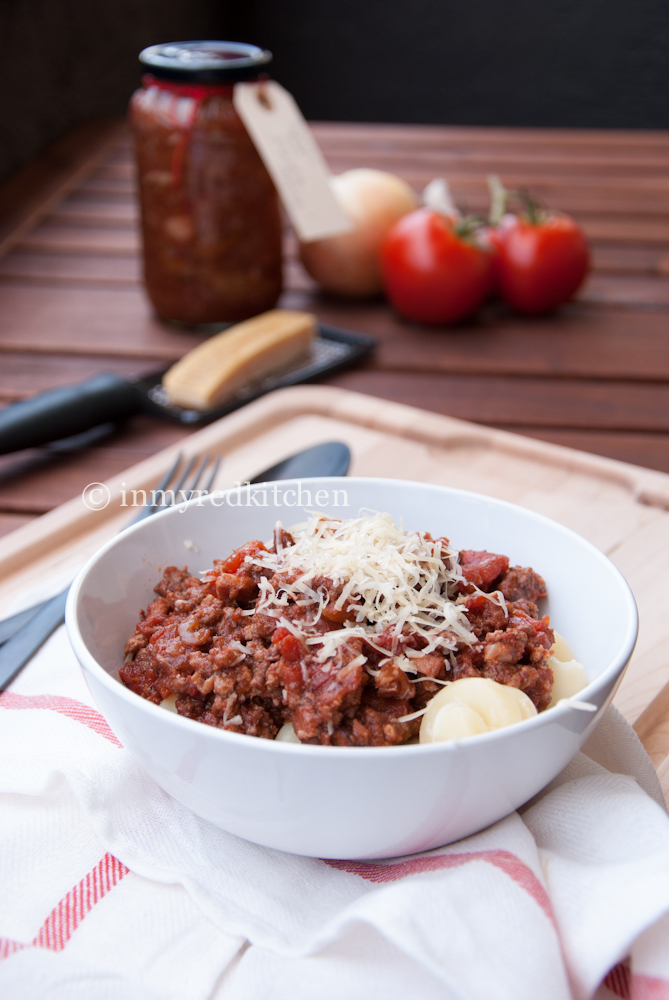 Once in a while I'm craving real tomato sauce but the storebought pasta sauces were always so dissapointing to me 🙁
This was still back in the days when I was used to cook with all the products you find in cans, pots and packages.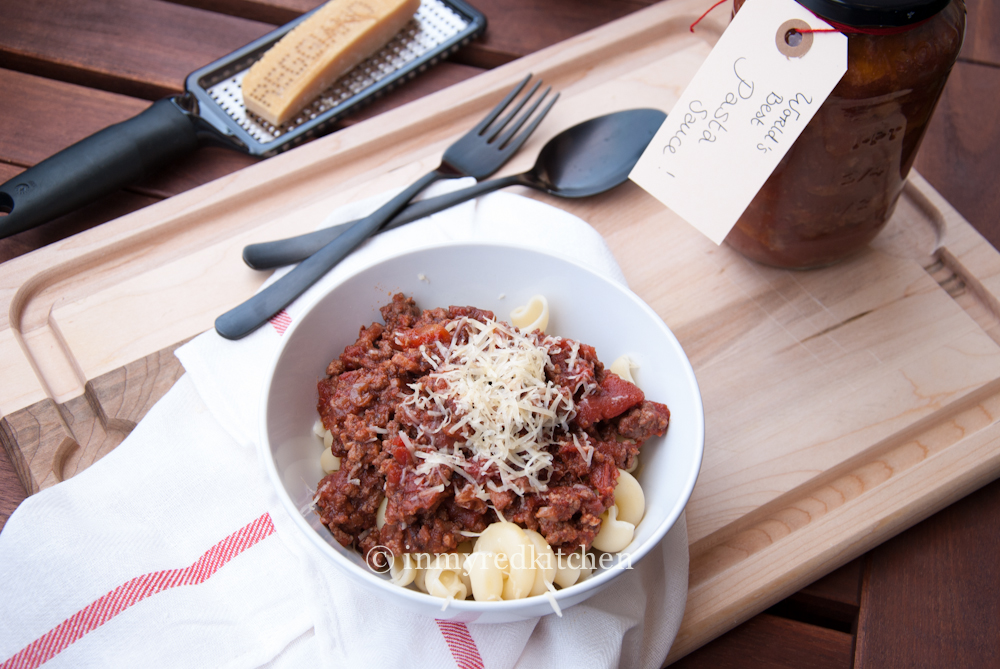 So when I stopped using all this ready made and prepped stuff I had to find a good recipe for pasta sauce.
I start making a huge pan with bolognese sauce once in a while but later on I got tired of the cutting and slicing of the vegetables so this pasta sauce is the recipe I make now so I always have it in stock.
The salty bacon is an absolutely must in this recipe, it makes the sauce so good! You don't need to add any herbs or spices, just use ingrediënts of good quality and cooking it slowly does the trick.
I also prepared it in the slowcooker last time, it needed 4 hours on high and then another 4 hours on low. But oh my… the meat was so deliciously tender. Yum yum!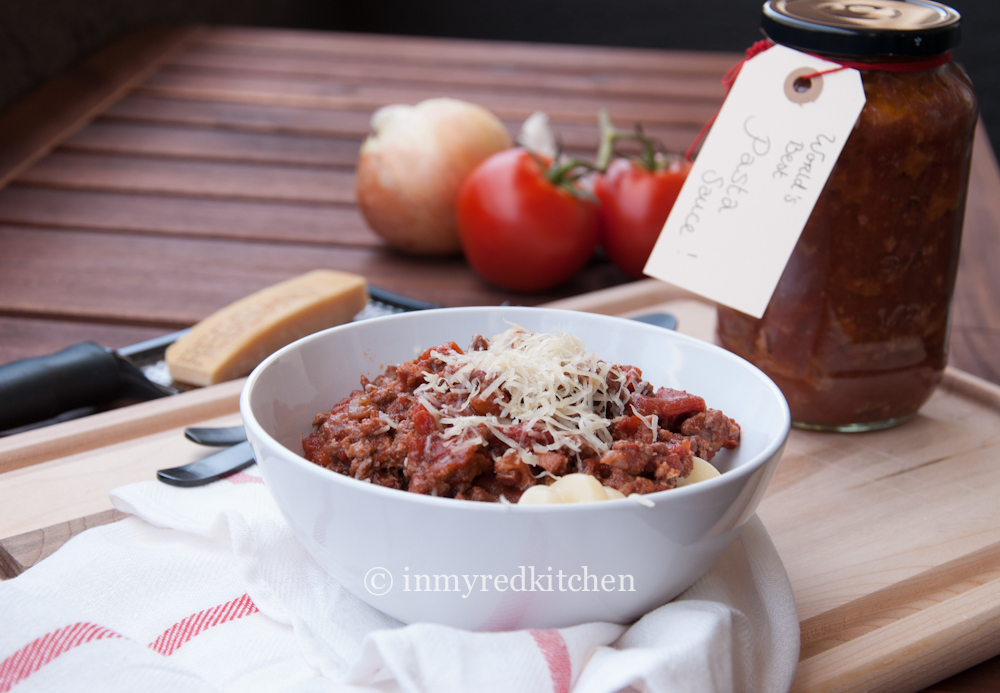 A rich and tasty pasta sauce, just like they serve it in Italy. Pure taste of tomatoes, it doesn't need any herbs or spices because it's already good on its own!
Ingredients
18 oz pancetta or bacon, cubed
2 lb ground beef, organic
1 onion, minced
4 cloves of garlic, minced
2 28 oz cans tomatoes (preferably San Marzano)
2 cups red wine
2 bay leaves
salt & pepper to taste

serve with pasta and grated parmesan
Instructions
Mince the onion, garlic and cut the bacon in cubes (if you bought bacon strips).
Heat a large Dutch oven over medium-high heat and add the bacon.
Give it about 4 minutes till the fat runs out, stir once in a while.
Add the beef (no need to add butter or oil) and let it brown. Break up large lumps with a wooden spoon.
Add the onion and garlic, keep stirring until they're soft.
(if using a slowcooker, transfer the meat mixture to the pot now.) Pour in the tomatoes and red wine, give it a good stir and add the bay leaves.
Let it cook for about 2 hours on low heat with the lid on (or 4 hours on high in the slowcooker).
After 2 hours take the lid off and let it cook for another 30 - 60 minutes so the liquids can evaporate. You want a thick and rich pasta sauce. (Another 4 hours on low in the slowcooker, take the lid off!)
Remove the bay leaves, add salt & pepper to taste and serve with pasta and grated parmesan.
Notes
Make sure to buy the thick strips of bacon if you can't find cubed bacon or pancetta.
http://www.inmyredkitchen.com/pasta-sauce/
Copyright Ellen Bannink- in my Red Kitchen
Enjoy!