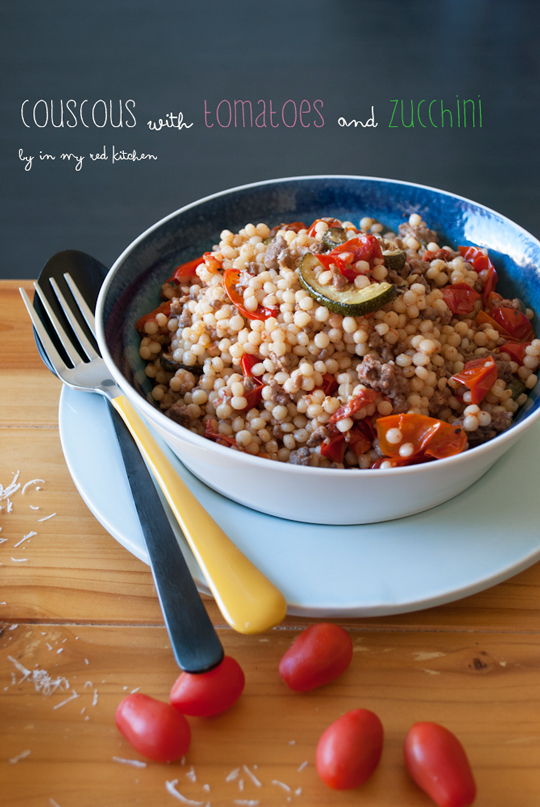 – Click here for this recipe in Dutch -> Parel couscous met tomaten en courgette –
A kitchen sink meal doesn't sound very appealing to me. But appearantly that's an American thing, this kitchen sink meal. This meal often comes in the form of a salad or soup, and it's made after cleaning out the fridge and cupboards. This way produce waste doesn't need to go down the kitchen sink, through the waste shredder. Have I told you yet that I love that thing? It's also typical American, you don't see it in Europe. I had to get used to it but now I throw all the fruit and veggie scraps in there!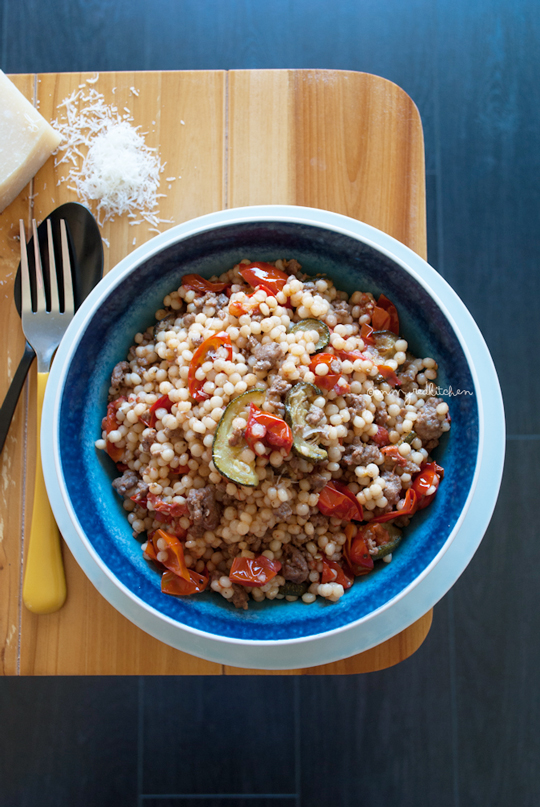 This kind of cleanup meals are not new to me. In fact, I do it all the time! And sometimes it results in a super succesful quiche, noodle dish or soup that will be repeated over and over again. Before I start planning our dinner I check the fridge for vegetables. Normally I buy some additional vegetables or meat and start cooking. This way I don't have to through out food and vegetables!
Call me weird but I really like doing groceries, I love wandering around in big supermarkets. But even though I like it, I also sometimes don't feel like it. Because it's lunch time so it will be busy in the supermarket. Or I waited too long to go out (read: it's after 4pm) and there's already too much traffic. In that case there's only one thing left to do: peek into the freezer, fridge and cabinets to get my stuff together and create a new recipe with it.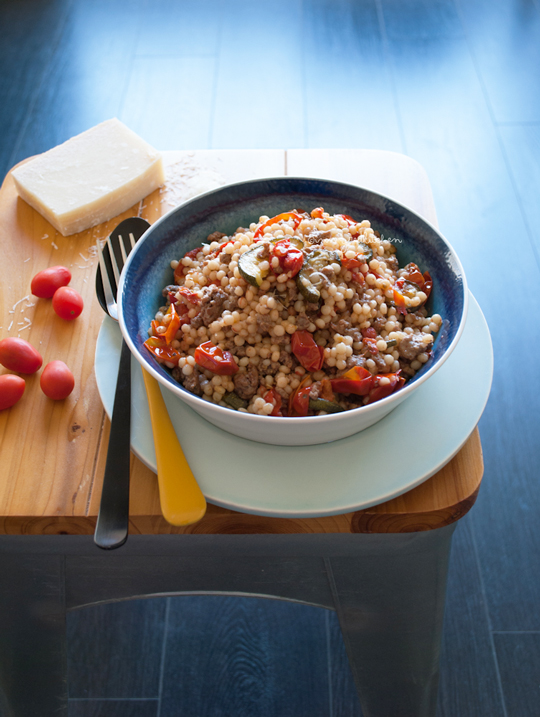 That's how last week I put this Israeli couscous with tomatoes and zucchini on the table. And it was delicious! So why shouldn't I share the recipe with you?
I took the ground beef out of the freezer, the tomatoes and zucchini were in the vegetable drawer of the fridge and I found just enough couscous in the cabinets. Nice and easy, I will go out for groceries again tomorrow! 😉
Israeli couscous with tomatoes and zucchini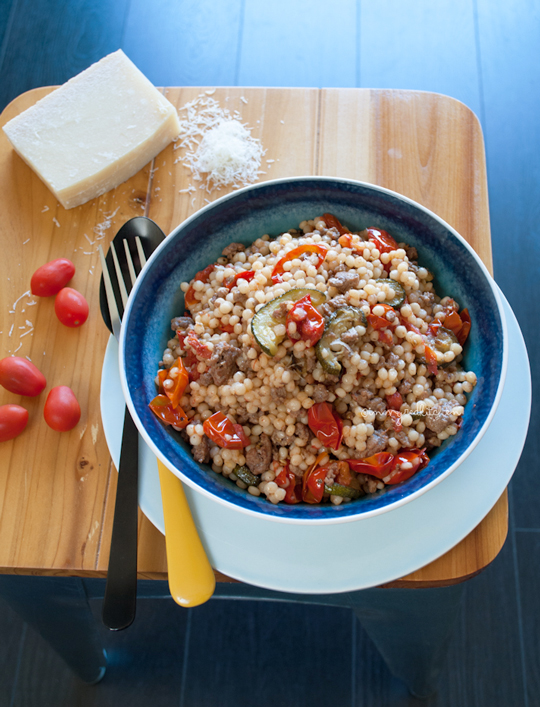 Quick and easy kitchen sink meal, aren't those the best?
Ingredients
12 oz ground beef
2 cloves garlic
2 zucchini's, cut in halved slices
2 heaped cups grape tomatoes, cut in half
2 cups Israeli couscous
2 cups chicken broth
parmesan cheese to taste
salt & pepper to taste
Instructions
Heat a wok over medium heat and use butter, ghee or oil to cook the ground beef until done.
Use a garlic press to crush the garlic and add it to the beef. Stir and add the zucchini.
Stir and cook until the zucchini browns and add the tomatoes.
Cook for two minutes and add the couscous. Stir to cover the couscous in oil and add the chicken broth.
Cook for 5 minutes or until the couscous is done. Stir every now and then.
Add parmesan cheese, salt and pepper to taste.
http://www.inmyredkitchen.com/israeli-couscous-with-tomatoes-zucchini/
Copyright Ellen Bannink- in my Red Kitchen
Enjoy!