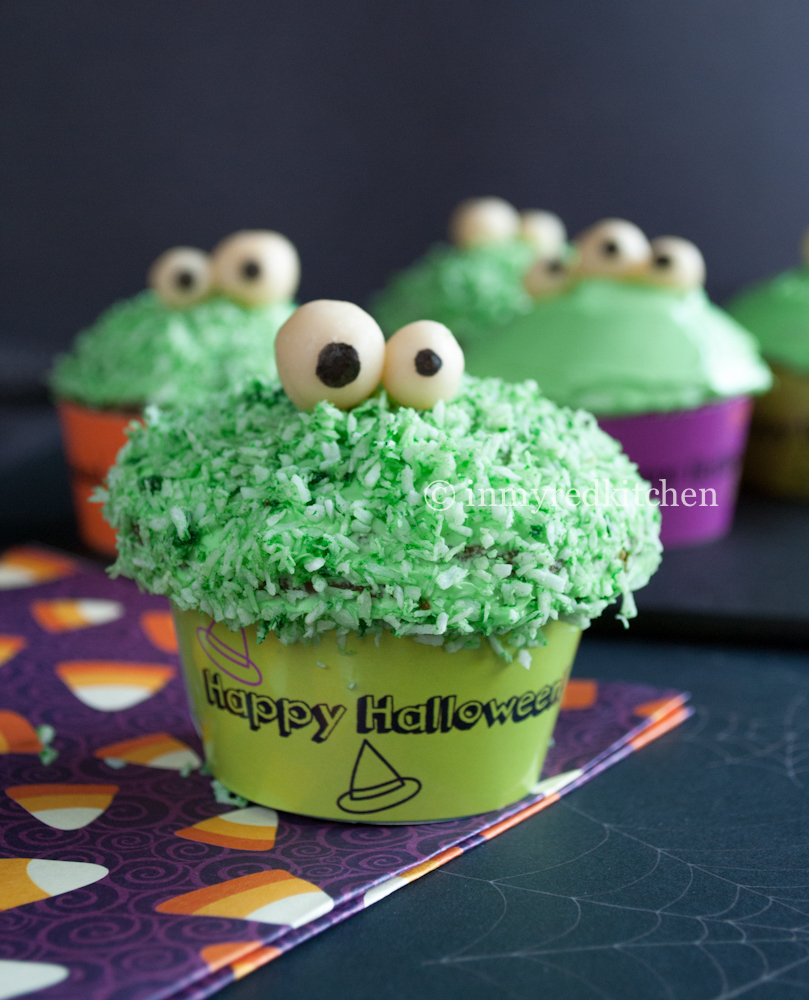 I'm not sure we will celebrate Halloween now we are living in LA. I don't know why, maybe because we're not used to dressing up with costumes for a holiday. Okay, I exactly know why: to be honest I don't like dressing up in costumes… Sorry… 😉
But what I DO like is to see everybody excited for this typical American holiday. I DO like to see the excitement of the girl at the craft store when her mother told her she could choose a new trick or treat container this year. And I like to hear my friends telling about their theme parties. And I also like to check out the internet for creative bloggers who make great things.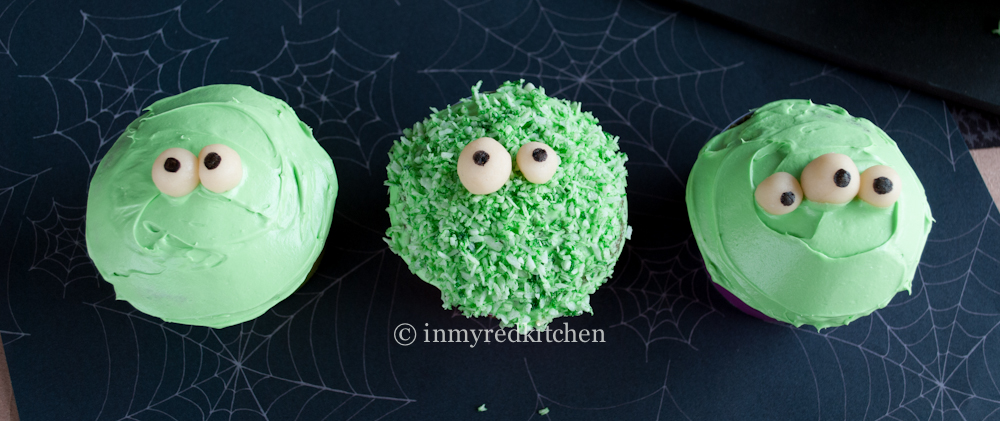 So I also did an attempt to be creative and made Green Monster Pandan Cupcakes. But my Green Monsters aren't scary because I don't like scary things. No, my monsters are adorable and cute.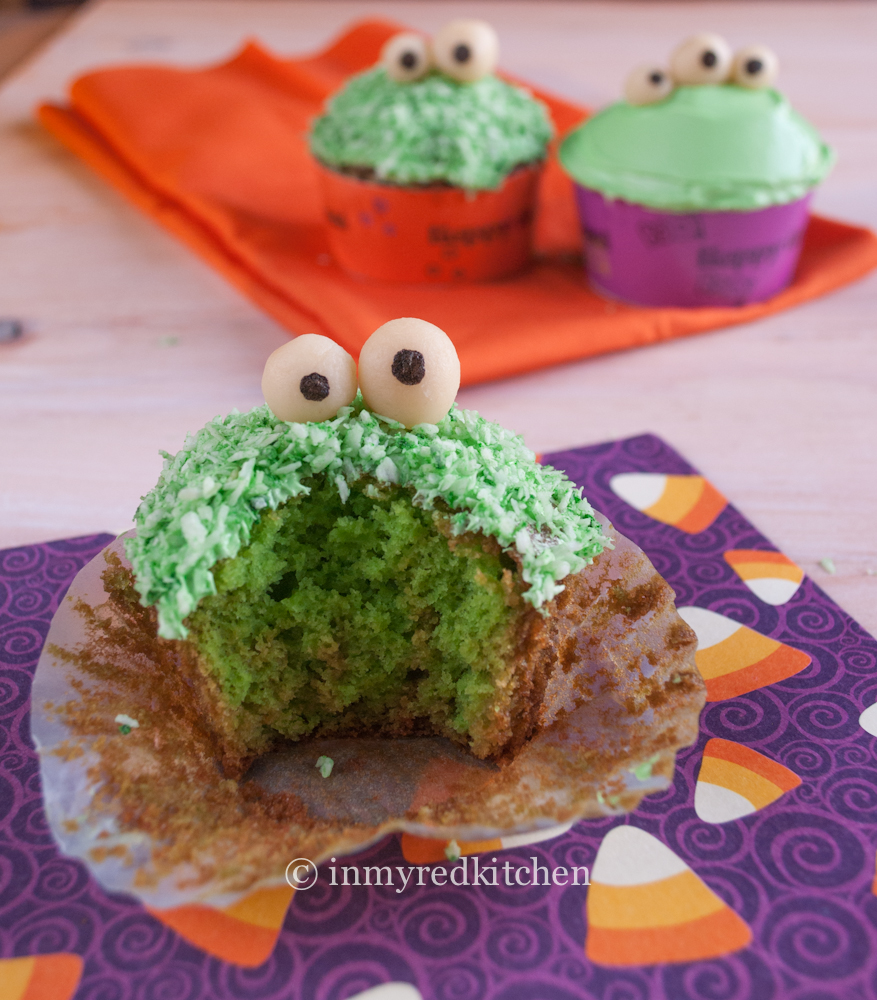 I used pandan paste making these Pandan Cakes. Pandan is a common flavor in the Indonesian kitchen so these cupcakes are reminding me of the Netherlands. I got this recipe from my friend Corona (who made this great illustrated recipe for me) and I wanted to try this out for a looooong time. Pandan has such a great taste, it taste really tropical and this flavor is used in many Southeast Asian countries.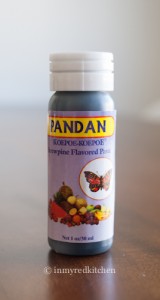 You need Pandan Flavoring Paste for this recipe, I always had it at home in Amsterdam but luckily I found the same bottle at the Indonesian store Simpang in LA.
But no worries if LA is too far away, you can also order Pandan Flavoring Paste
on Amazon!
And, best of all: I made some Halloween cupcake wrappers for you! You can download the cupcake wrappers for Halloween so you can celebrate Halloween in style 🙂 Just print them on photo paper, cut them out and use a small piece of tape to wrap it around the cupcake. And don't forget to get the wrappers on before you decorate the cupcakes 😉
Green Monster Pandan Cupcakes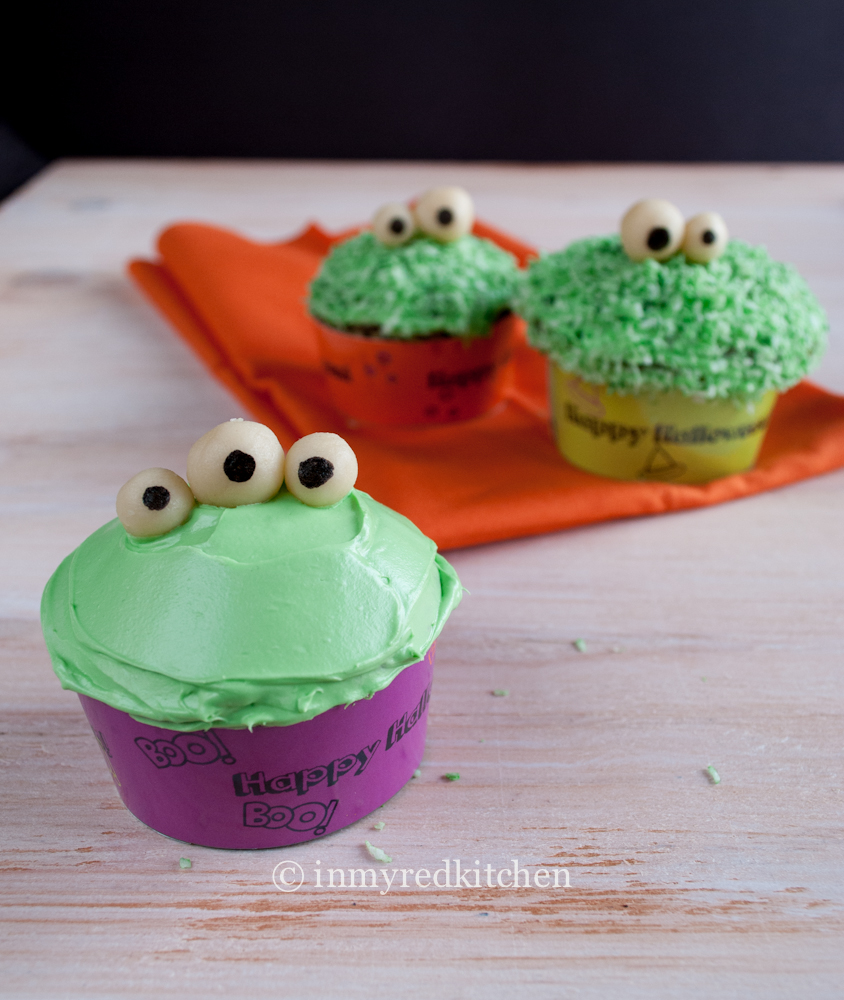 Adorable Green Monster Pandan Cupcakes for Halloween. They have a delicious tropical pandan taste, everybody will love them!
Ingredients
Instructions
Preheat the oven to 350 degrees Fahrenheit. Line a 12-cup muffin pan with paper cupcake liners.
Mix the sugar and butter until fluffy.
Add a pinch of salt and add the eggs one by one. Mix until combined in between.
Add the pandan flavoring and mix until you have a green batter:
Sift the flour, add it to the bowl and mix until combined.
Get a small bowl, add the baking soda and then the vinegar. It's foaming now, add it to the green batter and stir with a spatula. The batter will be thick and sticky.
Use an ice scoop to divide the batter over the muffin pan:
Bake the pandan cupcakes in 25 minutes until they're starting to brown. Use a bamboo skewer and stick it in the middle of the biggest cupcake to test if the cupcakes are done. They are ready if the skewer comes out clean.
Let the cupcakes completely cool down.
In the meantime, make the icing and stir in 1 tsp pandan flavoring until it's bright and green.
In another bowl, mix the schredded coconut with ½ tsp of pandan flavoring until well combined.
Break off different sized pieces of the marzipan and roll them into balls. Use the edible food marker to draw a black dot on it. You see, it's an eye!
Also print and cut out the cupcake wrappers.
So first thing you do once the cupcakes are cooled off is to wrap a Halloween cupcake wrapper around the cupcake liner. Use a small piece of tape to stick the two ends together (make sure to overlap them)
Then you can decorate them with a thick layer of green icing for the bald monsters. For the hairy monsters you decorate the cupcakes with a thin layer of green icing before dipping them in the colored coconut.
Finish the green monster cupcakes with the eyes.
http://www.inmyredkitchen.com/green-monster-pandan-cakes/
Copyright Ellen Bannink- in my Red Kitchen
Happy Halloween & enjoy!!