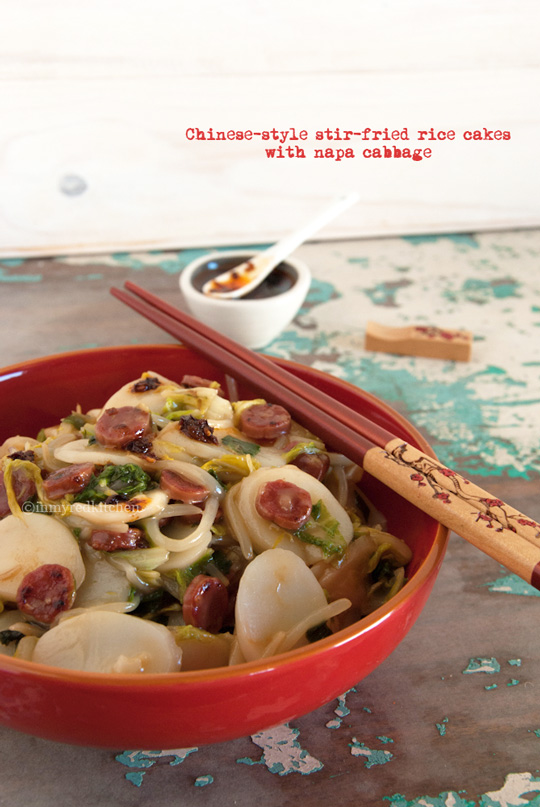 I have no idea why I haven't posted a recipe with stir-fried rice cakes before since I make it at least once a month.
And for a food bloggers that's quite often! You see, as a food blogger you are always trying out new recipes and cooking something you haven't made before so you can post it on your blog. Believe me, that's really a down side of blogging 🙁
I hardly ever cook something a second time but of course I have my favorites. These stir-fried rice cakes are definitely one of our favorites. It's such a simple and quick meal but yet so tasty and delicious.
Can you believe it only takes 6 ingredients to make this? So that also makes it a budget proof recipe!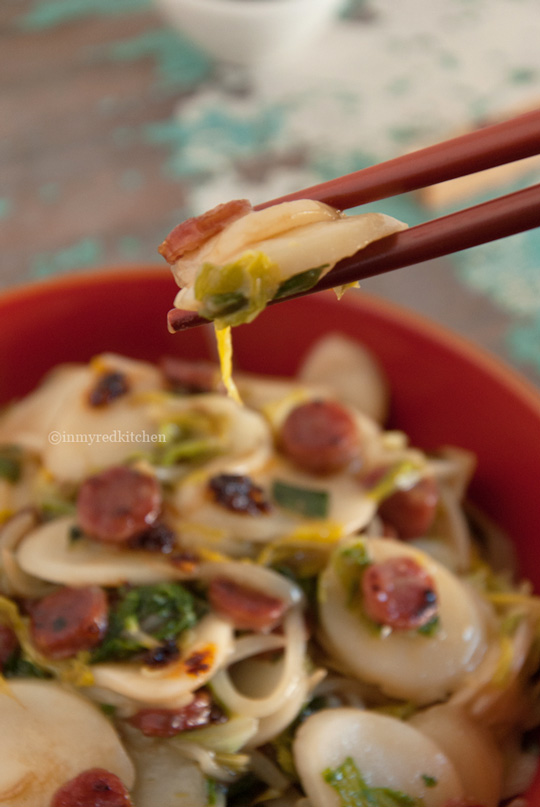 My Chinese aunt taught me to cook it, and hey! She was the one to introduce this dish to me. I remember having it for the first time for Christmas. She made it with bacon and leeks. She calls this dish dù-kù, and so do we 🙂 But for you I'm calling it 'Chinese-style stir-fried rice cakes with napa cabbage' so you know what it is because apparently no one else is calling this dush dù-kù. the only thing I could find was that in Korean it's called 'dduk' or 'ddukbokki'.
You see, these rice cakes are actually Korean, that's what the label says.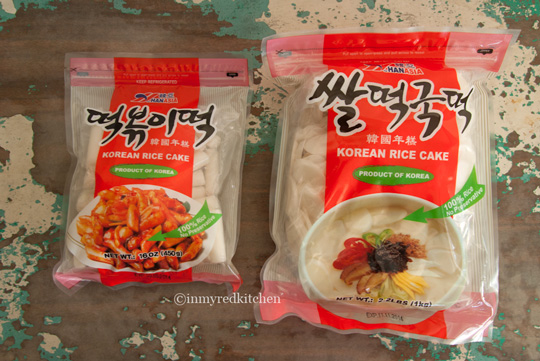 But we also ate it in China, and in the Netherlands I always bought it at the Chinese store. I always have one or two packages in the fridge, the left one (see photo) is cilinder shaped and one package is enough to feed the two of us. The right one are the ones I used today, they are oval slices and one package is enough to feed four to six people. Even opened you can keep them in the fridge for quite some time, but freezing them also works!
So are you ready for a quick and delicious meal? The rice cakes are soft and sticky after stir-frying and they taste slightly sweet. Always a favorite here in my Red Kitchen! Can't wait to give you more stif-fried rice cakes recipes!
Chinese-style stir-fried rice cakes with napa cabbage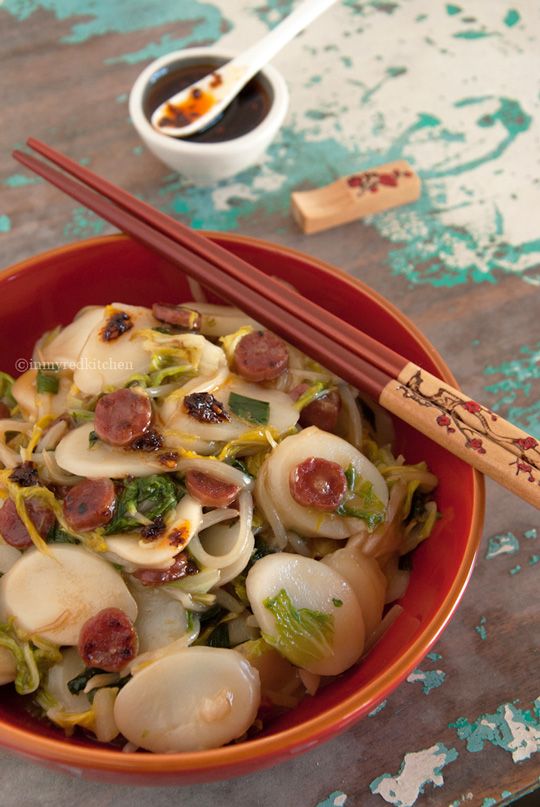 Can't believe this dish is so tasty and yet needs only 6 ingredients! Love these quick stir-fried rice cakes!
Ingredients
4 Chinese sausages (4 oz)
6 oz napa cabbage, sliced and cut
6 oz bean sprouts
16 oz rice cakes
4 spring onions, sliced
1 cup water
2 Tbp oyster sauce

optional: chiu chow chili oil for serving
Instructions
Cut the sausages in thin slices. Heat a wok over medium-high heat and add the sausages. Stir fry until done.
Add the napa cabbage and bean sprouts and stir fry for 2 minutes until the napa is starting to soften.
Add the rice cakes and spring onions and stir until combined.
Add 1 cup of water and let the rice cakes cook for 3 – 4 minutes while you keep stirring once in a while.
Add the oyster sauce once the rice cakes are soft and sticky, stir until combined and serve!
http://www.inmyredkitchen.com/chinese-style-stir-fried-rice-cakes-napa-cabbage/
Copyright Ellen Bannink- in my Red Kitchen
Enjoy!