What an amazing year it has been! I'm actually taking a little break now but I couldn't resist the urge to look back ánd forward with you.
For some days now I've been browsing through my photos because photos say it all. I capture my life through (iPhone) photos, so it was fun to look back and make a short video of it that I posted on Instagram.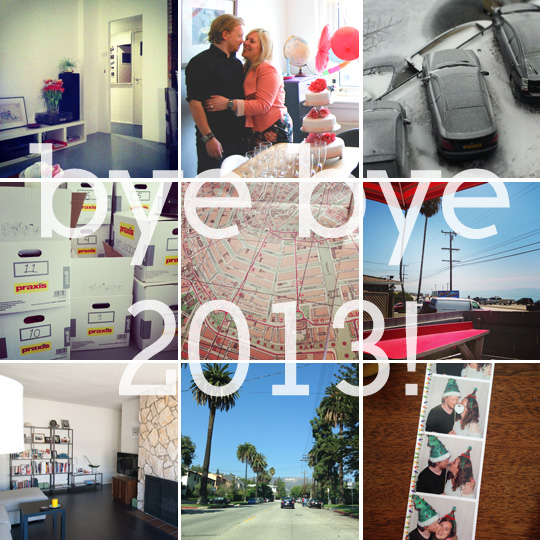 2013 was the year when P and I got married, packed up our stuff and moved to the US. A year were we had to say goodbye to our friends and family in the Netherlands but also a year of making new friends in Los Angeles and building a life here.
2013 was so wonderful to us that I'm very excited to meet 2014. What will this year bring us?
I also started to change my eating habits in 2013 because I was tired of being overweight. I wanted to be -and look- healthier so I made some changes. It's still hard sometimes and it takes a lot of time but I'm also happy to notice that I've lost almost 20 lb already, with more to come! And I'm still enjoying delicious food, that's the best part of it 🙂
And even more fun, I took steps to make in my Red Kitchen better and more beautiful. I started the year with a photography and styling workshop for foodbloggers, organized by the amazing Simone and Alexandra. I signed up for Alt for Everyone and some Alt classes and I went to Freutcamp, a blogging workshop by Freutcake. In four weeks I will go to TECHmunch LA, waaaah (<- this is me, getting excited), I can't wait for that one!
I made some great friends last year, some of them are foodbloggers and the other ones eat all the cookies, food and cakes I make. Here is a little shout out to them, but also to my 'old' friends in Amsterdam. Thank you all so much for your friendship, your food, your company, your whatsapp messages and your support. I'm so grateful to have you in my life!
So 2013 was a year of firsts, but also a year of lasts. A year with cronuts, blog workshop and meetings, movies at night at the cemetery, food trucks, juices, new friends and old friends, weight loss, lots of ramen noodles, American holidays, hiking, Netflix, moving boxes, brunches, driving my own car, dim sum in the San Gabriel Valley, driving the PCH, palm trees and beautiful sunsets, delicious seafood, exploring LA and improving skills.
But most of all, it was a year filled with love. And delicious food 😉
I feel so lucky to be married to an amazing man, a man who took me to LA to share a fantastic life together. Thank you P, I love you so so so much!

I hope your year was as amazing as mine, and I wish you all the best for 2014. Make it beautiful and make sure to create a lot of good memories!
Thank you all for supporting 🙂 Here is a cocktail recipe to celebrate the old and the new.
Happy New Year!
with love, Ellen
I will be back with new recipes next week!
In the meantime:
in my Red Kitchen on Facebook
in my Red Kitchen on Twitter
in my Red Kitchen on Pinterest
in my Red Kitchen on Instagram