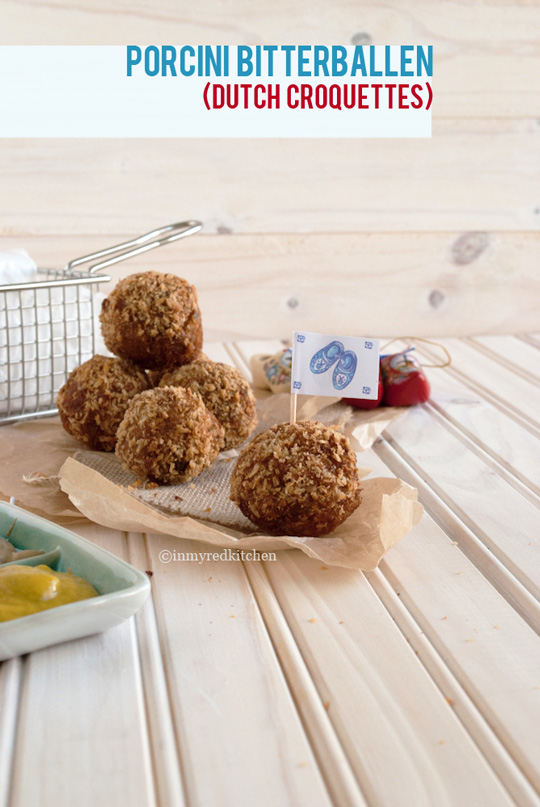 According to Wikipedia a croquette is a: "small breadcrumbed fried food roll containing, usually as main ingredients, mashed potatoes and/or ground meat (veal, beef, chicken, or turkey), shellfish, fish, cheese, vegetables and mixed with béchamel or brown sauce, and soaked white bread, egg, onion, spices and herbs, wine, milk, beer or any of the combination thereof, sometimes with a filling, e.g. sauteed onions or mushrooms, boiled eggs (Scotch eggs). The croquette is usually shaped into a cylinder, disk or oval shape and then deep-fried. The croquette (from the French croquer, "to crunch") gained worldwide popularity, both as a delicacy and as a fast food."
According to me a croquette is just insanely delicious 😉 And a 'kroket' and 'bitterbal' are typical Dutch. The kroket has a cylinder shape and a bitterbal is just a small version of the kroket and has the shape of a ball.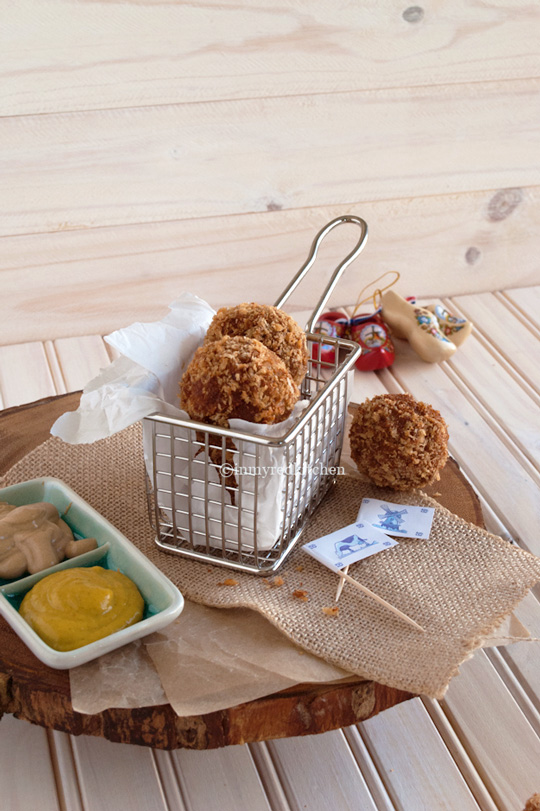 Nearly no one in the Netherlands makes their own kroketten or bitterballen and I get why. It's a hell of a job… And I even made a quicker version with porcini and mushrooms instead of slow cooked meat. But if you can't buy them in the supermarket or the snackbar then it's totally worth it! 😉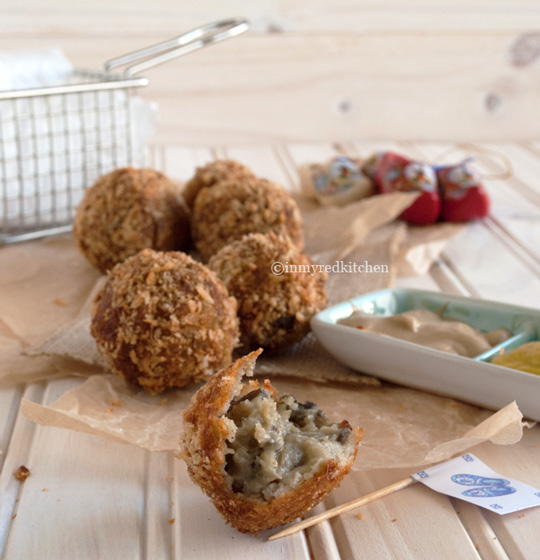 I love everything deep-fried because I just love everything unhealthy. Well ok, deep-fried food and I have a love-hate relationship because I get unhappy of too much unhealthy food. But that doesn't mean I don't like it and these croquettes with porcini are just pure love!
In the Netherlands you would buy bitterballen and kroketten deep frozen at the supermarket or you would go to the 'snackbar' to get them. This snackbar (or cafetaria) is a small shop where you can get Dutch fast food: fries -with mayonaise, peanut sauce, ketchup or just all the sauces all together 😉 – kroketten and bitterballen, fried cheese, frikandellen and lots of other deep-fried unhealthy stuff.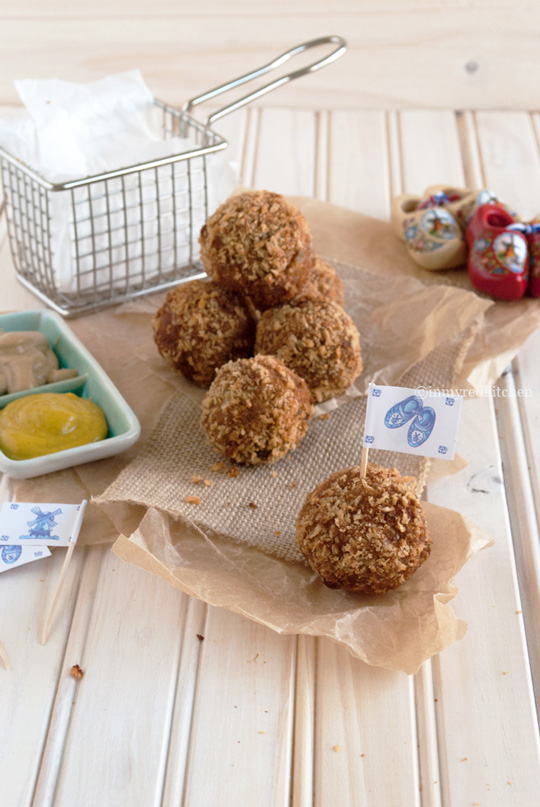 On Sundays my mom hardly ever cooked as far as I remember it. Going out for dinner wasn't very usual in the area where I grew up. We only went out for dinner once a year: on my parents wedding anniversary. So Sundays were the days when we would pick up Chinese food or when the deep fryer would plugged in. We had kroketten, fries and frikandellen in the freezer at home. But I liked it even more when we got to pick up food at the snackbar! My favorite was a 'bamischijf', Indonesian noodles in a disk shape and then breaded and fried. Oh boy, when I think of it now I can even taste it, so só good!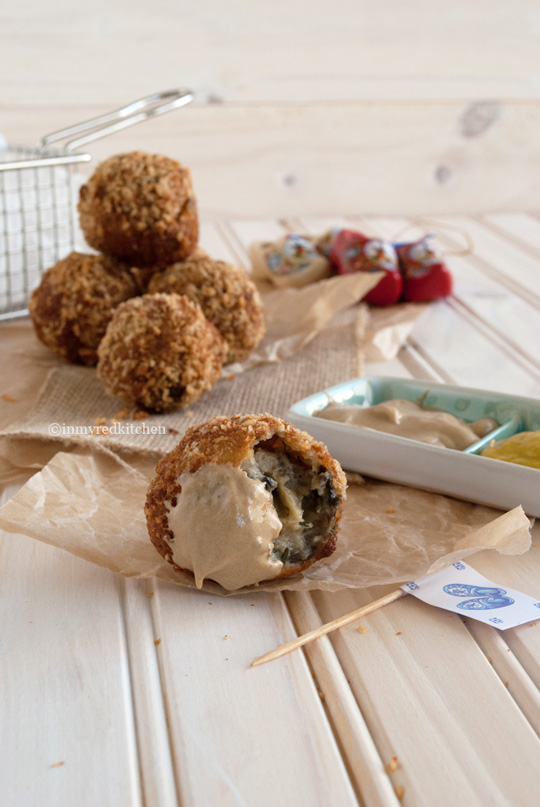 But bitterballen and kroketten have always been my favorite too. I would definitely gonna miss it when we moved to LA so right before we left I followed a class on how to make kroketten myself. I tried making them once before and it failed because I didn't gave it enough time.
But yes, I now know how to make this delicious goodness!
Be warned, this recipe makes a lot, like 50 to 60 bitterballen. They're the perfect party food, serve them with some mustard to dip in. Before frying, they are also great for freezing so you can use them in smaller portions later.
Bitterballen – Dutch croquettes with porcini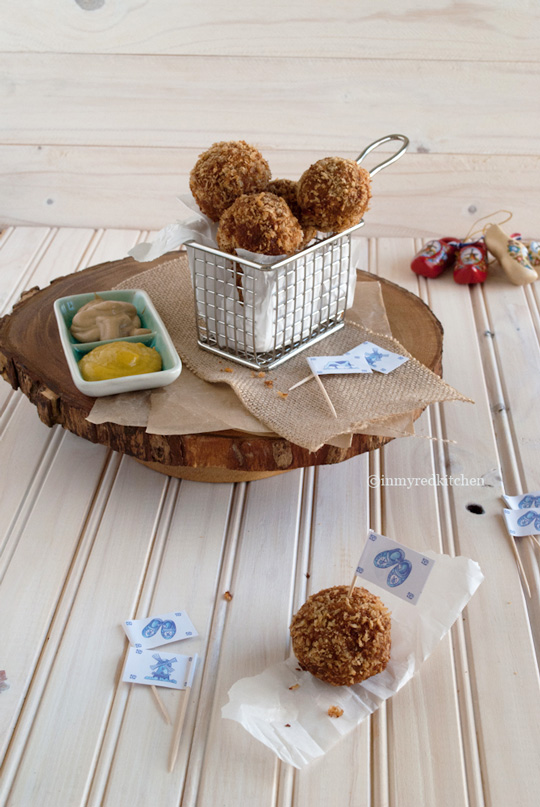 A delicious snack! Serve the porcini bitterballen with a salad or Dutch-style with fries and mayonaise.
Ingredients
3 sticks butter (divided)
16 oz mushrooms, thinly sliced
2 oz dried porcini, soaked in water and cut in small pieces
3-5 large sprigs of thyme, leaves only
2 cubes porcini broth, crumbled (I bought it at Surfas)
3 cups flour
32 fl oz chicken stock
1 envelope gelatine
truffles and truffle oil to taste
pepper & salt to taste
1-2 cups flour
6-7 egg whites + a few drops canola oil
2-3 cups panko (half of it finely ground in a food processor)
approx. 80 fl oz canola oil for frying
Instructions
Let 2 Tbsp butter slowly melt in large sauce pan over medium-high heat and cook the mushrooms with the soaked porcinis until browned and soft.
Add the thyme and crumbled porcini broth cubes and cook for another minute.
Add the remaining butter (2 sticks + 6 Tbsp) and stir until melted.
Add the flour one cup at a time and keep stirring until everything is combined.
Turn down the heat to medium-low and keep stirring until the flour is cooked until done. It will turn into a slightly sticky and light brown paste.
Add a little bit of the stock and stir until combined and starting to cook. Add another splash of stock and stir again until combined, etc. Keep on doing this until you've added all the stock, you want to end up with a thick and lumpfree ragout.
Sprinkle gelatin over 2 Tbsp cold water. Stir to combine and allow to sit for a few minutes to allow gelatin to bloom and absorb moisture. Heat gelatin mixture in the microwave for 20 seconds to dissolve and melt gelatin. Pour the liquid gelatin mixture into the ragout and stir until combined.
Now comes the most important part: add truffles, truffle oil and salt & pepper to taste. You need a really strong and distinct flavor because the bitterballen will be covered in panko and fried in the end, so you will loose some of the flavor. You can also add another crumbled porcini broth cube if you like.
Spread out the thick ragout in a baking dish. Cover it with plastic wrap and press the wrap down until it touches the ragout to prevent the ragout from drying out.
Let it cool in the fridge over night, at least 12 hours.
Prepare 3 deep dishes: one with flour, one with egg whites with a few drops of canola oil added and one with panko (half of the panko needs to be grinded in a food processor until fine):
Get your ragout ready and use a spoon to scoop it out. Form 2 inch balls from the ragout, this works best with wet hands.
Cover the ball with flour, then with the eggs whites and at last with the panko. Make sure the bitterbal is completely covered, otherwise they will break and lose their filling during frying!
Place them on a large baking sheet lined with parchment paper and repeat with the remaining ragout.
Cover the bitterballen loosely with plastic wrap and place the baking sheet in the fridge and let them rest for a few hours, preferably overnight.
For frying: Use a fryer or heat the canola oil over high heat in a large pan to 355 degrees F. Fry the bitterballen with just a few at the time until golden brown.
Give them a little time before eating them because the inside it really hot so don't burn your tongue!
Notes
1) you can store the bitterballen in the freezer, but make sure to NOT fry them. Important when using frozen bitterballen: give them a minute in the microwave to defrost a bit before frying.
2) If possible start 2 days before frying them, so day 1 you make the ragout, day 2 to "roll" them and day 3 to fry them.
3) Rolling the bitterballen works best with two pairs of hands, so ask somebody to help you with it. What worked best for me: person 1 will form a few balls (6 or 8 or so) of the ragout and place them in flour. Your hands will be covered in ragout but that's ok, cover the balls with the flour with one hand and then use the other hand to cover them with egg whites. Use the 'egg white hand' to place the balls in the panko. Person 2 can cover the ball in panko and place it on a baking sheet. Person 1 can wash his/her hands and start over again with forming 6 or 8 balls from the ragout etc.
4) Use a frying thermometer to check if the oil has the right temperature.
http://www.inmyredkitchen.com/bitterballen-dutch-croquettes-porcini/
Copyright Ellen Bannink- in my Red Kitchen
Enjoy!
Thank you Maryanne from The Little Epicurean for helping me with the styling!