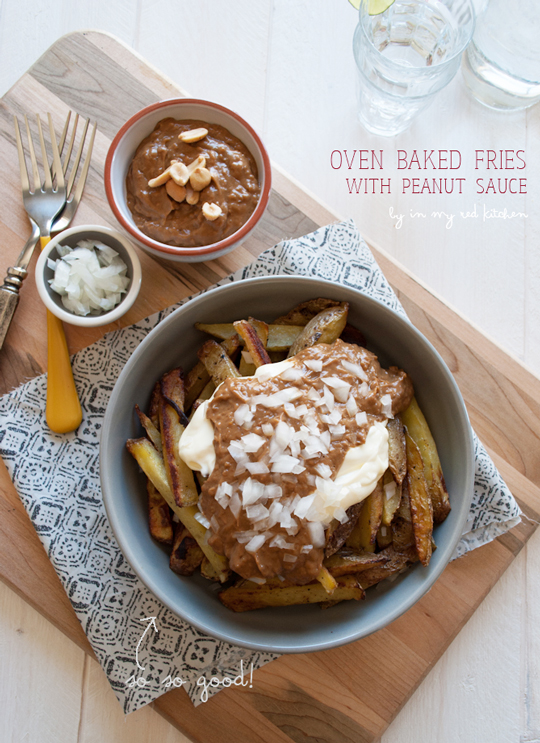 It's been a while since I've posted a Dutch recipe. And here I am, giving you Dutch junk food which you don't normally make at home 😉
Our recent trip to Amsterdam totally inspired me to share this recipe with you. I didn't grew up with going out for dinner (so maybe that's why I enjoy it so much 😉 ) but on weekends we sometimes got some take out food! There wasn't much choice, it was either Chinese food or fries, frikandellen and bitterballen from the so-called 'snackbar'.
Yes, a 'snack bar'. It's a place where you order your fries and other deep-fried stuff. My favorite was (and still is!) a bamischijf, which is a deep-fried slice of noodles. Yes please, do I make you hungry already?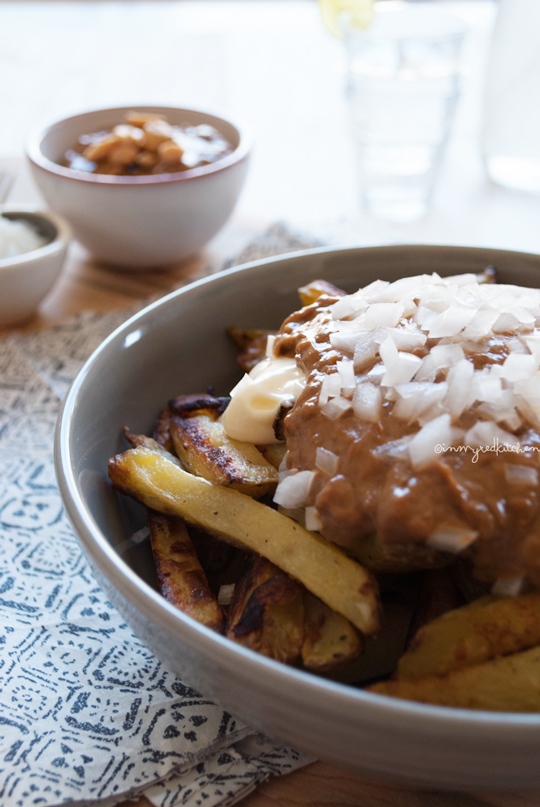 Fries are often served with mayonnaise and ketchup, but you can also order them with peanut sauce. When I was living on my own I would always order them with peanut sauce because that gave me a healthier feeling than mayonnaise, haha!
One of the first things P wanted to eat in the Netherlands was 'patatje oorlog' which translates to 'war fries'. It's fries served with mayonnaise, peanut sauce and raw sliced onions.  If you serve the fries with mayonnaise, curry ketchup and raw sliced onions you call that 'patatje speciaal', also good… but not as good as the 'war fries'!
And so we did, we ate patatje oorlog twice in the Netherlands! I immediately wanted to make this at home and share the recipe.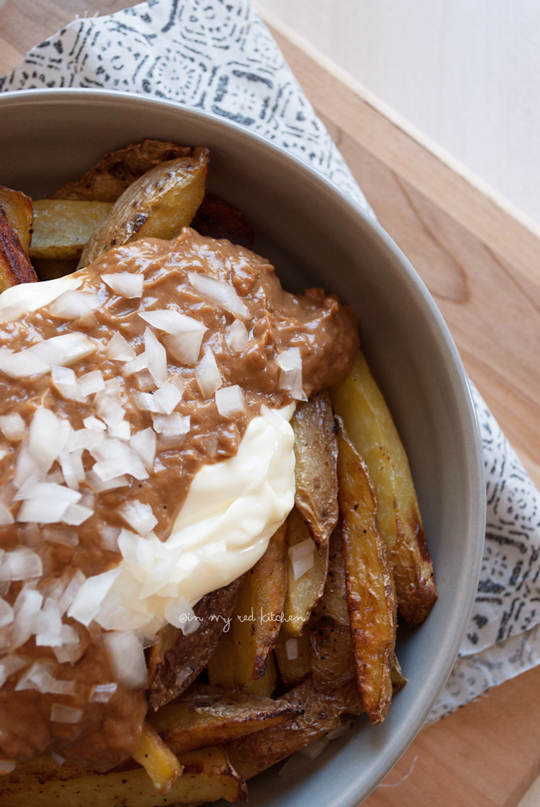 The secret is a thick peanut sauce and some crispy fries. I don't have a deep-fryer so I like to bake my fries in the oven. That's why this isn't a real 'patatje oorlog' but oven baked fries with peanut sauce and mayonnaise. And raw onions, don't forget about those!
I think this is the Dutch version of chili cheese fries. First you think: 'why??' but once you try them you want to eat the whole bowl! Only the Dutch know it: fries and peanut sauce are a damn good combination! 😉
Oven baked fries with peanut sauce and mayonnaise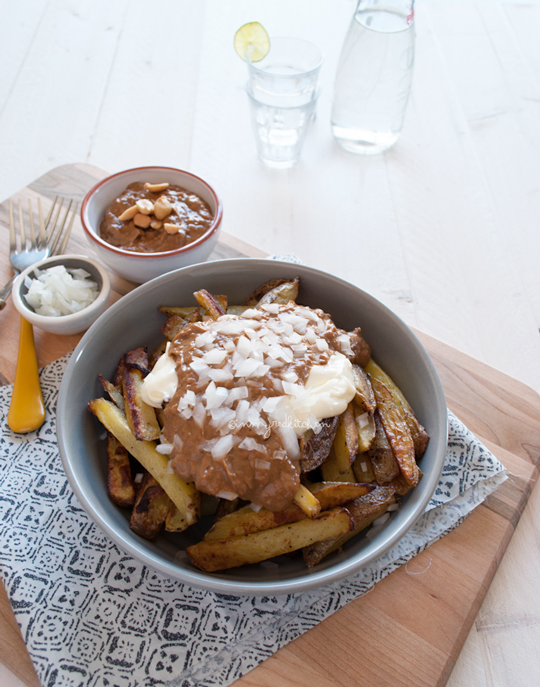 It's the best kept Dutch secret: potato and peanut sauce is such an excellent combination!
Ingredients
for the peanut sauce:

½ medium onion
2 cloves garlic
1 Tbsp peanut or canola oil
2 tsp sambal oelek
½ tsp grated ginger
½ cup peanut butter (real peanut butter, made of only peanuts and salt)
1 ½ cup chicken broth
1 Tbsp ketjap manis
2 tsp dark brown sugar

for the oven baked fries:

4 big potatoes (such as russet)
2 Tbsp olive oil
½ tsp garlic powder
salt & pepper

for serving:

3-4 Tbsp mayonnaise
½ onion, thinly cut
Instructions
Use a foodprocessor to mince the onion and garlic until fine.
In a saucepan, heat the oil over medium heat. Add the minced onion, garlic, sambal and ginger and cook for 2-3 minutes until soft. Keep stirring and don't let it burn!
Add the peanut butter, half of the broth, the ketjap and the dark brown sugar. Keep stirring until a smooth sauce. Let it simmer for a few minutes and add more broth if you like the sauce thinner.
Leave to cool for a little bit.
Preheat the oven to 400 degrees F and prepare a baking sheet with parchment paper.
Cut the potatoes in strips of 0.5 inch thick. Soak the fries in a bowl filled with cold water for a few minutes.
Discard the water en pat the fries dry with kitchen towels.
Toss the fries with the olive oil, garlic powder and salt and pepper. Spread on the baking sheet and bake for 20 – 25 minutes in the preheated oven. After 10 minutes of baking, flip the fries over for even baking.
Sprinkle the fries with some extra salt and transfer to a plate. Serve with the mayonnaise, peanut sauce and raw onions on top.
https://www.inmyredkitchen.com/oven-baked-fries-with-peanut-sauce/
Copyright Ellen Bannink- in my Red Kitchen
Enjoy!