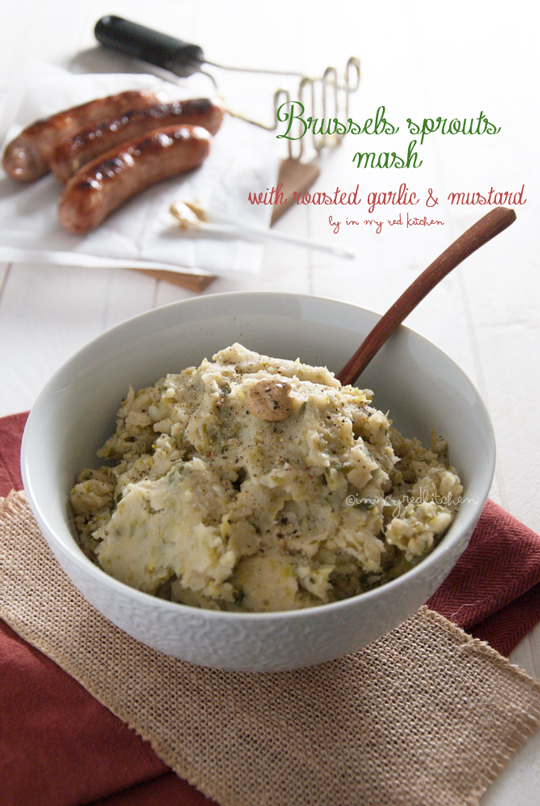 – Click here for this recipe in Dutch -> Spruitjesstamppot met gepofte knoflook en mosterd –
These past weeks I like to go to the Farmers Market on Sundays. Leaving the house quite early (for a Sunday, and especially for us), taking the baby in the stroller and have breakfast at the market itself. And buy fruit and vegetables for the coming week of course. Always following the seasonal offerings. After buying the vegetables it's time to meal plan for the week and go out for the rest of the groceries.
And almost every week I buy a bag of Brussels sprouts, which I always roast in the oven with some bacon.
But at P's request I finally made a Dutch classic using the sprouts last week. I made a Brussels sprouts mash and came to the conclusion it's a perfect side dish for Thanksgiving! To make it extra festive and special I added roasted garlic and a big spoon of dijon mustard.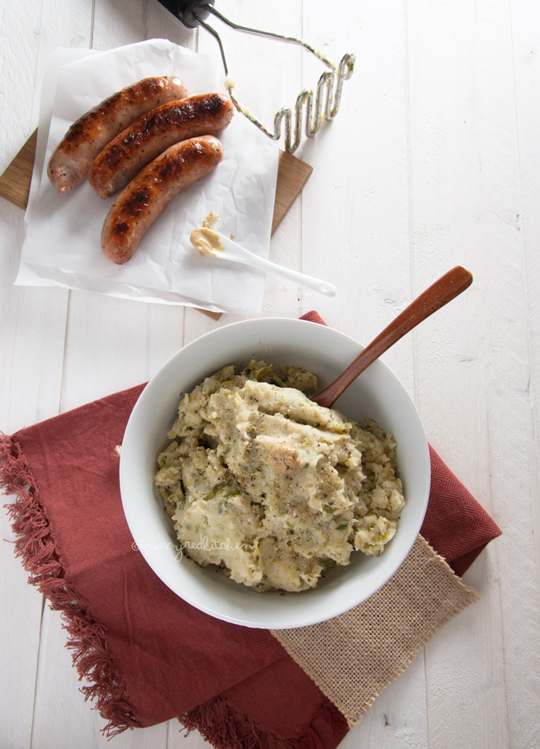 I will perfectly pair with a big roasted Turkey, green bean casserole an roasted yams. But of course you can also serve it on a week day with some good sausage. Or on a weekend date night with a big roasted lamb rack. Go crazy!
Brussels sprouts mash with roasted garlic and mustard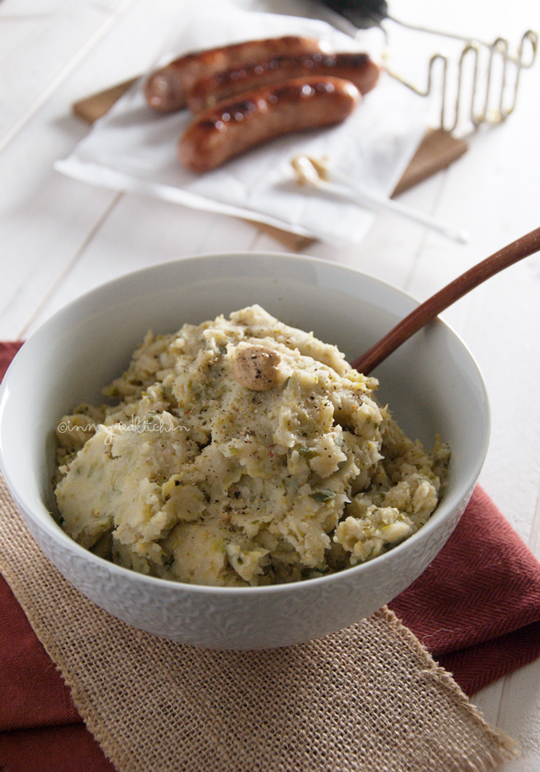 This typical Dutch mash will be a perfect side dish for Thanksgiving!
Ingredients
2 cloves roasted garlic*
1 lbs Russet potatoes
12 oz Brussels sprouts
2 Tbsp butter or ghee
1 Tbsp mustard, preferably dijonaise
peper & salt to taste
Instructions
Roast the garlic first if you don't have them on hand (see below how to).
Peel the potatoes and cut in 1.5 inch pieces.
Clean the sprouts by cutting of the ends and throwing out the bruised outer leaves. Cut in half.
Rinse the potatoes under cold running water. Place in a pot and add enough water to just cover them. Add some salt and place the Brussels sprouts on top, so they get steamed. Place over medium high heat, bring to a boil and cook for 15 minutes, or until the potatoes are done. Test with a fork.
Discard the water and use a potato masher to mash the potatoes and sprouts. Add the butter or ghee, the heat will melt it quickly.
Stir in the roasted garlic and mustard and add salt & pepper to taste.
Serve as a side dish or add meat (bratwurst sausage, lamb chops, bacon) and serve as a main dish.
Notes
*to roast garlic: preheat oven to 375 degrees F. Cut a 10-inch square out of aluminum foil, brush with butter and place a bulb of garlic (with the top cut off) in the center. Wrap the foil around it, place on a baking sheet and roast for 50-60 minutes in the oven, until the garlic cloves are soft and brown. Push the garlic out of the shell. You can keep the roasted garlic in a glass jar in the fridge, it holds a few months.
https://www.inmyredkitchen.com/brussels-sprouts-mash-with-roasted-garlic-and-mustard/
Copyright Ellen Bannink- in my Red Kitchen
Enjoy & Happy Thanksgiving!