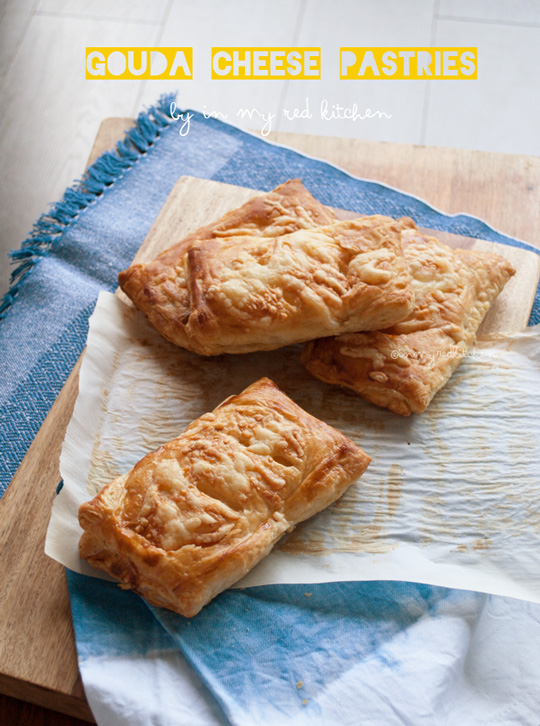 – Click here for this recipe in Dutch -> Kaasbroodjes –
When you're living abroad for a longer period of time, you are going to miss the most crazy things from your home country.
For me, this took about 1.5 to 2 years. It obviously was related to the fact that I was pregnant at the time. I had a sudden need for eating food from the 'old days'! And all this while Dutch food at all is not really worth mentioning.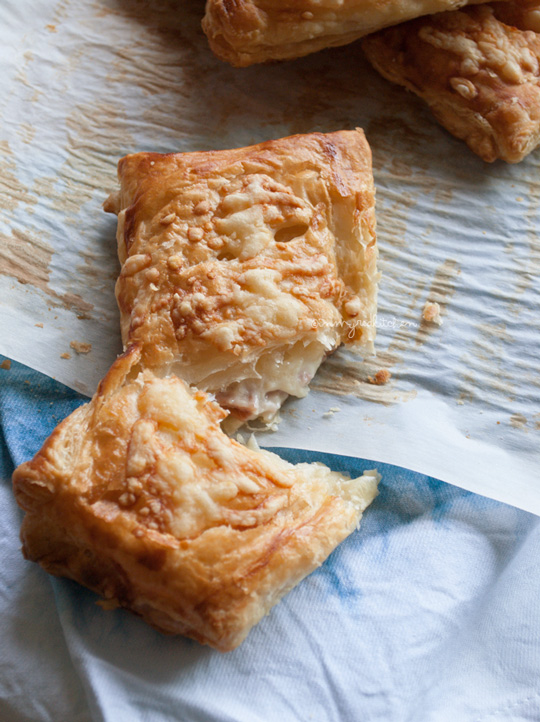 Strange that you suddenly get a craving for foods you haven't had for years! So I suddenly had to have a cheeseburger from the McD and the yellow mayonnaise they serve at the Dutch McD haunted me for a few weeks. But rest assured, instead of going to the big yellow M we went to the drive-thru of In-N-Out Burger. And the so called yellow 'American fries sauce' isn't American at all so I couldn't get that here. (but serious you guys, ditch the ketchup and eat mayonnaise with your fries!)
When I saw a picture of typical Gouda cheese pastries, I knew it immediately. And that was: I NEED TO EAT THOSE – NOW! But also those gooey cheese pastries are not available here, so I had to get to work.
Meanwhile, there is already a third batch in the freezer, ready to be baked. Because that's the best part, you don't have to bake them all at once. You can also freeze the unbaked pastries and bake them when you feel like you need a Gouda cheese pastry.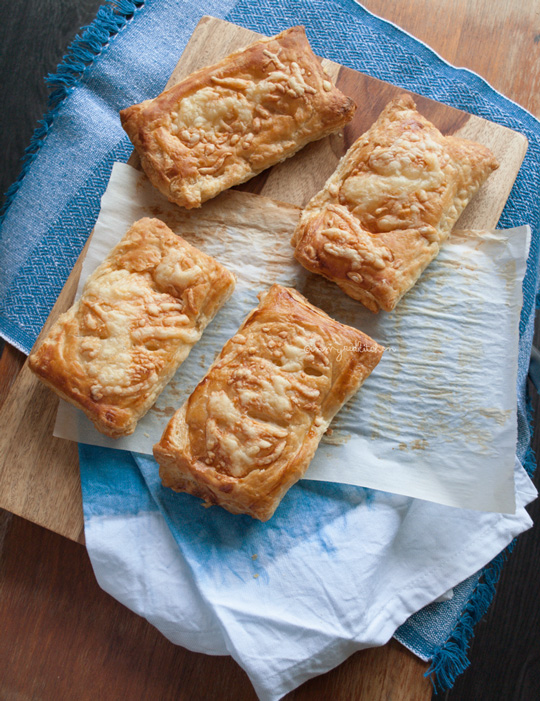 Or two. Or three 😉
To vary or to make them even more delicious you can put in a slice of Prosciutto, see for yourself: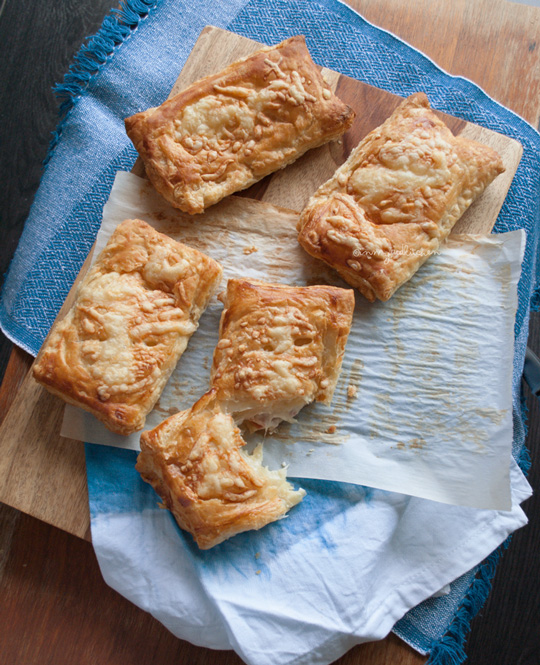 Dutch Gouda Cheese Pastries ('Kaasbroodjes'), I hadn't had them in years but I was suddenly craving them!
Ingredients
2 sheets puff pastry, thawed
1 tbsp butter
1 tbsp flour
½ cup whole milk
½ tsp dijon mustard
pinch of salt
1 cup grated cheese – preferably gruyere
egg wash: 1 egg + 2 Tbsp water whisked together
optional: 6 slices prosciutto
Instructions
Preheat the oven to 400 degrees F and line a baking sheet with parchment paper.
Melt the butter in a saucepan over medium heat, whisk in the flour and stir for 1 minute.
Slowly add the milk, mustard and pinch of salt, while whisking. Bring to a boil and let it simmer for 2-3 minutes while whisking. The béchamel should be thick. Set aside.
Divide the puff pastry sheets in 12 equal rectangles. Place 6 of those rectangles on the lined baking sheet.
If using: place a slice of prosciutto on each puff pastry rectangle. Top with 1 tablespoon of béchamel and 2 tablespoons cheese. Make sure to leave an edge all around.
Brush the edges with the egg wash and place the 6 remaining squares on top of it. Get all the air bubbles out and seal the edges with a fork.
Brush the tops with the remaining egg wash, sprinkle with the remaining cheese and carefully make 3 slices in the top.
Bake until golden brown, for about 15-20 minutes.
Let cool off slightly but serve warm. Be careful, the insides are really hot!
Notes
https://www.inmyredkitchen.com/gouda-cheese-pastries/
Copyright Ellen Bannink- in my Red Kitchen
Enjoy!