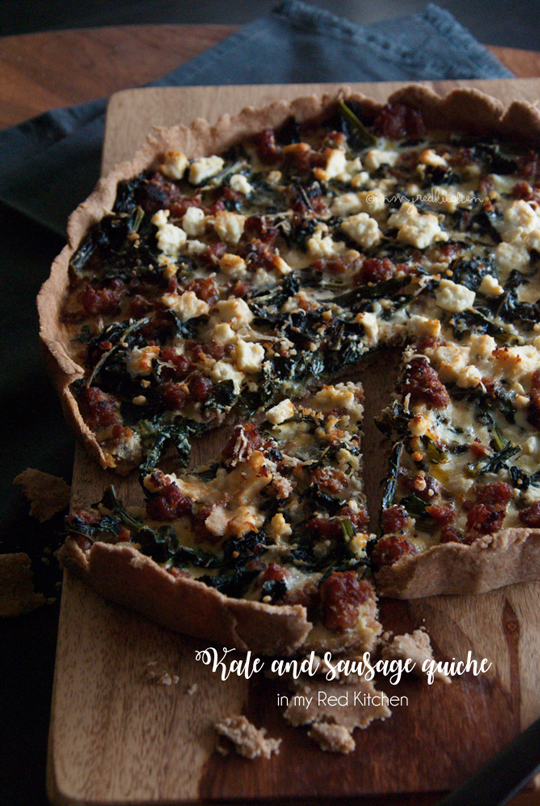 – Click here for this recipe in Dutch -> Boerenkool met worst quiche –
Sometimes you have to wait a little, but then you get a great reward! In this case the recipe for an amazing kale and sausage quiche! 
Life can be so busy, especially with an almost 1.5 year old toddler who crawls around. That's the reason I don't always have the energy for some elaborate cooking or to test recipes, let alone to make the effort to make nice pictures. Since becoming a mom I'm too busy with playdates (where the moms drink coffee or wine while the kids play), with being a -lousy- housewife and with sharing interesting articles, tips and recipes with my mom friends.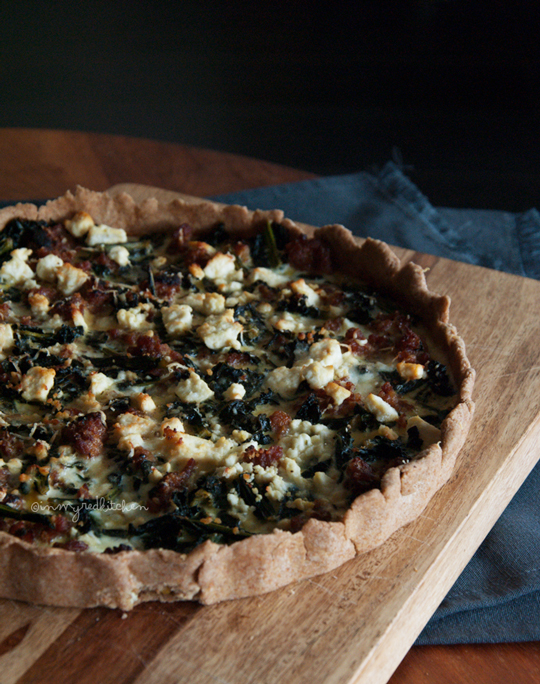 My BMFF (Best Mom Friend Forever) shared her recipe for a basic quiche with me & the others. It's super easy to make the dough! I must confess that I have never previously made quiche dough myself, because I always used a store bought dough in the Netherlands and puff pastry here in America. But it was always a big miss with the puff pastry, I like my quiche dough a little flaky instead of greasy and crunchy.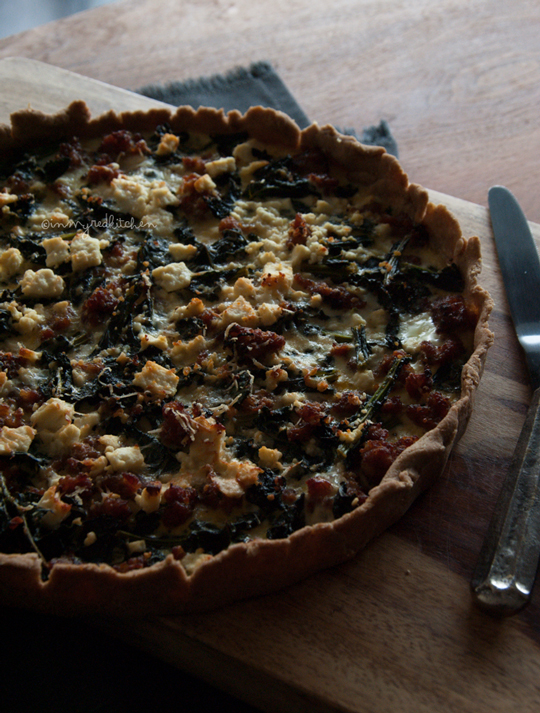 So from now this will be my new go-to recipe, an easy and quick quiche crust with a delicious filling. This time I went for kale and sausage. And feta. And my oh my, this is so delicious!
Here in Los Angeles it seems fall has begun, so we can use some wintery meals!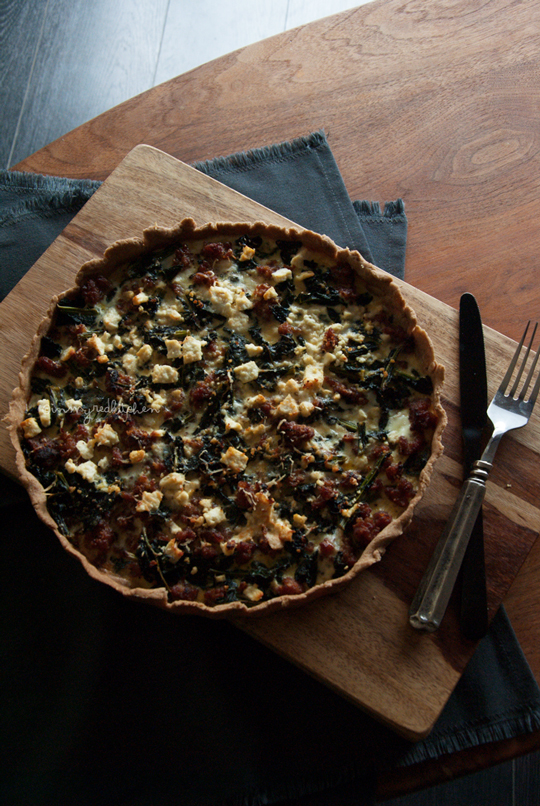 The perfect meal for fall and winter: a kale and sausage quiche!
Ingredients
½ cup oat flour*
½ cup whole wheat flour*
¼ cup (avocado) oil
¼ cup cold water
3 uncooked bratwurst sausages
6oz kale, chopped
3 oz cubed feta
3 eggs
½ cup milk or cream (I used home made almond milk)
salt & pepper
a pinch garlic powder
freshly grated parmesan
Instructions
Preheat the oven to 350°F and get a pie dish ready.
Add the two flour to a bowl and mix until combined.
Whisk oil and water until they emulsify and then add them to the flour. Using a fork or your hands, work the mixture until it forms a dough. Roll out the dough on a clean counter and transfer to the pie dish, to create a crust.
Remove the skin of the sausages and break into pieces. Heat a skillet over high heat and cook the meat until done. Add the chopped kale and cook until it's shrinking.
Scatter the kale mixture across the crust and top with the feta.
Whisk the eggs with the milk, salt & pepper and garlic powder and slowly pour it over the quiche.
Top with some grated parmesan and pop in the oven.
After 30-35 minutes it should be all set and the edges will be browned.
Serve warm.
Notes
*Or 1 cup whole wheat or any other flour, like gf flour.
https://www.inmyredkitchen.com/kale-and-sausage-quiche/
Copyright Ellen Bannink- in my Red Kitchen
Enjoy!
Thanks a million D! For sharing this recipe with me but most of all for your friendship!