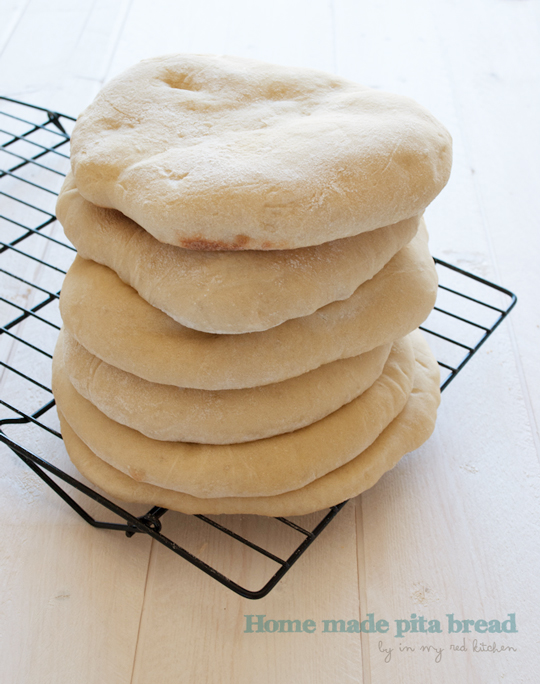 Somewhere in the near future I'm sharing a recipe for falafel. The recipe for falafel is already on my Dutch blog but the pictures are awful. So why not make new & better onces and also share the recipe here?
Yes see, that's what I thought! So last week I made falafel in my way-too-small-to-make-falafel-in-this-tiny-two-cup-immersion-blender thingie while I was in a hurry. I already baked pita bread using a recipe from Esmee and I was supposed to go to a friend that afternoon for tea and a walk.
But 'more haste, less speed'… The falafel turned out great though but the pictures not unfortunately 🙁 They weren't as bad as the first ones, but still not publish-worthy good enough.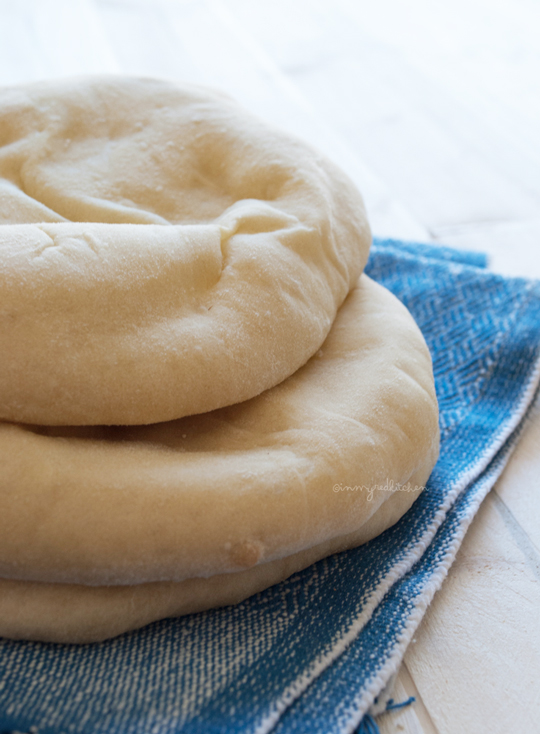 So next week I'll be making falafel again and what is the best way to eat your home made falafels? On home made pita bread of course!
I tweaked Esmee's recipe a bit using Red Star Active Dry Yeast
, it's my favorite! Active dry yeast in the USA is different than the yeast I used in the Netherlands. I really had to get used to it in the beginning but now I'm rocking it!
Make sure to get the right temperature for the water, then you can't go wrong with this recipe.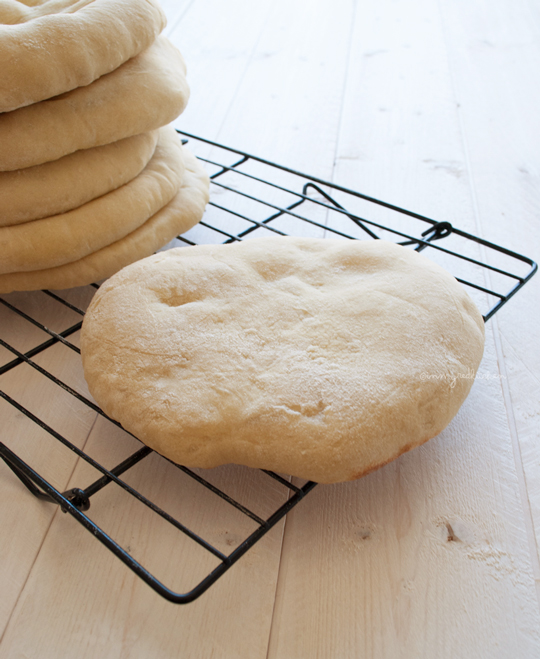 Easy and puffy home made pita bread, I love the smell of fresh bread!
Ingredients
3 1/3 cup flour
1 envelope active dry yeast
1 ½ tsp salt
1 ½ cup water
3 Tbsp honey
3 Tbsp olive oil
Instructions
In the bowl of a standmixer, mix the flour with the yeast and salt.
Heat the water till 120 – 130 degrees F (not hotter than 140 F, this will kill the yeast) and add it with the honey and olive oil to the flour. Knead on speed 2 using the dough hook until a soft dough forms.
Transfer to a lightly oiled bowl, cover the bowl and leave to rise for 90 minutes or until doubled in size.
Preheat the oven to maximum temperature, that was 500 degrees F with mine. Place a pizza stone or baking sheet in the oven to heat up.
Transfer the dough to the counter, push it down and divide into 6 to 8 pieces. 6 for big pita's and 8 for smaller ones. Roll each piece into a ball.
Sprinkle some flour on the counter and use a rolling pin to roll out the dough till 6" wide (if your making 6). If the dough springs back, leave it to rest and roll it out a little later.
Bake the pita's on the pizza stone in the preheated oven for 2 -3 minutes, they are ready when they puff up.
Remove from the oven and leave to cool.
Notes
After cooling you can freeze the pita's!
https://www.inmyredkitchen.com/home-made-pita-bread/
Copyright Ellen Bannink- in my Red Kitchen
Enjoy!