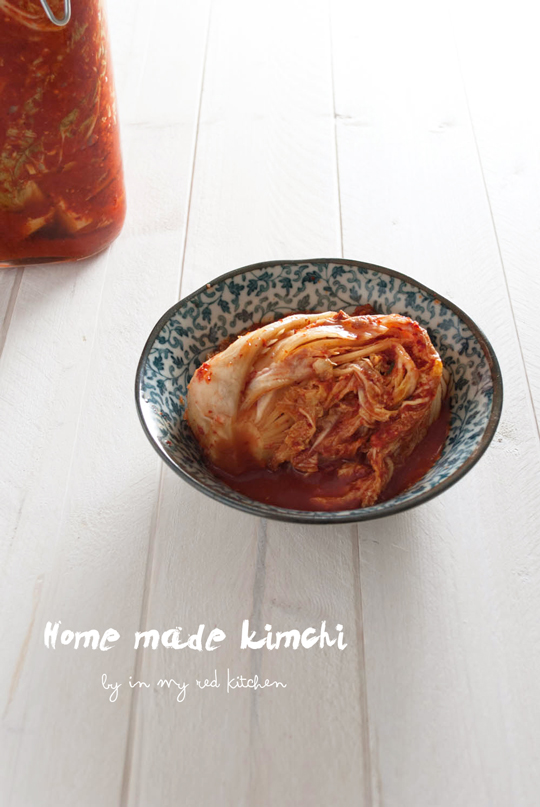 – Click here for this recipe in Dutch -> Zelf kimchi maken –
I don't think I've even heard of kimchi while living in the Netherlands. But thankfully LA is a melting pot of cultures so right after moving here I was introduced to kimchi.
Kimchi is a Korean side dish made of fermented vegetables. Many vegetables and spices are used to made into kimchi but the most well known one is kimchi made of napa cabbage fermented in kochukaru. Kimchi is eaten as a side dish, served raw with rice and Korean barbecue. But you can also make some delicious fried rice with it! Next week I'll share that recipe.
Is the first thing you think 'yuck' when you hear the word 'fermenting'? Don't do that! Fermented products are so tasty and also very good for your guts. During the fermenting process the good bacteria, vitamins and enzymes increase and your guts like that! And did you know yogurt is also fermented? And beer, bread, sauerkraut of course, but also kefir, vinegar and wine. So you'll eat more fermented stuff than you think!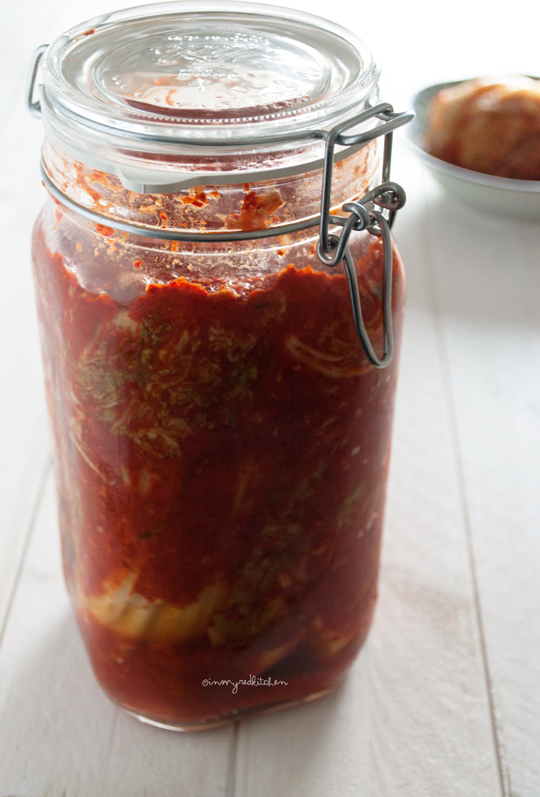 For this recipe you need to go to an Asian or Korean store. I found everything I needed (and didn't have, like the kochukaru and oysters) at 99 Ranch Market. Kochukaru is a Korean crushed chili powder, and you really need that to make this kimchi. It's sold in big bags so you can make lots of kimchi with it!
I used Roy Choi's kimchi recipe, which I found in his book L.A. Son: My Life, My City, My Food
. But before making kimchi you should also check out Maangchi's website, she shares a fun movie about making kimchi. She's so cute!
So get into your kitchen gloves to make kimchi and enjoy a delicious home made kimchi in two-and-a-half weeks! Yummy!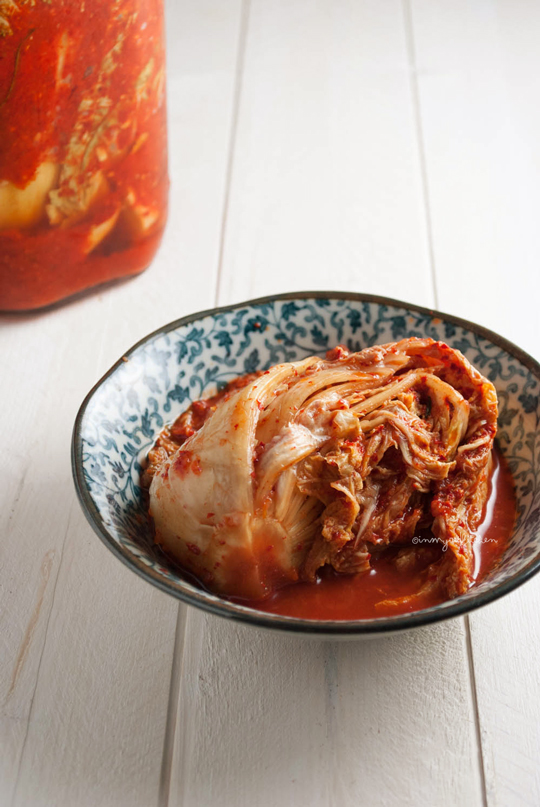 This home made kimchi is the best kimchi I've ever had!
Ingredients
for the paste:

1 cup kochukaru
1 cup peeled onion
½ cup water
15 cloves garlic, peeled
¼ cup peeled and chopped fresh ginger
2 Tbsp kosher salt
2 Tbsp sugar
¼ cup + 2 Tbsp fish sauce
2 Tbsp oyster sauce
2 Tbsp natural rice vinegar (not seasoned)
1 Tbsp soy sauce

vegetables:

4 cups water
1 Tbsp kosher salt
1 large napa cabbage
½ bunch fresh chives, cut into 1-inch batons
½ cup jarred oysters
1 Tbsp salted baby shrimp
Instructions
Put all the ingredients for the paste in a blender, puree and set aside.
Get a bowl large enough to hold the cabbage and fill it with the water and the salt. Split the cabbage in fourths and soak in the salted water for 2-3 hours at room temperature.
Drain the cabbage. Mix ½ cup of the paste, the chives, oysters and salted shrimp and use plastic gloves to spread it between the leaves of the cabbage. Coat the exterior of the cabbage with the remaining paste.
Stuff the cabbage into a gallon-size glass pickle jar and seal tightly. It should fit, but if not, cut the cabbage in half again.
Keep the jar at room temperature for 2 days, then put it in the refrigerator. The kimchi should be ready to eat in about 2 weeks and can be kept refrigerated indefinitely.
Notes
I found all the ingredients I needed at the Asian Supermarket! Ask a representative for help if you can't find it all.
https://www.inmyredkitchen.com/home-made-kimchi/
Copyright Ellen Bannink- in my Red Kitchen
Wait a little & enjoy!