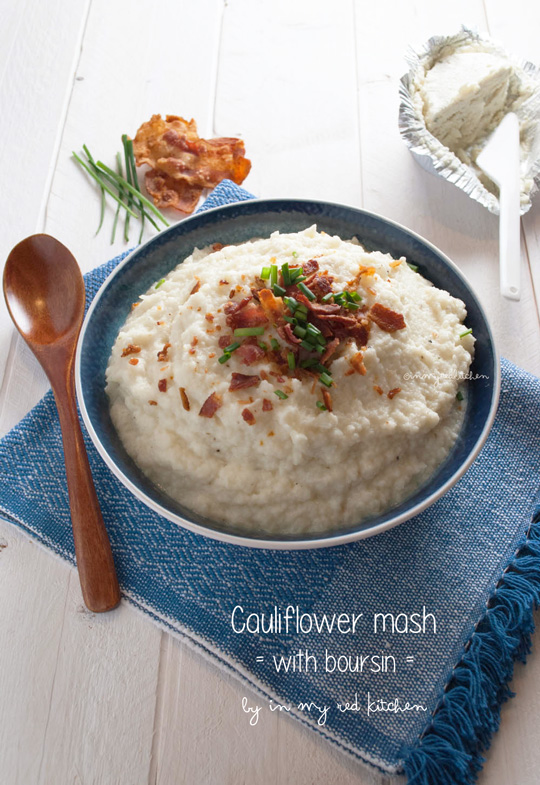 – Click here for this recipe in Dutch -> Bloemkoolpuree met Boursin –
I wanted to share his recipe with you last week but I happened to have a few bad days (stupid hormones!) and our home server on which I'm keeping my photos broke down suddenly so I couldn't edit them.
But a new week means new opportunities, so here it is: Cauliflower mash with boursin! I had often heard of it but never tried it myself. That's because I am not so fond of cauliflower, but I found out last summer that cauliflower is so delicious when roasted (see Miso roasted cauliflower)!
For New Years we went a few days to a cabin in the mountains with friends. Snowy mountains that is, yes even in California!! On the day we drove up the mountains we found ourselves in a huge snow storm. That storm was expected that evening but announced itself as a surprise at all during the day. P & I were lucky, we reached the mountain on time to visit other friends who also happen to be in Big Bear that week, but the other friends from our party got stuck in the snow and the traffic!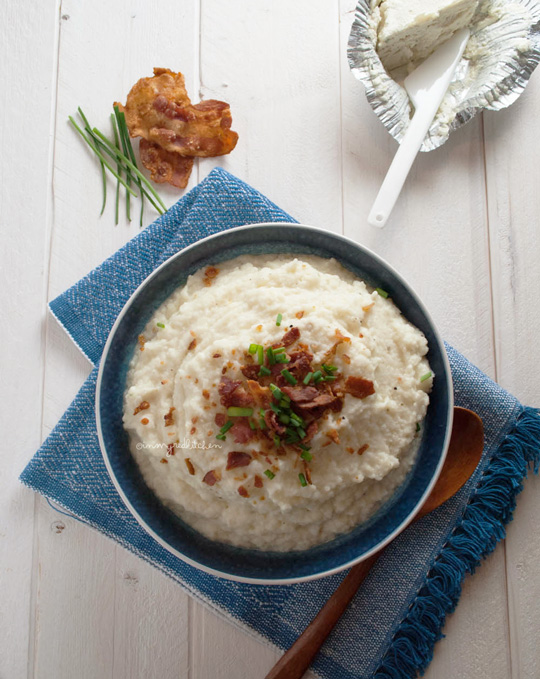 It was terribly cold, I sat with two thick woolen vests under a blanket waiting for our friends to arrive at the cabin, because we brought nothing decent to eat. We had plans to go out for dinner that night but the other evenings we would be cooking in the cabin. But all the other friends were bringing errands with them, the only thing I brought was grocery bags full of yogurt, granola, fruit, chips, crackers, cheese and biscuits. And marinated meat for dinner the next day.
And that is not a good idea if you are pregnant, I can tell you… That evening my dinner consisted of two whole wheat crackers with brie and a bowl of yogurt with granola. And some biscuits here and there.
At 11pm I went to bed, while our friends were still on their way. One couple came in at 12.30am, after driving 10 hours (usually it only takes 2.5 hours!). Another couple turned around and spent the night at a hotel, because it was such a chaos on the road.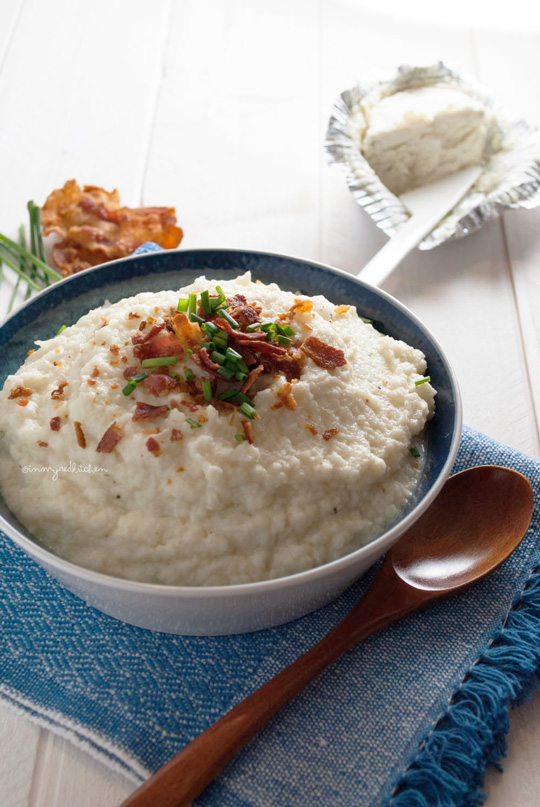 But the next day we could eat normal again, healthy delicious chicken from the oven, steak from the barbecue, steamed broccoli and cauliflower puree. In the meantime I already ate enough nutrients again, but still I went back to get another serving of the cauliflower puree because it was so delicious! It didn't taste like the cooked cauliflower I don't like.
Now I have a soft spot for potatoes and mashed potatoes anyway since I'm pregnant, and cauliflower puree is a good replacement for carbohydrate-rich potatoes. I had to make that at home too! It ís possible that sometime in these last few months I warmed up some leftover mashed potatoes to eat that as a snack… 😉
At home my mom used to stir boursin (that French soft cheese spread with garlic and herbs) in the mashed potatoes, and that gave it an amazing flavor! It turns out that works the same with the cauliflower puree, so here you are: this is my recipe for cauliflower puree with Boursin. We ate it last week with parmesan crusted chicken bites and a salad. I'm so glad that I finally like vegetables again!
Cauliflower mash with boursin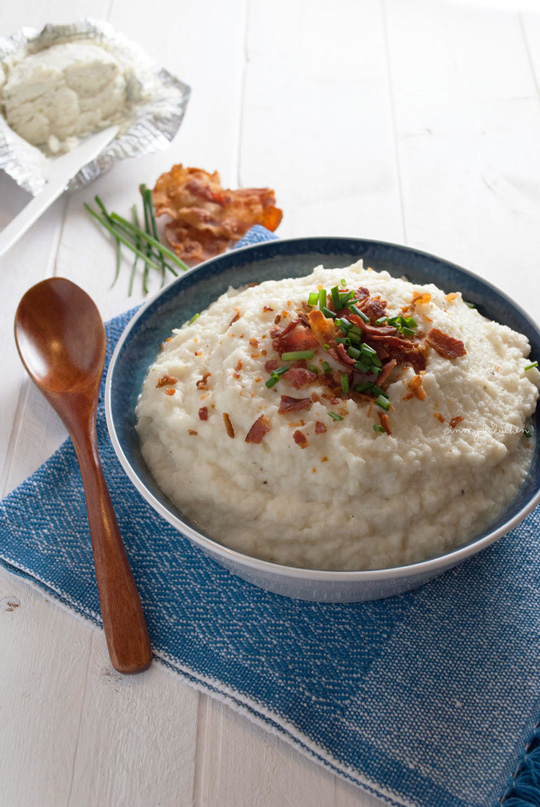 A delicious low-carb alternative for mashed potatoes, and even cauliflower haters will love this!
Ingredients
1 head of cauliflower
2 cloves garlic, peeled
½ package boursin (75 grams)
2 Tbsp melted butter
salt and pepper to taste

optional for garnish:

crumbled bacon
grated cheese
chives
Instructions
Break the cauliflower into florets and add them with the peeled garlic to a pot of water. Add salt and bring to a boil. Cook the cauliflower until tender, about 15-20 minutes.
Discard the water but reserve ¼ cup of it and place the cauliflower and garlic to the bowl of a food processer (or leave it in the pan and use an immersion blender).
Add the cooking liquid, boursin and melted butter and pulse until smooth.
Add salt and pepper to taste and serve with crumbled bacon, grated cheese and chives on top.
https://www.inmyredkitchen.com/cauliflower-mash-boursin/
Copyright Ellen Bannink- in my Red Kitchen
Enjoy!