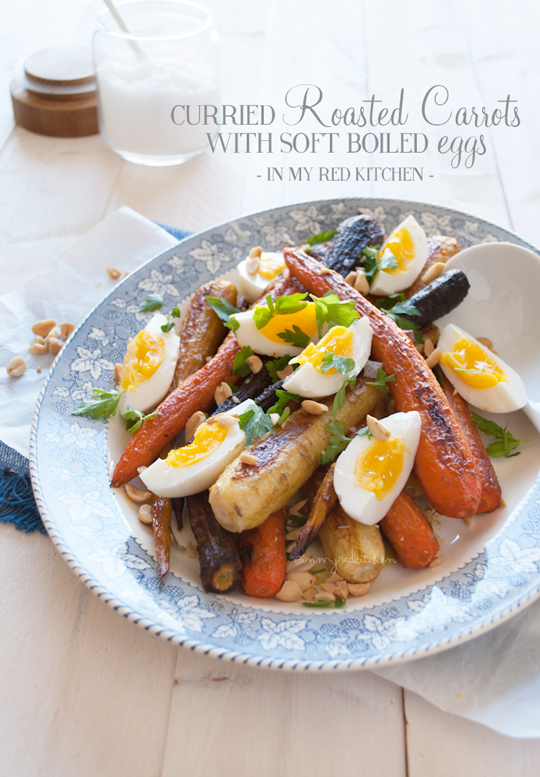 – Click here for this recipe in Dutch -> Geroosterde kerrie wortelen met ei –
For the past six weeks P was working a lot. Or was it seven weeks? I completely lost all sense of time, I have no idea… He worked regularly until around midnight, and even on weekends he had to be at the office.
Sporadically he came home around dinner time if he was lucky, and a few times they gave the whole crew a day off on Sunday to take a break or because they were expecting a tough week. Just a few more of those days to go for him… the deadline is today. Or next Monday, they're not quite sure yet 😉
P and I got totally confused by the days. Today is Friday or Wednesday? That's what happens if you work over the weekend.
Fortunately it is a fun project he's working on. That's making up a bit for the fact that he worked 185 hours in the past two weeks Yep, 185 hours, that's not a typo. So he worked more hours than he had time off.
And I? I hang around the house, go shopping or meet up with friends and watch stupid rom-coms and reality tv and I went to Michaels to buy a lot of crafting goodness. I just started a new cross-stitch project and I'm finally about to begin to make our wedding album. After more than 1.5 years :O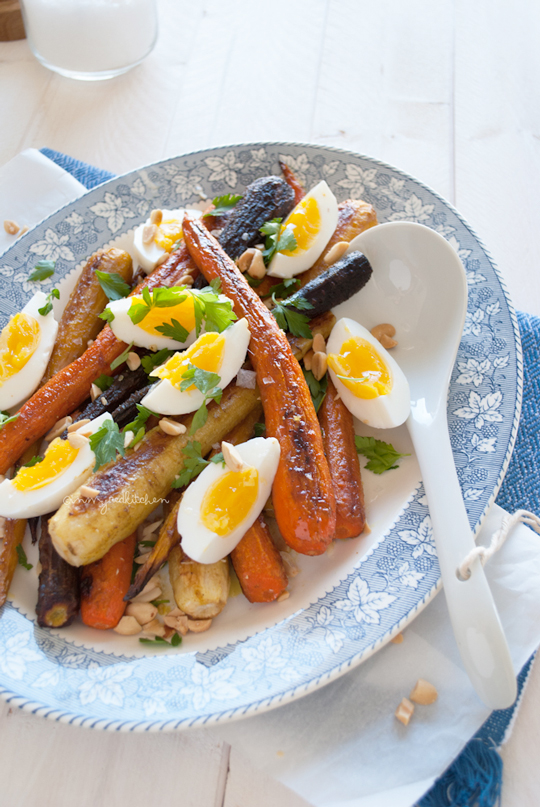 But soon I have to get used to our 'normal' life again. With a husband who comes back home from work around dinnertime and who's also home on weekends. On weekends we can go hiking together again! Or sleep in and then go somewhere for brunch. I really missed that!
I always enjoy brunch with pancakes, waffles or an omelet. But I also like to go to places where they serve a brown rice bowl, or I choose a breakfast burrito and I start my day just as happy with steak & eggs served with roasted potatoes.
Because yes, why not? Why not actually eat curried roasted carrots with eggs as a late breakfast?
Exactly! That's what I thought when I created ​​this recipe. Sunday morning while I took a shower, I just made breakfast for P and waved him goodbye when he went to work. I had plenty of time on this weekend day. What would I do? Read a book? Or should I finally do something with those beautiful rainbow carrots that were already in the fridge for two weeks. I bought them because they were so beautiful, assuming that P would eat at home that week.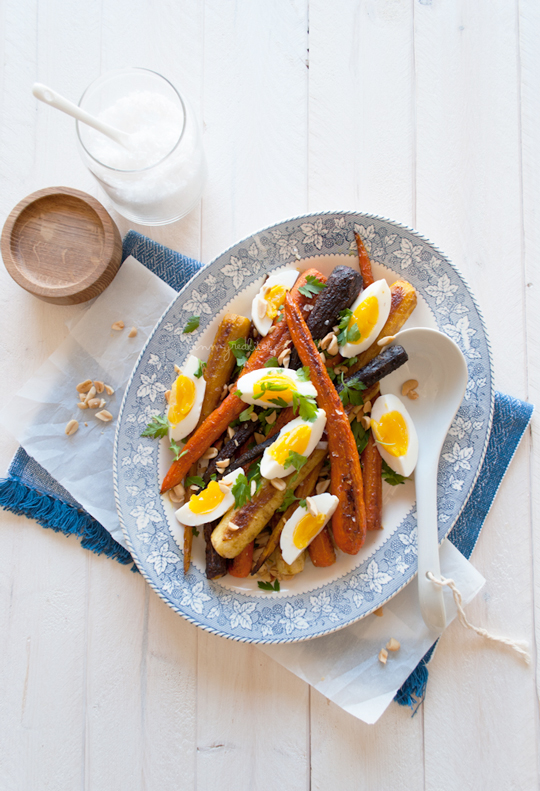 But unfortunately, for two weeks he ate at work and I cooked very simple meals for myself at home. And the carrots never left the fridge. I already started to look forward to an extended weekend brunch afterward, when he's done with the project and can sleep in again and we can go to brunch somewhere. Where will we go to?
The brunch dreams overlapped my recipe fantasies while creating this awesome dish. Soft sweet carrots, with a spicy touch from the curry. Tasty soft-boiled eggs there, and the peanuts to add a bite. Some toast with butter and sea salt on the side and you've got a delicious brunch!
Okay, I admit that I can be a little adventurous when it comes to food. Of course I try chicken feet at the Chinese restaurant and I often choose a dish that is outside my comfort zone. Only this way you will discover the best things.
You don't feel like eating roasted carrots as late breakfast? That's okay, it can happen. But then you should try this as a side at dinner. It's amazing!
Curried roasted carrots with egg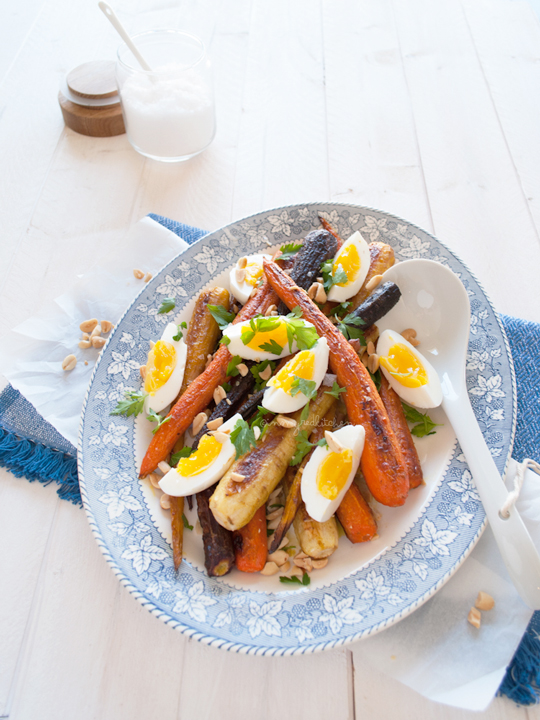 Sweet curried carrots with soft boiled eggs, it turns out to be amazing together!
Ingredients
2 lbs (rainbow) carrots (32 oz)
2 Tbsp olive oil
1 Tbsp curry powder
4 soft boiled eggs
1 Tbsp Maldon sea salt
½ cup parsley leaves, chopped
½ cup peanuts, chopped
Instructions
Preheat the oven to 350 degrees F and line a baking sheet with aluminium foil.
Peel the carrots and spread them out on the baking sheet.
Mix olive oil with curry powder and cover the carrots with it.
Roast in the preheated oven 45 – 50 minutes or until roasted. Turn them halfway.
Serve on a nice serving dish. Quarter the soft boiled eggs and divide them over the carrots. Sprinkle with Maldon sea salt, parsley leaves and peanuts.
Serve immediately.
https://www.inmyredkitchen.com/curried-roasted-carrots-egg/
Copyright Ellen Bannink- in my Red Kitchen
Enjoy!