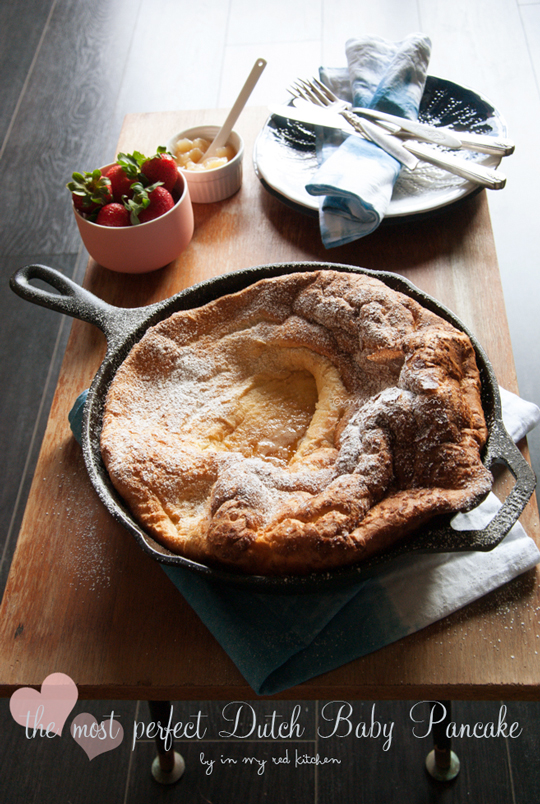 – Click here for this recipe in Dutch -> Perfecte Dutch baby pancake –
This is not the first time that I'm writing about that glorious American oven pancake they've called 'Dutch baby pancake'. In fact, I even shared recipes for Dutch baby pancake with blueberries and a chocolate Dutch baby pancake with strawberries before.
Well I don't need to tell you anymore that this pancake has nothing to do with Dutch (a.k.a. the Netherlands). Because 'we Dutch people' don't come up with baking pancake batter in an iron cast skillet in the oven 😉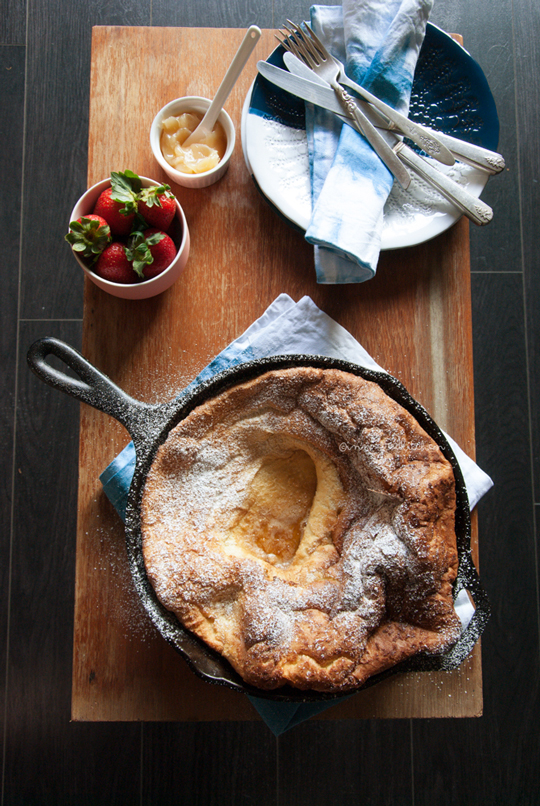 Last year I ate an amazingly fluffy and tasty Dutch baby pancake for breakfast during a weekend getaway in Palm Spring. Wow! To be honest the Dutch baby pancakes I had made before at home were never this tasty. Of course they were good but this pancake in Palm Springs was very fluffy and smooth. What was the secret?!
Countless test rounds later I can now finally make such a perfect Dutch baby pancake myself. It took some effort and lots of tries because usually the pancakes tasted just like an ordinary omelet due to the amount of eggs. And of course I also had to deal with a real Dutch baby here (haha, see what I did there? ;-)) So it took a while before I could finally share this recipe with you.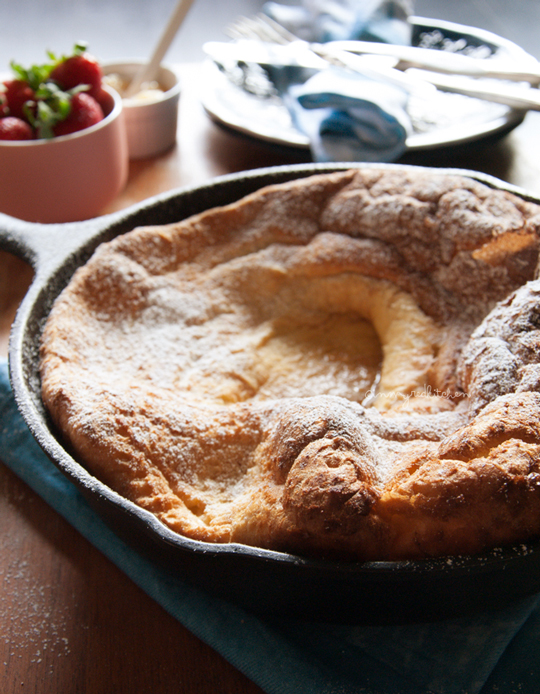 Because this is so tremendously good and perfect, I had to share this recipe! It is right now my favorite breakfast, and it's also a 'it's so fluffy I'm gonna die!' situation. Serve with lemon curd and fresh strawberries. Although here in California strawberry season is also already over… but I bet it also with some seasonal stone fruit!
The most perfect Dutch baby pancake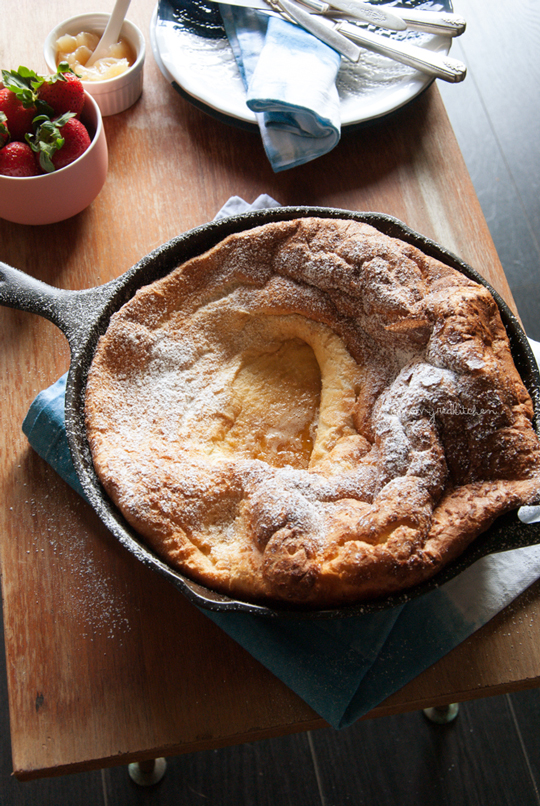 "it's so fluffy I'm gonna die!" This is my new favorite breakfast on weekends, I love how fluffy this Dutch Baby Pancake is!
Ingredients
3 large eggs
2/3 cup milk
2/3 cup all-purpose flour
½ teaspoon pure vanilla extract
pinch of salt
4 tablespoons unsalted butter
Instructions
Put your iron skillet on the middle rack of your oven and preheat to 450 (F).
Add all the ingredients –minus the butter- to a blender. Pulse until a smooth and thin batter forms.
Take your preheated skillet out of the oven and add the 4 tablespoons of butter, swirling the pan to melt the butter and coat the pan. Once the bottom of the pan is covered in butter, pour the Dutch Baby pancake batter into it and immediately return the skillet to the oven.
Bake until puffed and golden-brown, for 18-25 minutes.
https://www.inmyredkitchen.com/the-most-perfect-dutch-baby-pancake/
Copyright Ellen Bannink- in my Red Kitchen
Enjoy!