– Click here for this recipe in Dutch -> Parmezaanse kip –
I knew how to make these Parmesan crusted chicken bites long before I knew Parmesan chicken was already an existing dish. To me these bites were ground breaking and life changing.
No really, I'm serious! A long time ago I had no idea what calories were and what a healthy and balanced lifestyle was. So I got some help on a forum, somebody explained it all to me and gave me some recipes to work with. Recipes I could eat while I was trying to lose some weight.
And it helped, the help I got was life changing for me, I lost 57 lbs and I finally understood what I was putting in my mouth. From that moment on I kept on eating healthier and healthier.
The recipe for these Parmesan crusted chicken bites was one of the recipes I received from the person that helped me to learn more about food and losing weight. From that moment on it was my favorite food, and still is! (okay, among other dishes ;-))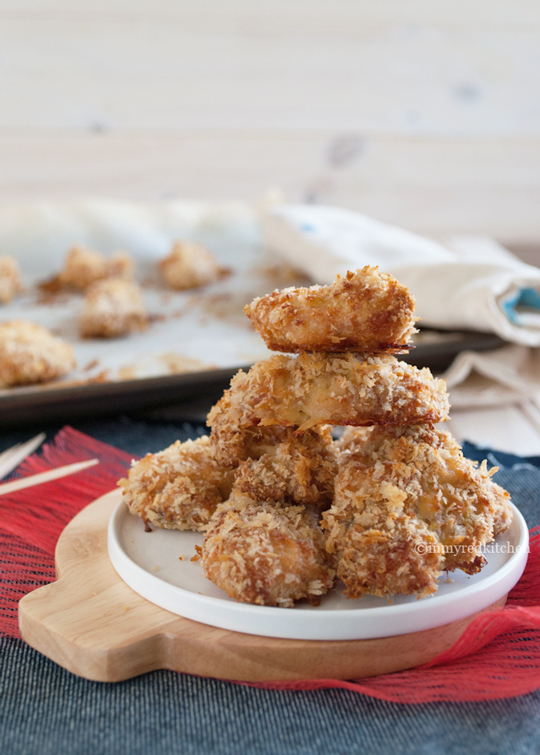 Whenever I invite people over for dinner I immediately think of parmesan crusted chicken bites to serve them. It's the first thing that comes to mind, because everybody loves it!
Speaking of… it has been too long since we had people over for dinner, so who's coming? 😉 I'll serve you these parmesan chicken with a delicious salad and English pea risotto. That's the way I like it best, but since I'm cutting back on carbs just a salad will also do.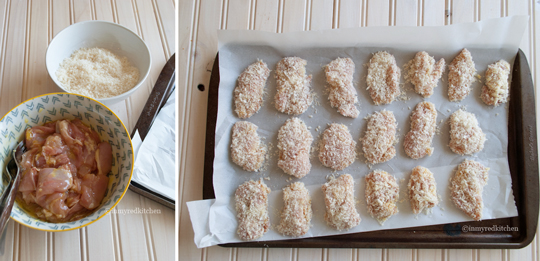 I prefer to use chicken thighs for it, that way the chicken bites will stay tender and they don't need a dipping sauce. They're already good enough by itself! I could eat a whole baking sheet full of it, and you?
Parmesan crusted chicken bites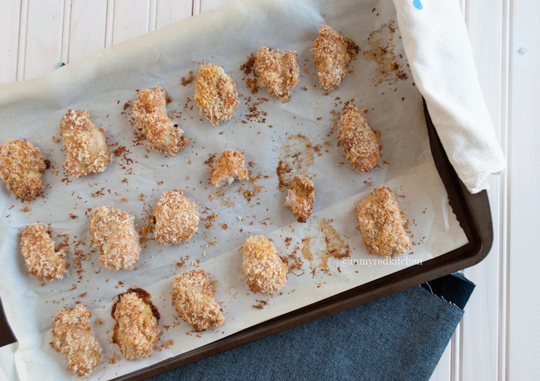 My favorite chicken bites! So juicy and tender with a tasty crust. Serve with a salad and risotto or just as a snack on the next holiday!
Ingredients
1 lb skin- & boneless chicken thighs
2 egg yolks
2 gloves of garlic, crushed
1 tsp kosher salt
1 cup finely grated parmesan cheese
½ cup panko
Instructions
Preheat the oven to 375 degrees F.
Cut the chicken in equal pieces, about 1-2 inch. I like to cut each thigh in 3 pieces.
Mix the egg yolks with the garlic and salt.
Mix the parmesan with the panko.
Prepare a baking sheet with parchment paper.
Place the chicken in the egg yolk mixture. Stir until combined.
Use two forks to pick up a piece of chicken and to transfer it to the bowl of the parmesan mixture. Carefully cover it with parmesan & panko and place it on the baking sheet. Repeat with the remaining chicken.
Bake the chicken bites in the preheated oven for about 25-30 minutes, or until the chicken is done and the crust is golden brown.
http://www.inmyredkitchen.com/parmesan-crusted-chicken-bites/
Copyright Ellen Bannink- in my Red Kitchen
Enjoy!
– This recipe appeared earlier in Dutch on www.inmyredkitchen.nl -> Parmezaanse kip –