– Click here for this recipe in Dutch -> Kimchi nasi met spek –
Are you also so tired lately? I can take a nap every day and every night I fall asleep on the couch around 11pm. That sounds very early to me as we normally go to bed around midnight 😉
I think it's an end-of-the-year fatigue because I especially suffer from it on cold and rainy days. And I'm looking forward to 2015!! A new year full of new opportunities and also a new blog design! I've been working on that for months now, but it's starting to look like a new blog and I really-REALLY like it! I designed it myself and P is building the new website. It's almost ready to be revealed but we'll wait until next year to do that.
I'm so excited! It will be a new start and I'm looking forward to creating new recipes.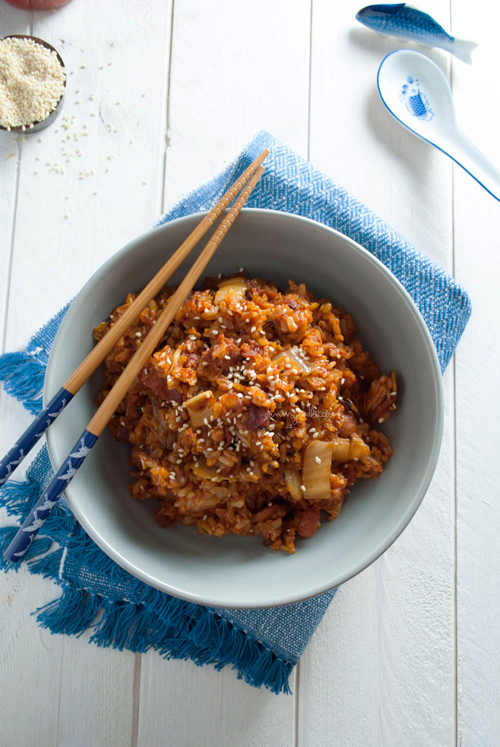 Lately I like easy & quick recipes, and since it's colder now I like spicy food. Last week I showed you how to make home made kimchi. After two weeks of fermenting the kimchi is ready to be eaten raw, but I also love to make kimchi fried rice with bacon. It's an easy meal to prepare and it's so full of flavor!
You don't want to make your own kimchi? Go to the Asian store and by a jar of kimchi to make this recipe! It will be almost as good as kimchi fried rice with home made kimchi, I promise 😉
Kimchi fried rice with bacon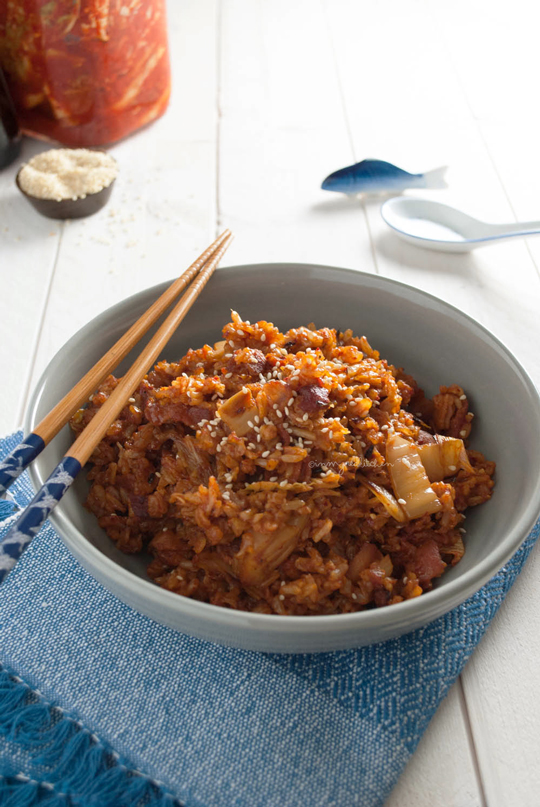 Quick & easy week night meal that's packed with flavor!
Ingredients
6 oz bacon, chopped
10 oz kimchi*, chopped
3 cups cooked brown rice
¼ cup kimchi juice
1 tsp sugar or honey
1 Tbsp gochujang

for serving:

sesame oil
roasted sesame seeds
Instructions
In a wok over high heat, cook the bacon until almost crispy, for about 5 minutes.
Use a slotted spoon to take the bacon out of the wok, set aside.
In the bacon fat, cook the chopped kimchi for a few minutes until caramelized.
Add the rice, bacon and kimchi juice and stir to combine.
Add the sugar and gochujang, stir again to combine and serve in bowls.
Drizzle over some sesame oil and sprinkle on some sesame seeds as garnish.
Notes
* or use store bought kimchi
https://www.inmyredkitchen.com/kimchi-fried-rice-bacon/
Copyright Ellen Bannink- in my Red Kitchen
Enjoy!