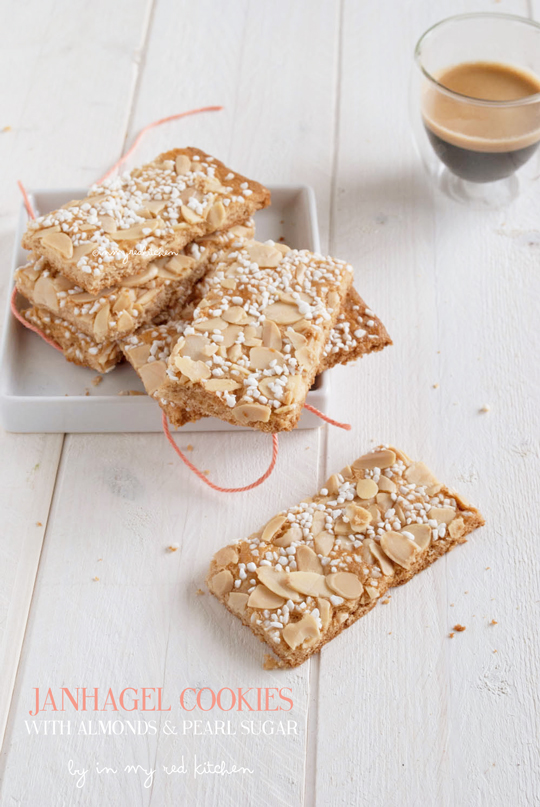 – Click here for this recipe in Dutch -> Janhagel koekjes –
Last year I had a lot of fun participating in the annual The Great Food Blogger Cookie swap. Yes, that's right. That's a cookie exchange among food bloggers.
The rules are simple. You sign up. You will receive the addresses of three other food bloggers. You bake three dozen cookies. Cookies that you wrap up well and that you send by post to the other three food bloggers. In return, you get three boxes of 12 cookies sent home, by random food bloggers. So much fun, and also very delicious!
But the best part of this cookie swap? By participating you support the nonprofit organization Cookies for Kids' Cancer because the entry fee will be donated to them. That's what I call a win-win situation!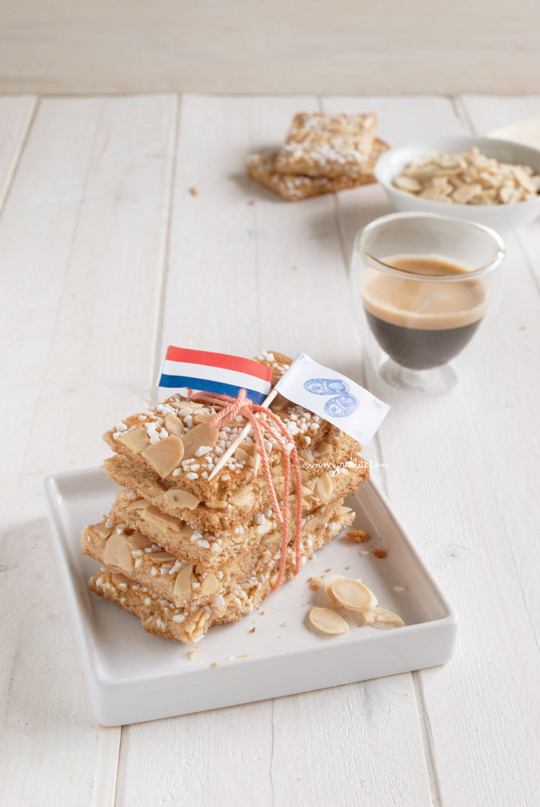 Just like last year, I again chose to bake über-Dutch cookies. Last year I made spritsen, this time it was Janhagel cookies' turn! Anyone who grew up in the Netherlands knows this butter cookie with pearl sugar and almonds. At our house, this was the typical 4pm-tea-and-cookies-cookie. This year I had a hard time picking a recipe. First I wanted to make Kletskoppen ('chatty heads'), some typical Dutch lattice cookies. But I decided they were too simple compared to all the excessive cookies I received last year. Maybe some 'gevulde koeken' ('filled cookies'), buttery cakes filled with almond paste. Uhm… maybe they were a little too abundant. After finding out I could buy pearl sugar in the US I finally made my decision: Janhagel cookies!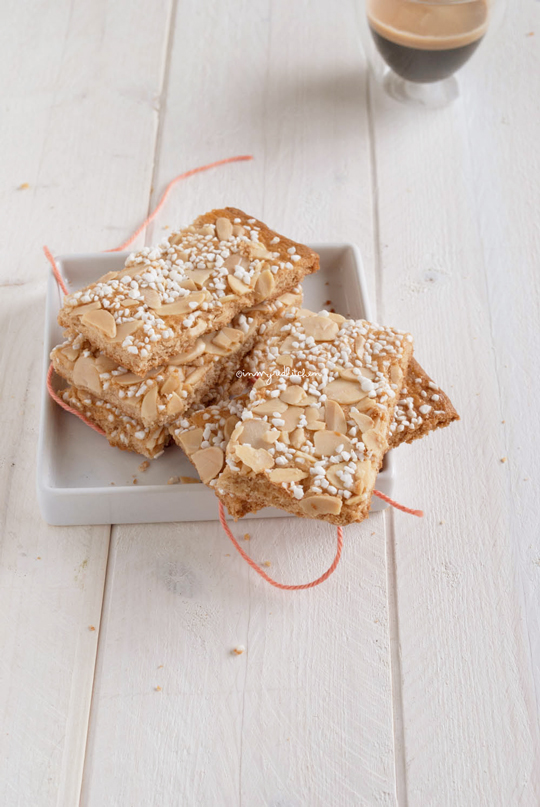 It's an easy recipe and luckily I had some extra cookies after sending the three dozen cookies off so I snacked on them for days.
I sent my three boxes of cookies to:
Meghan of Spoonful of Flour
Debbie, Tracy & Sherri of Made From Pinterest
Nichi of The Mandatory Mooch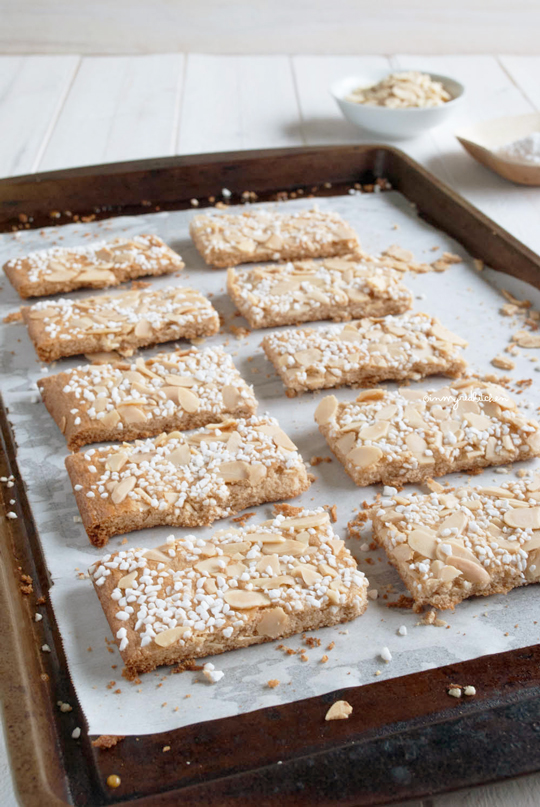 The first box of cookies I got back was a complete surprise. They came from my friend Maryanne of The Little Epicurean! How coincidental is that? And how likely is it that of all 600 participating food bloggers she gets to sent cookies to someone she knows? I knew it of course, but that girl can bake! Delicious brown butter chocolate chunk cookies with a touch of ground hazelnuts and a sprinkling of Maldon sea salt!
The next day the second box of cookies followed, soft chocolate gingerbread cookies with cranberries. Yummy! Baked and sent by Emily of It Bakes Me Happy.

And then I had to wait for the third box… But the week-long wait was totally worth it! Lauren of Hall Nesting sent me a box of beautifully wrapped and delicious macadamia chocolate chip cookies. Wow! And totally right on time for that tea & cookies afternoon I had with my girlfriends.
Here is my recipe for the Janhagel cookies*: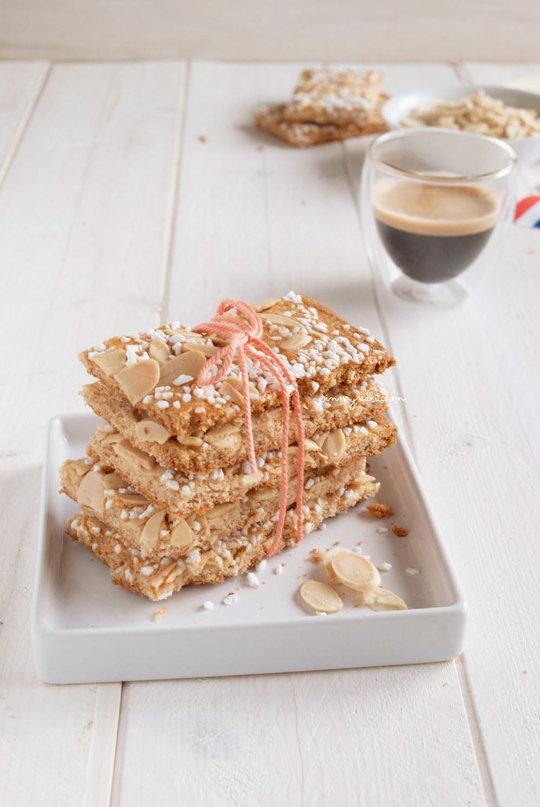 Dutch Janhagel cookies for the Great Food Bloggers Cookie Swap!
Ingredients
1 ¼ cup all-purpose flour
1 tsp cinnamon
½ tsp baking powder
¼ tsp salt
1 stick & 3 Tbsp soft butter (150 grams)
½ cup fine caster sugar
1 egg, beaten
1 cup sliced almonds
¼ cup pearl sugar
Instructions
Preheat the oven to 355 degrees F.
In a medium bowl, mix the flour with the cinnamon, baking powder and salt.
In the bowl of a stand mixer, use the flat beater to whip the butter and sugar until airy and white.
Add the flour mixture and half of the beaten egg and beat again till everything is just incorporated.
Cut two pieces of parchment paper just big enough to fit the baking sheet. Place the dough between the parchment paper and use a rolling pin to roll out the dough in a square, also as big as the paper and baking sheet.
Discard the sheet of parchment paper that's on top and carefully place the dough with the remaining sheet on the baking sheet. Brush the dough with the remaining beaten egg and sprinkle the almonds and sugar on top.
Slighty push the almonds and sugar down to secure them, and place the baking sheet in the oven for 15 – 17 minutes until that big cookie is golden brown.
Immediately cut into 24 squares using a dough cutter or pizza knife. Carefully place the cookies on a baking rack to cool off.
https://www.inmyredkitchen.com/dutch-janhagel-cookies/
Copyright Ellen Bannink- in my Red Kitchen
Enjoy & Happy Holidays!
*Recipe from Het Nederlands Bakboek by Gaitri Pagrach-Chandra