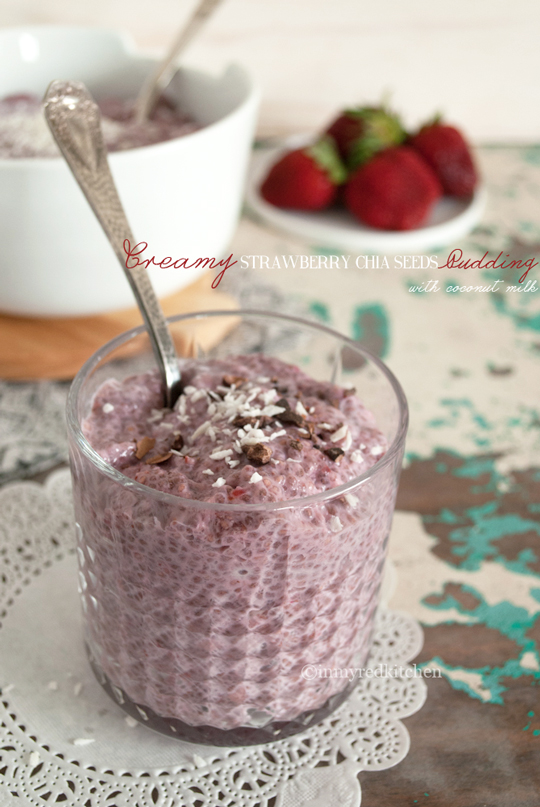 Who wants to eat dessert for breakfast? I do!
But today is a day that I'm feeling guilty. And that's pretty common for me once in a while. It's not just one thing I feel guilty about, there are a few things. To start I feel guilty towards in my Red Kitchen. I wanted to post the recipe for this delicious and creamy strawberry chia seeds pudding yesterday, but instead of working (a.k.a. blogging) I took a road trip with my sister to San Francisco. We left on Monday, spent 1,5 days in rainy SF and we drove back yesterday over the PCH. So I failed in putting myself to work and take time to write this blog post on time.
We had a really good time in San Francisco, even while it was raining cats & dogs. We saw the Golden Gate Bridge in the fog, had ice cream at Bi-Rite Creamery ofcourse, bought sourdough bread at Boudin and discovered a really great Mexican restaurant.
All great, but also a new thing to add to my guilt list. Here I am, spending all this money while P is working really hard. I'm not doing anything to bring some money to our household, all I do is spending what he's earning.
But I have to be honest and realistic and admit that's the way it is now. I'm not even allowed to make money in the US at this moment so there's nothing I can do about that.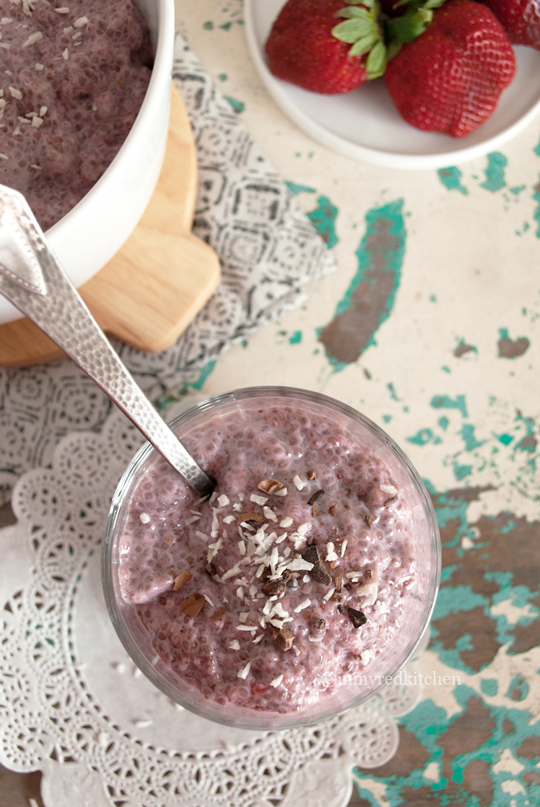 Also, for a food blogger who's trying to loose weight I'm not doing that well. So that's another thing to feel guilty about. I didn't drink my juices this week (due to the trip to SF) and I didn't go hiking because I had a huge cold. A sore throat, runny nose and fever don't go well with a workout in the mountains. I'm still recovering from that so I didn't went hiking today but instead I did two 10-minute workouts on YouTube and I walked to the Dutch consulate to pick up my new passport this morning. But that doesn't make up for the margarita's I drank in SF, the ice cream I ate at Bi-Rite or the cookies we munched on in the car – driving the Pacific Coast Highway.
To shake off all those guilty feelings I try to take good care of myself and cook a delicious meal tonight with vegetables from the fridge (I'm making a roasted tomato and spinach soup – hope it will turn out great!). And I ate dessert for breakfast, but don't worry, it's not a cake and ice cream kind of dessert. It's a healthy but yet so delicious dessert.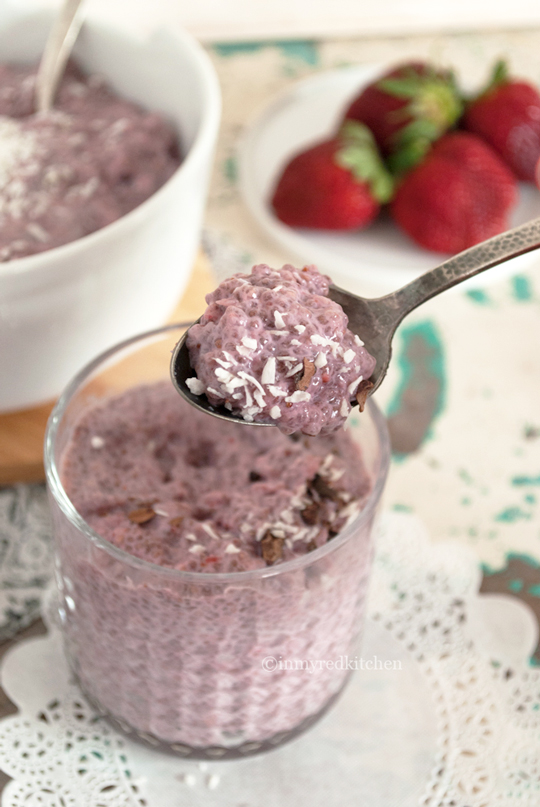 I made it with fresh strawberries I got at the Santa Monica Farmers Market. They tasted so good, so pure and like summer. So one of the three baskets I bought turned into this strawberry chia seeds pudding. How? Well that's easy, I blended the strawberries with coconut milk and mixed them with chia seeds. Chia seeds are a great addition to yogurt or smoothies and I buy them at Costco. But the most amazing part is: they have the ability to soak up liquid. If they do that they will turn into tiny jelly balls with a crunchy core so you will end up with a big bowl of creamy chia seeds pudding.
So here it is, dessert for breakfast without feeling guilty about it:
Creamy strawberry chia seeds pudding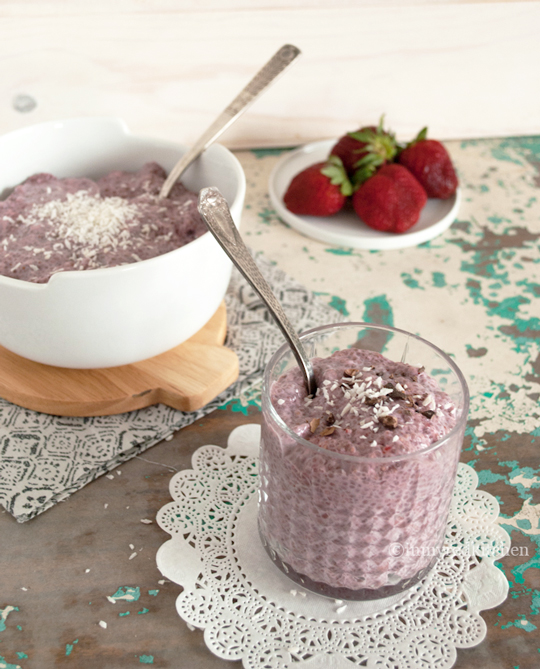 Four ingredient delicious and creamy strawberry chia seeds pudding - I love it!
Ingredients
1 lbs stawberries (455 gr)
2 cups coconut milk (from a can)
1 cup chia seeds
3 Tbsp maple syrup or honey
Instructions
Wash the strawberries and remove the stems. Add them to a blender and add the coconut milk. Pulse until smooth.
Transfer the strawberry coconut mixture to a large bowl.
Add the chia seeds and maple syrup and mix until combined.
Cover and place the bowl in the fridge for at least 2 hours (but preferably overnight). The chia seeds soak up the liquid and turn into tiny jelly balls with a crunchy core.
Mix well before serving and garnish with raw cacao, shredded coconut and fresh fruit.
Notes
I really liked the consistency of the chia pudding, but you can always add some extra milk (coconut, almond or soy) before serving if you like to.
https://www.inmyredkitchen.com/creamy-strawberry-chia-seeds-pudding/
Copyright Ellen Bannink- in my Red Kitchen
Enjoy!