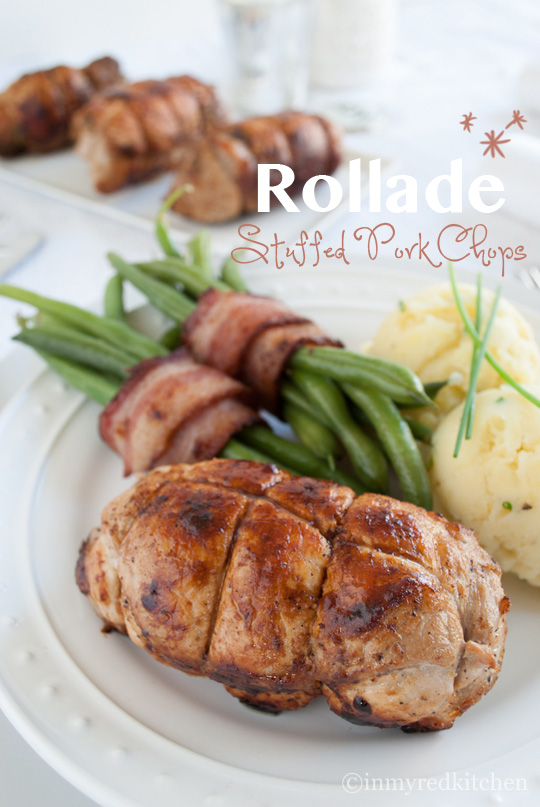 Can you believe it's already November? And that means that Thanksgiving is coming up!
In the Netherlands we don't do Thanksgiving. But of course we do Christmas! So when Readers.com asked me to create a holiday recipe for their Holiday Cookbook I instantly thought of the 'Rollade' my mom served during many Christmasses. (is that a word? Well, it is now!)
The most popular Christmas tradition in the Netherlands is 'gourmetten'. For 'gourmetten' you need a 'gourmet set': a large electric grill plate with little pans at the bottom. Everybody at the table gets his own pan so you can prepare your own dinner. During the holiday season you can buy a 'gourmet' tray at the supermarket, filled with tiny hamburgers, steaks, chicken and meatballs.

As a child I loved that my mom also made us pancake batter and eggs so we could make our own mini pancakes and omelettes. Way better than everything else, I mean: pancakes for Christmas!
Because to be honest, I didn't like this gourmet-thingy. You would always stuff yourself with meat and the bread and garlic-butter that was served on the side.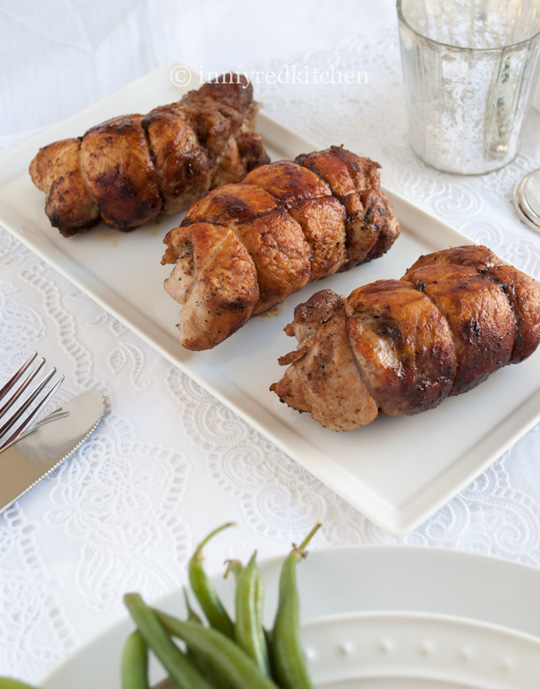 No, I liked it more when my mom served a Rollade, a big piece of pork that is seasoned, rolled up and tied together. You roast this on a low temperature for several hours so you can imagine our house would smell so great on Christmas.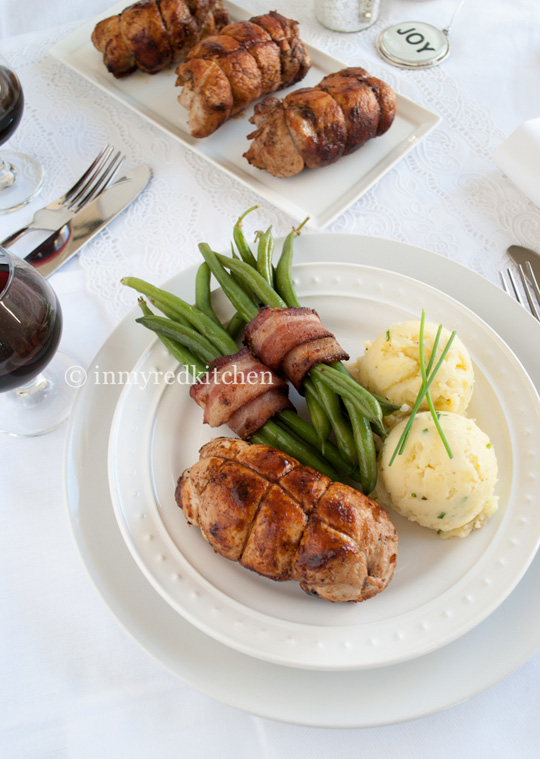 I just love roasted meat, and that's one of the many reasons I will never become a vegetarian 😉 You can wake me up for a roasted chicken with a crispy skin… (but honestly, don't try to do it because I also looooove to sleep 😉 ) Or a slow roasted pork belly, yummm… ok, I'm day dreaming now, back to this rollade!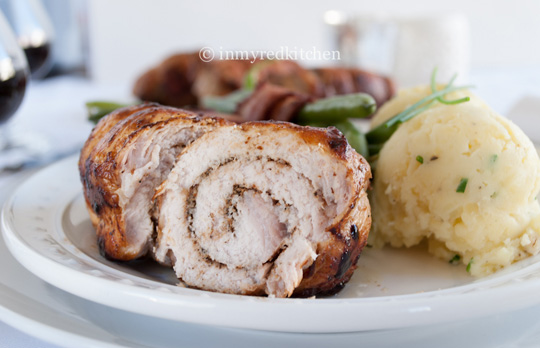 So Thanksgiving is all about family and being thankful. Not having my family around sucks but hooray for whatsapp and Skype! That way we can send each other pictures and easily stay in (almost daily) contact, even if it's just a short message.
This year we will be celebrating Thanksgiving with our (new) friends in LA and we have so much to be thankful for. It's so great we got the oppurtunity to move to LA so P could take the next step in his career. We are loving every single moment of it! And personally I'm very thankful that I got lucky to marry the best husband in the world who really supports me with this blog.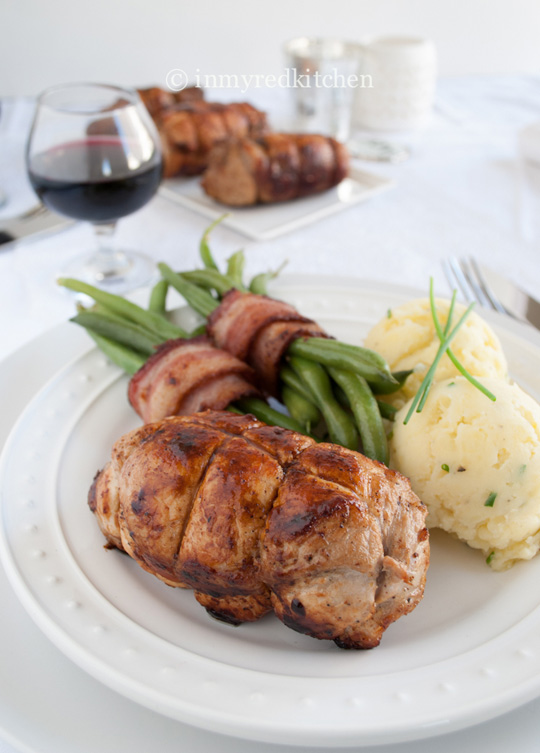 To celebrate Thanksgiving I made some mini rollades for you. Because they're mini they cook faster so you don't have to spend much time in the kitchen today. Yay! Now you have more time to spend with your loved ones!
So tell me, how are you gonna spend your Thanksgiving this year and what are you cooking? I'd love to know and I wish you a great day!
Rollade – Stuffed Pork Chops for Thanksgiving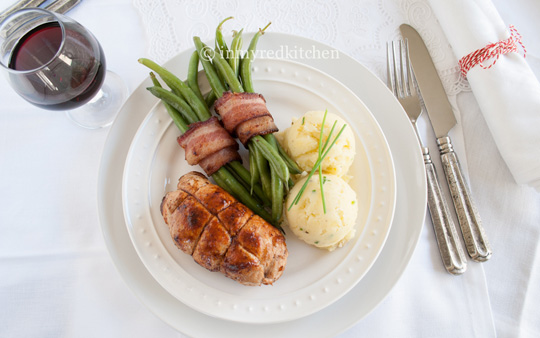 Have a Dutch-style Thanksgiving this year and serve mini Rollade to your family and friends!
Ingredients
4 boneless pork chops
½ Tbsp ground black pepper
½ Tbsp ground mace
1 tsp kosher salt
1 tsp ground ginger
1 tsp ground nutmeg
½ tsp ground cardamom
1 Tbsp olive oil
2 Tbsp butter
1 Tbsp corn starch
1 Tbsp mustard

also needed: kitchen twine and Dutch oven
Instructions
Slice each pork chop in two thinner pork chops and flatten them with a meat tenderizer (flat side) or rolling pin. Lay them side to side but let the left one overlap the right one for 1 inch. Mix the black pepper, mace, kosher salt, ginger, nutmeg and cardamom and sprinkle 1/4 on top of the pork chops. Now roll them up thightly as one piece, start rolling at the right. (step by step pictures below) Bind the rollade together with kitchen twine, use one larger piece if you feel comfortable or use 3 smaller pieces. Sprinkle with salt and pepper and repeat with the other 3 pork chops.
Heat the Dutch oven over high heat and add the olive oil and butter to melt. Brown the rollades over high heat for 5 minutes, keep turning over so it browns evenly. Lower the heat to medium-low and let them cook for 25 - 30 minutes. Transfer the rollades to a plate and cover with foil.
Add about ½ cup boiled water to the butter juices in the Dutch oven and stir. Mix about one tablespoon of the gravy with one teaspoon of corn starch and add this to the gravy. Let it boil down for some Dutch-style gravy and add the mustard at the end.
Serve the rollades with the Dutch-style gravy and with mashed potatoes and green beans wrapped in bacon.
Notes
Normally a Rollade in the Netherlands is made with pork shoulder or butt, a more fattier piece of pork. I decided to use a more lean piece and also a more easily available piece of pork in the US.
The spices are typical 'VOC' spices to me, they smell like home! 🙂 I had no trouble buying these spices in LA, try the Wholefoods if you have trouble finding them!
http://www.inmyredkitchen.com/rollade-stuffed-pork-chops-for-thanksgiving-2/
Copyright Ellen Bannink- in my Red Kitchen
Happy Thanksgiving and enjoy!

Don't forget to season them with salt & pepper! 😉