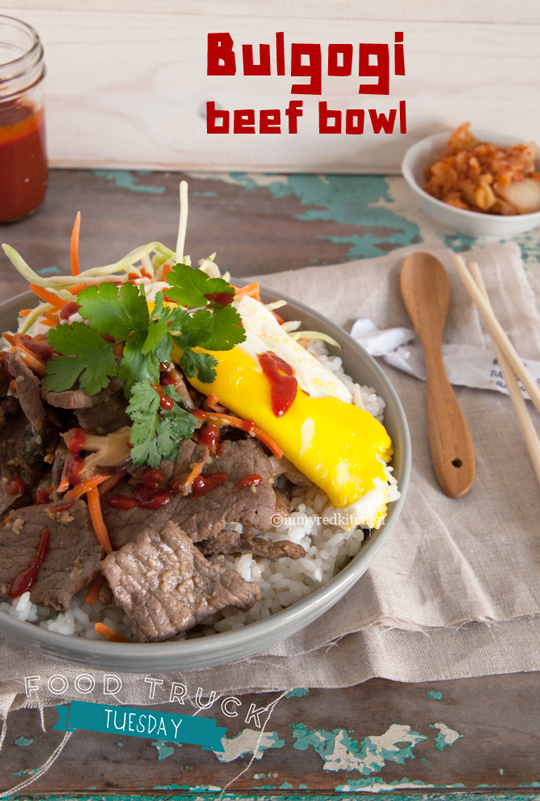 – Click here for this recipe in Dutch -> Bulgogi beef bowl –
I never really had Korean food until 3 (or so) years ago when friends took us to a Korean BBQ restaurant in London. There aren't many Korean people in the Netherlands, let alone Korean restaurants. I'm so sorry for all the Dutchies that are missing out on all that delicious food! 😉
Of course, you can easily make it at home but picking up Korean food at the food truck is so much better 😉 Uhm ok I shouldn't have said that because what would the purpose of this Food Truck Tuesday Bulgogi Beef Bowl recipe be? 😉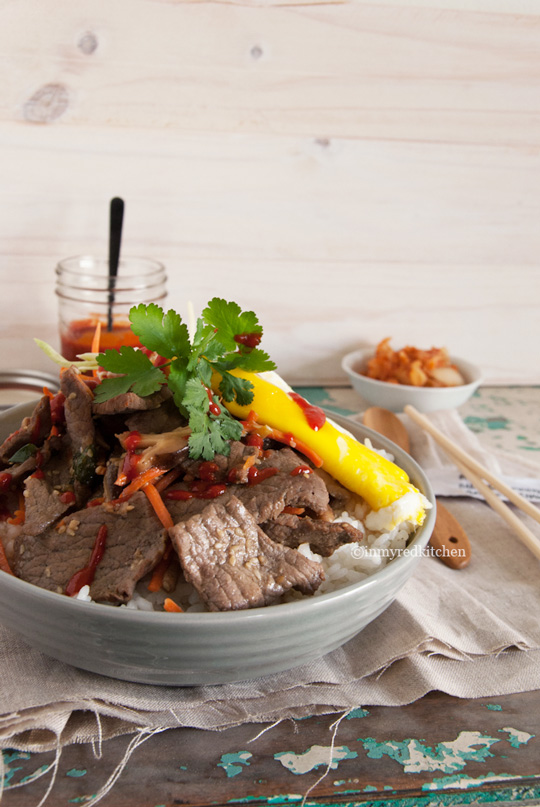 So for all those times there is no Korean food truck around I created this bulgogi beef bowl. The Let's Roll It food truck inspired me to make it. These guys serve up some really great fusion food. I like fusion because why shouldn't we be combining the best foods of different worlds into one delicious dish?
I've had a bulgogi quesadilla of Let's Roll It before and that one was great! But I'm always into trying something new so last time I got the bulgogi beef bowl. Whoa! Also delicious! So today I made my own version and I'm serving it for you 🙂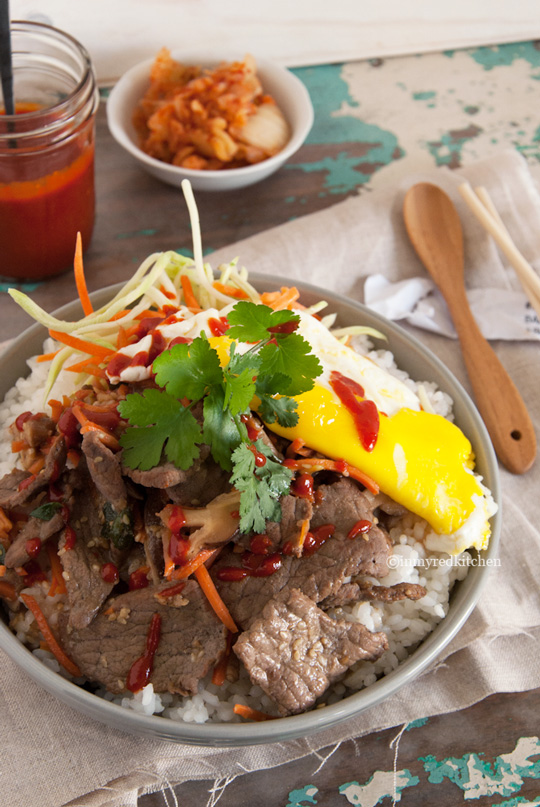 I went to my amazing butcher to buy the main ingredient, locally grown and really great beef. I always tell Alice what my dinner plans are so she and Eddy can advise me. Last week they happen to have minute steaks and it turned out they were great for my recipe. So if you're in Santa Monica (ah what the heck, even if you're in LA) go to A Cut Above to get some beef for the bulgogi. Ask them to slice it thin or do it at home. This goes best if you freeze the beef for an hour and slice it against the grain with a sharp knife.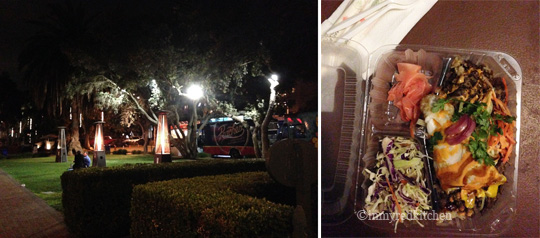 Marinate the beef overnight so the next day you can have a quick and easy weeknight meal. There isn't anything about this dish I don't like. The sesame oil in the marinade, my own home made sweet and spicy sauce with the pineapple juice, the sushi rice in combination with the beef and the fried egg on top. But hey, it's my own recipe 😉
This was the only information I had…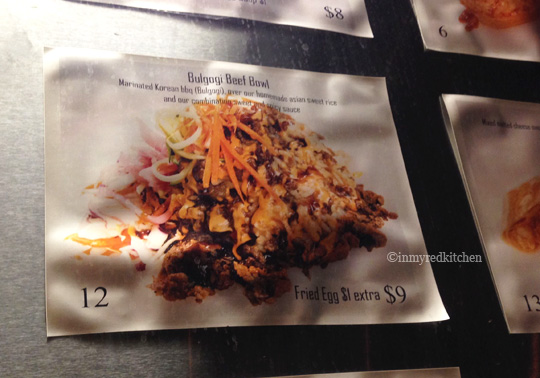 … and this is what I made of it. Hope you like it!
Food Truck Tuesday: Bulgogi Beef Bowl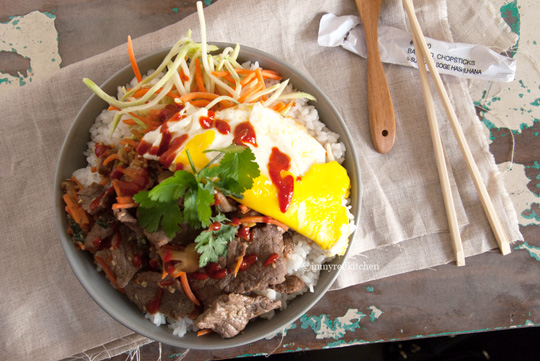 Easy home made bulgogi beef bowl, a great and quick weeknight meal for when there is no Korean food truck around!
Ingredients
For the bulgogi:

0.7 lbs flank steak, rib eye or sirloin, thinly sliced
3 Tbsp soy sauce
1 ½ Tbsp white sugar
2 green onions, finely chopped
6 gloves garlic, minced
1 Tbsp sesame seeds
1 Tbsp sesame oil
pinch ground black pepper

For the sweet & spicy sauce:

½ cup pure pineapple juice
1/3 cup Gochujang (Korean chili paste)
1 Tbsp sugar
2 tsp fresh grated ginger

For the rice bowl:

½ cup sushi rice
3.5 oz shiitakes, sliced
3 oz shredded carrots

For serving:

2 fried eggs
kimchi or coleslaw
cilantro
Instructions
Ask the butcher to slice the meat thin or cut the beef at home, this works best by freezing the beef for 1 hour to firm it up for easier slicing. Cut across the grain into about 1/8-inch thick slices.
Combine soy sauce, sugar, green onion, garlic, sesame seeds, sesame oil, and ground black pepper in a small bowl. Separate the beef slices and add them to the marinade, making sure everything is covered. Cover and refrigerate for at least 1 hour or overnight.
Mix the pineapple juice with the gochujang, sugar and ginger in a small bowl until combined. Heat a skillet over medium heat, add the sauce and cook for 5 minutes. The sauce will thicken, transfer the sauce to a clean jar. Set aside.
Wash the rice until the water runds clear and cook it according to the instructions on the bag.
Heat a skillet over medium high heat and add the meat (keep the marinade!). Stir-fry for 1 minute, add the shiitake, carrots and the marinade and stir-fry for 3 minutes until the shiitakes are done.
Serve over the cooked rice with the fried egg and the sweet & spicy sauce on top.
Notes
Please note: total prep & cook time is without the overnight marinating!
Bulgogi is usually prepared on a hot grill or barbecue. But I wanted to use the marinate to season the rice so I prepared it in a wok.
http://www.inmyredkitchen.com/food-truck-tuesday-bulgogi-beef-bowl/
Copyright Ellen Bannink- in my Red Kitchen
Enjoy!