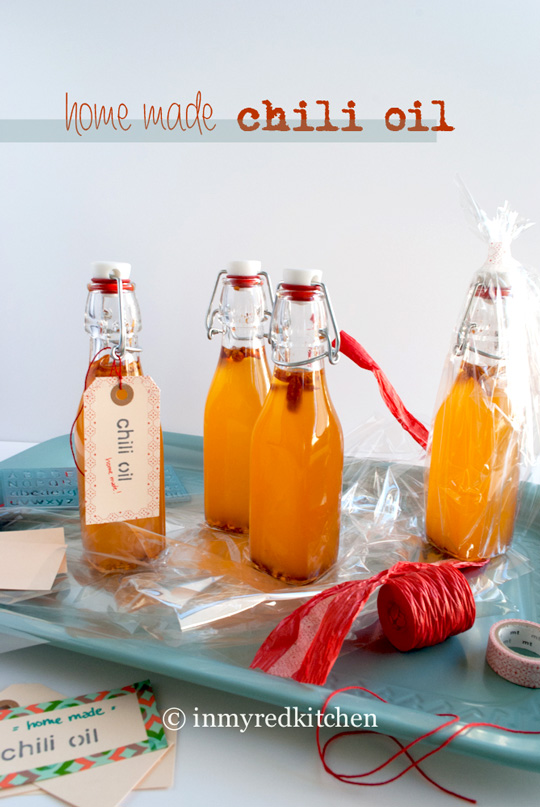 I published this recipe for home made chili oil yesterday on my Dutch blog but I also wanted to share this recipe with my non-Dutch readers.
Because be honest, wouldn't this make a great holiday gift? Everybody likes food right?
This home made chili oil can be used to add some spice to dishes before serving but also for cooking.
It's a must have in my kitchen! I can't live without it and you also shouldn't 😉
Spice up you life!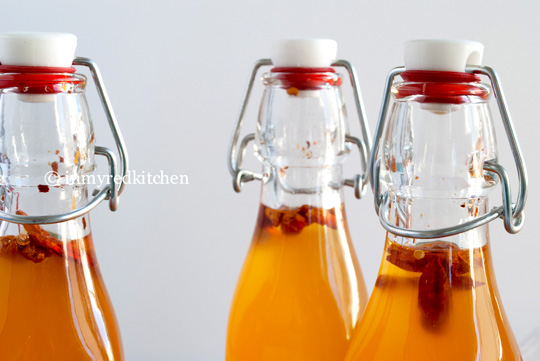 Here is my recipe for four 8.5 floz bottles which you can use as a holiday gift. Of course you can also use the directions to fill a larger bottle for yourself. Using 8 serrano peppers on 34 floz canola oil makes a rather mild chili oil. Feel free to use more peppers!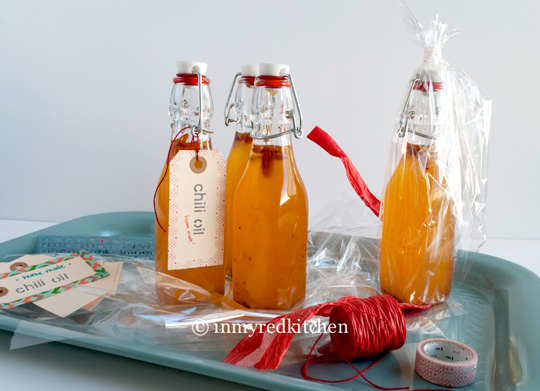 Spice up your life with home made chili oil. This is a must have in your kitchen! Use the chili oil to season dishes or for cooking.
Ingredients
34 fl oz canola oil
8 red serrano peppers
2 garlic cloves
16 dried Thai chilies
4 tsp chili flakes

also needed: 4 empty bottles (8.5 fl oz), pitcher, sieve with cheese cloth, funnel
Instructions
Fill the bottles with boiling hot water and set aside.
Wash the serrano peppers under running water and pat dry. Cut off the stalk (throw out), cut the pepper in length and chop coarsely.
Peel the garlic cloves and crush the clove.
Heat about ½ cup of the canola oil in a sauce pan over high heat and add the chopped pepper and crushed garlic.
Fry them for about 5 minutes until the peppers are soft and the oil is red.
Add the remaining oil and bring to a boil, change the heat to low and let it simmer for 30 minutes.
Remove the pan from the stove and let the chili oil cool down to room temperature.
Discard the water from the bottles and let the bottles dry.
Line a sieve with a cheese cloth and use this sieve to pour the (cold!) oil into the pitcher. Discard the cheese cloth with the peppers and garlic.
Add the dried Thai chilies and the chili flakes to the bottles and use the funnel to pour the oil into the bottles.
The chili oil is now ready!
http://www.inmyredkitchen.com/chili-oil/
Copyright Ellen Bannink- in my Red Kitchen