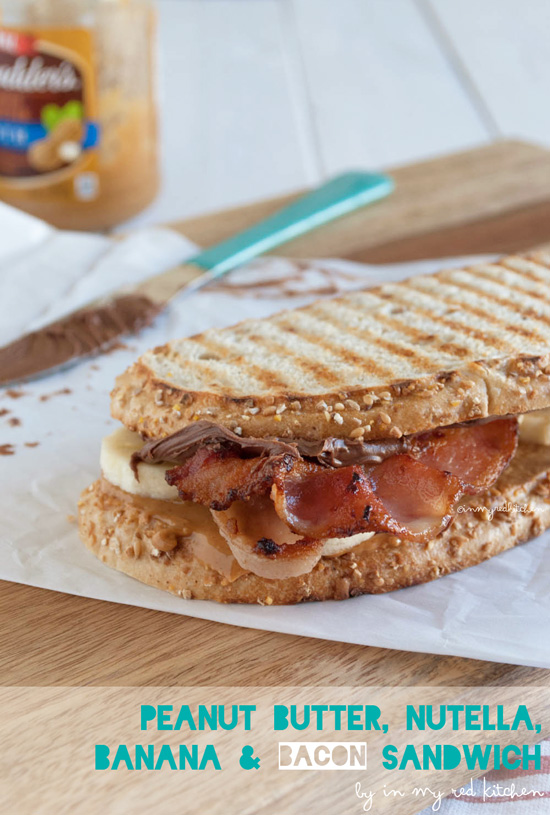 – Click here for this recipe in Dutch -> 'Chunky monkey' sandwich –
Don't look at me like that… I made you a peanut butter, nutella, banana and BACON (!!) sandwich. And that combination is divine! And no, that's not pregnant Ellen talking…
I always like combinations on my sandwich. Peanut butter with chocolate sprinkles, apple spread with Gouda cheese, peanut butter with banana, bacon with honey and brie with jam. As you can see I am even into salty / savory combined with sweets. Did you know that pâté is very delicious on raisin bread for example?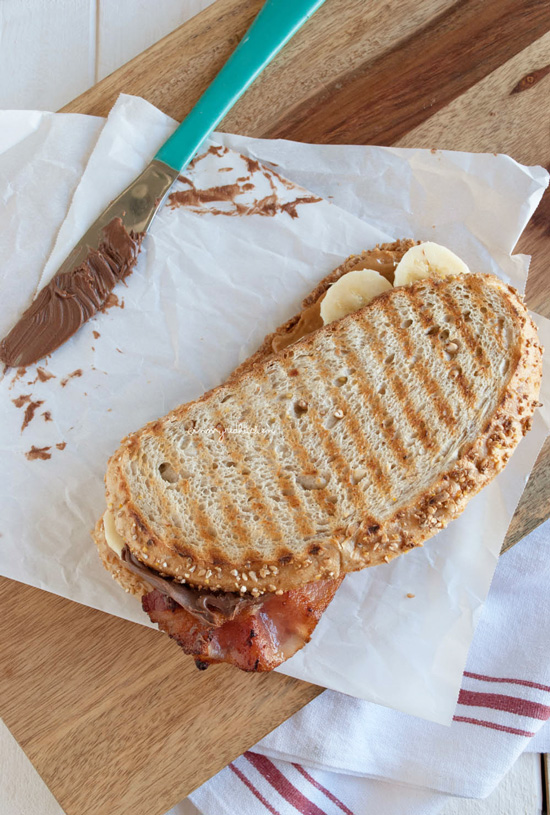 A few years ago a friend introduced me to the 'snickers toasti': white bread with peanut butter and nutella popped in the contact grill et voila: you have a grilled sandwich that tastes like snickers! That is still a regular quilty pleasure of mine that I make every now and then. When we discovered a new-to-us brunch spot in Venice a few weekends ago something struck me immediately on the menu: NUTTY MONKEY… an English muffin with peanut butter, nutella and banana. I thought it was genius. Optional was a slice of bacon added to it. I had to have that!
And yes, I loved it!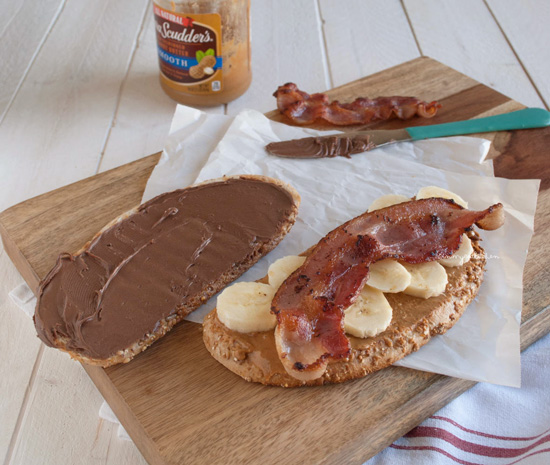 At home I made it a few times already, as a sandwich. You can hardly call this a recipe but because I think it's so good, I'm sharing the recipe for this peanut butter nutella and banana sandwich anyway 😉
And of course the bacon is optional, I think it's super tasty, but feel free to leave that out.
Peanut butter nutella and banana sandwich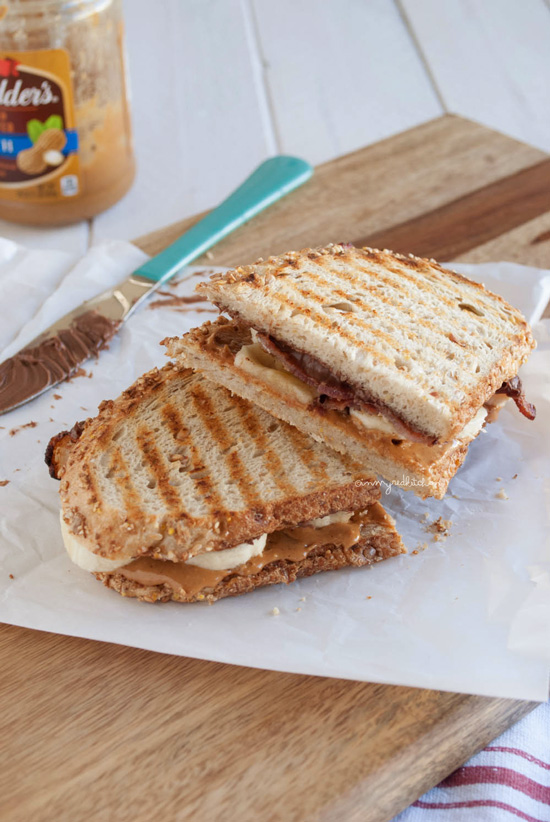 This guilty pleasure makes a nice lunch!
Ingredients
2 slices sourdough bread
1 Tbsp peanut butter
1 Tbsp nutella
½ banana, sliced

optional:

2 strips of cooked bacon
Instructions
Toast the bread, I like to do that in a contact grill so you get nice grill stripes.
Spread the peanut butter on 1 slice of toasted bread, and the nutella on the other slice.
Place the banana on the peanut butter side, and for an even more amazing sandwich: place the cooked bacon on top.
Finish the sandwich by placing the slice of nutella toast on top (with nutella side facing down of course).
https://www.inmyredkitchen.com/peanut-butter-nutella-banana-sandwich/
Copyright Ellen Bannink- in my Red Kitchen
Enjoy!