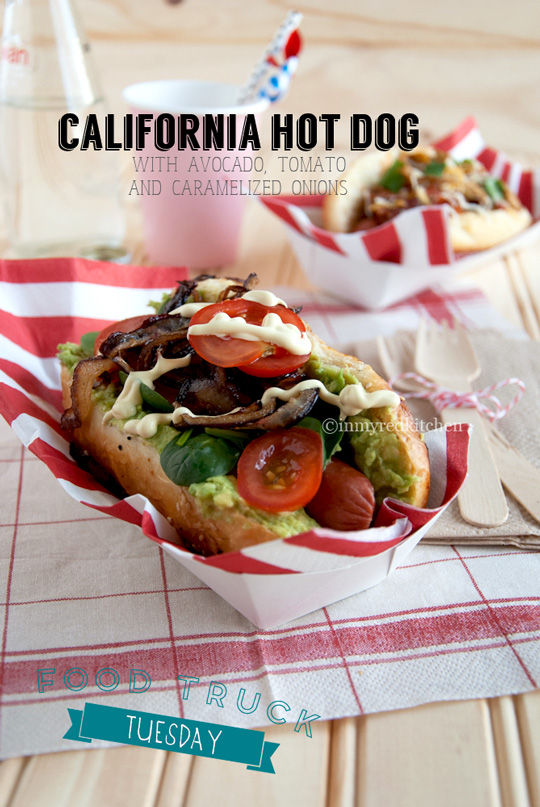 – Click here for this recipe in Dutch -> California hotdog –
Aaaaaand… another one! I already promised you a second hot dog recipe. For this second edition of Food Truck Tuesday I was planning to make the Chili dog I had at our first visit of an LA food truck.
And right before I was planning to make them we ran into the Dogtown Dogs truck again, this time at the LACMA at a Sunday when we went to the La Brea Tar Pits. We were into a small and quick lunch at 3pm. Yes, on Sundays we always take it slow and easy 🙂 Big late brunch, small lunch late in the afternoon and dinner at the regular time. Instead of paying a lot of money for a lunch at the museum restaurant we headed over to the food truck line up across the LACMA.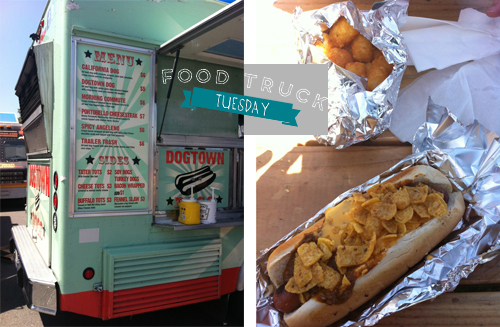 I didn't order the chili dog but opted for the lighter California hot dog instead. I'm still working on my weight loss and this looked like a healthier version of fastfood to me! And yum, it was…. delish! So I'm not only sharing a recipe for Chili dogs today. No, this California hot dog can also be yours!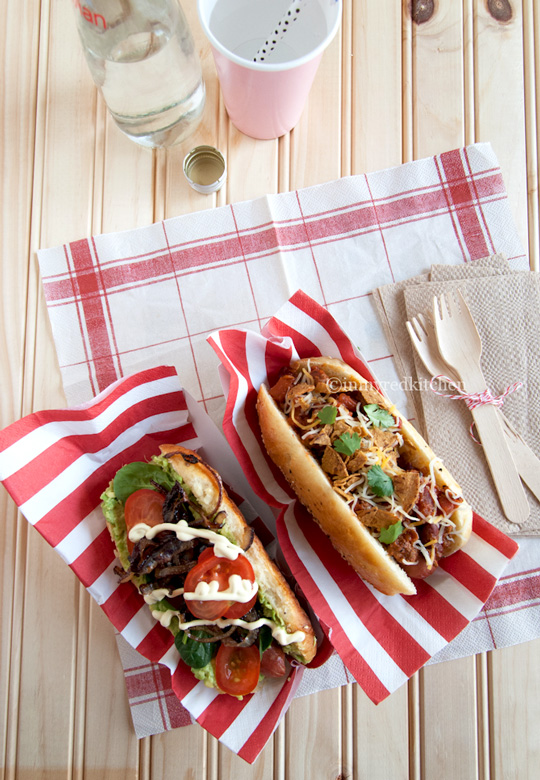 The avocado puree works perfectly with the salty hot dog. I used soft baked onions instead of crispy onions and I added some chili oil to the avocado puree to spice things up. And spinach! Don't forget about the spinach, it's delicious and I always have spinach in the fridge. Don't worry, you can also use arugula!
Just make sure to buy organic hotdogs and make your own hot dog buns or buy buns of good quality. So much tastier and better for you.
Fast food made healthy, use organic hot dogs for these delicious California hot dogs and serve them with avocado, spinach, red onions and tomatoes. How Cali can it get?
Ingredients
1 Tbsp butter
½ red onion, sliced
2 avocados
1 Tbsp chili oil
4 hot dogs (preferably organic)
4 hot dog buns
2 large tomatoes, sliced
2 handfulls spinach

mayonaise for serving
Instructions
Heat the butter in a skillet over medium high heat. Cook the onion until soft. Set aside.
Peel the avocados and mash them with the chili oil. Set aside.
Prepare the hot dogs and buns.
Spread the avocado puree on the buns, put the hot dog on top. Garnish with spinach, tomatoes and the onions.
Serve with mayonaise.
https://www.inmyredkitchen.com/food-truck-tuesday-california-hot-dog/
Copyright Ellen Bannink- in my Red Kitchen
Enjoy!