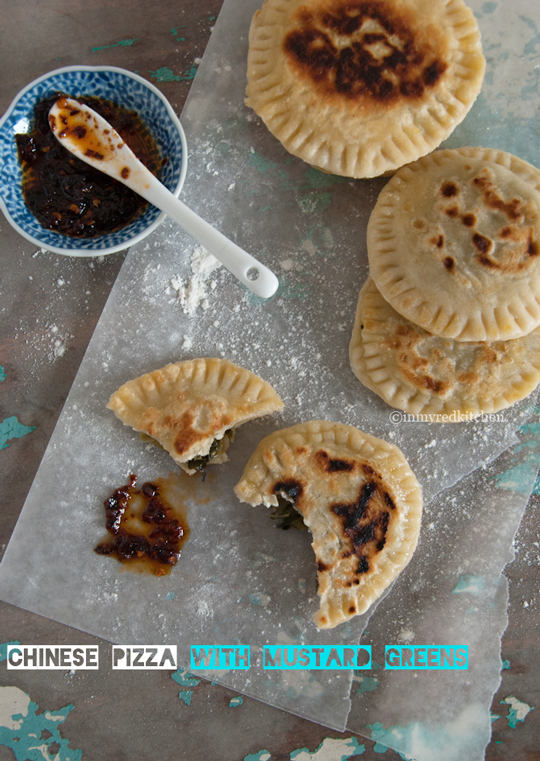 'Chinese sauerkraut', that's how my Chinese aunt calls mustard greens. And she is right, it dóes taste a little like sauerkraut.
I can remember eating a kind of pita bread filled with sour greens and onion in China. One of my aunts cousins (or at least that's what I think he was) took us on a day trip into the mountains while we where there. No idea where these mountains were, but it sure was beautiful! We drove the whole day and at one point we stopped at a river for a swim.
The river had a wide pebble stone shore and there was a stand where a Chinese couple sold bathing suits. That came handy because we didn't expect to take a swim. We (my little cousins, my brother and all the Chinese relatives that came with us) all bought bathing suits, swim shorts and inflatable boats for a little fun in the water.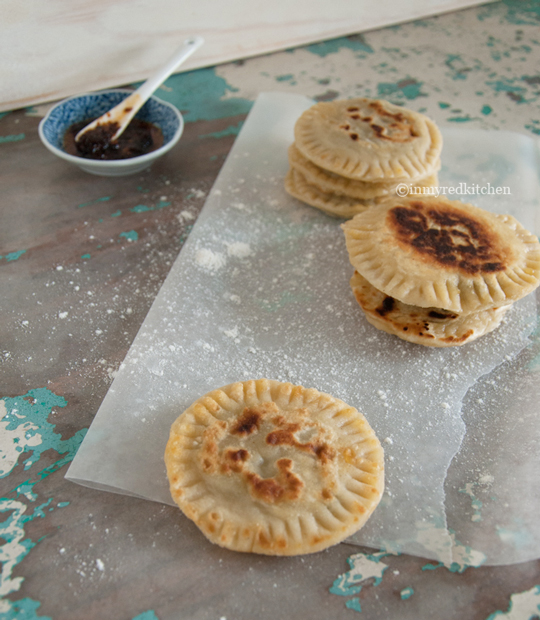 We ate dried squid and little cucumbers that actually tasted like cucumber and not as a crispy stick of water. Now I know these little cucumbers are Persian cucumbers and I always have a bunch in the fridge. That dried squid was also really good, I tried several kinds that I found at the Chinese supermarkt ever since but none of them taste as good as the real Chinese ones 🙁
After our swim we drove further up the mountains again to stop at our final destination where we had to walk over a big rope bridge to go to a restaurant for some roasted lamb. All I remember is that it was a weird place and besides the lamb (like a WHOLE lamb) I cannot remember we had other food there.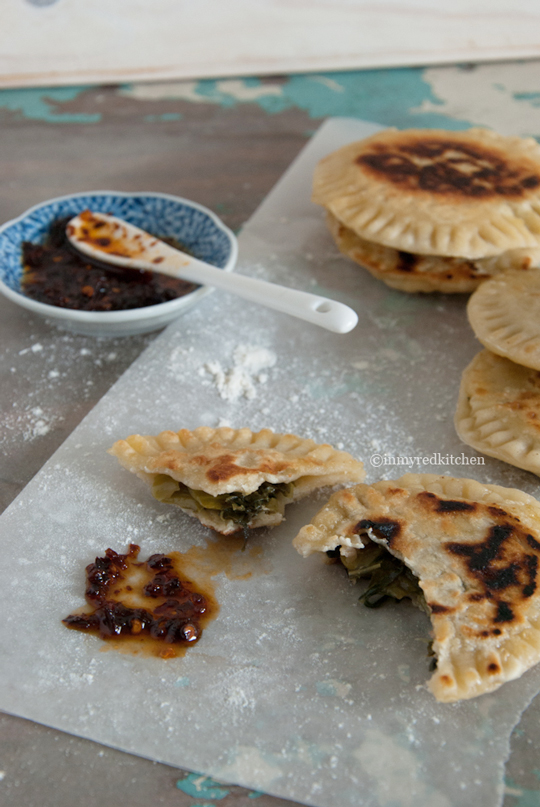 But somewhere that day we also stopped for Chinese pizza with mustard greens. Or at least that's what my aunt calls it, I don't know if it is a real Chinese dish or she made it up. But it sure is delicious!
She taught me how to make it and it's really simple and yet so delicious! And the best part of it? Bacon! The salty bacon combines really good with the sour mustard greens, yum! I could eat this every day!
Chinese pizza with mustard greens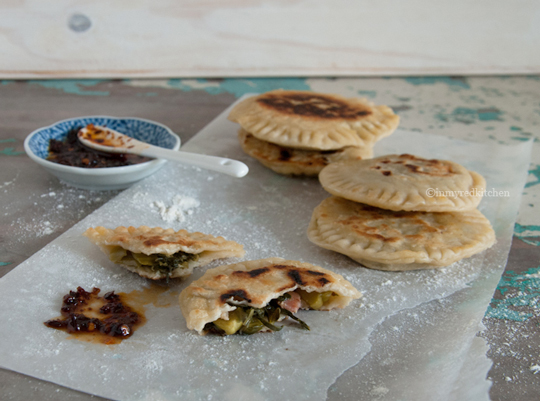 These Chinese 'pizzas' are filled with sour mustard greens and salty bacon, it's a great snack or side dish for soup!
Ingredients
2 cups flour
1 tsp sugar
1 tsp salt
2/3 cup water
6 slices of thick bacon (approx. 6 oz)
0.5 lb mustard greens
Instructions
Mix the flour with the sugar and salt and start adding the water. Do this bit by bit, until everything is combined. Knead with your hands until a stiff dough forms. The dough can't be sticky, so add a little extra flour if you need to.
Set the dough aside.
Cut the bacon in small pieces and fry them in a skillet over medium-high heat until slightly done.
Cut the mustard greens also in small pieces and add them to the bacon in the skillet. Cook for another two minutes until everything is heated through and combined. Set aside
Roll out the dough on a floured surface until thin. The dough can be elastic, so push extra hard to roll out the dough, keep trying!
Use a glass or cookie cutter to cut out 4 inch circles (approx. 24 circles). Spoon a small portion of the mustard greens filling into the centers of half of the circles, leaving enough of a border around the filling. Place a second dough circle atop each filled circle then use a fork to crimp the edges together, sealing each pizza.
Heat a clean skillet over medium-low heat and add a little drop of canola oil. Cook the chinese pizza's on both sides until light brown and the dough is cooked.
Serve warm!
https://www.inmyredkitchen.com/chinese-pizza-mustard-greens/
Copyright Ellen Bannink- in my Red Kitchen
Enjoy!