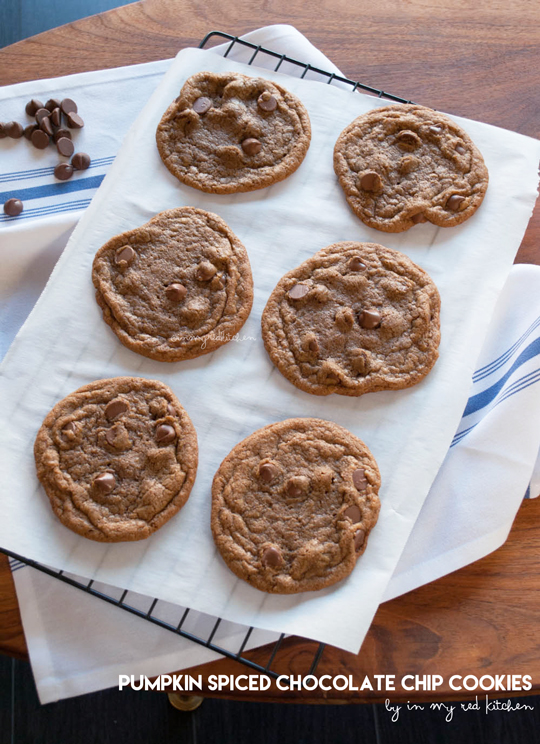 – Click here for this recipe in Dutch -> Speculaas chocolate chip koekjes –
Not that long ago I received a message from a good friend who is a photographer and studio manager for a well-known brand. Did I want to bake cookies…
Bake cookies? Of course! She needed cookies for a photo shoot with a little girl. Of course she could go to the store to buy cookies but she thought I might like it to bake the cookies. Well, you bet I will! 
She needed some super big cookies that had a vintage feel. The first thing that came to my mind were massive chocolate chip cookies with crispy edges and soft centers. And 'tis the season' so I added some pumpkin spices to the dough. They turned out great! To be honest I'm not a big fan of pumpkin spiced but these cookies had the perfect balance between the soft pumpkin spiced cookies and the chocolate.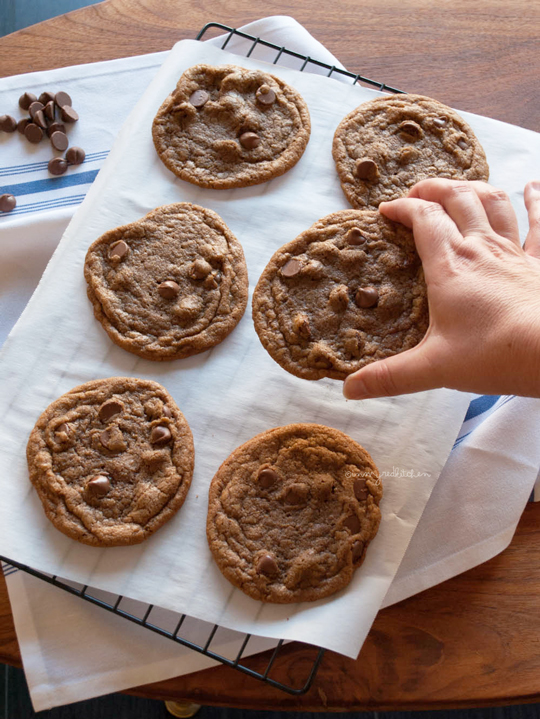 Unfortunately I couldn't attend the photo shoot (I had other plans that day) but I was told that the little girl ate almost 3 of those massive cookies! Wow! I think that's a compliment right? I saw the results of the photos and the pumpkin spiced chocolate chip cookies were perfect for it, so fun!
(ánd so delicious!)
Pumpkin spiced chocolate chip cookies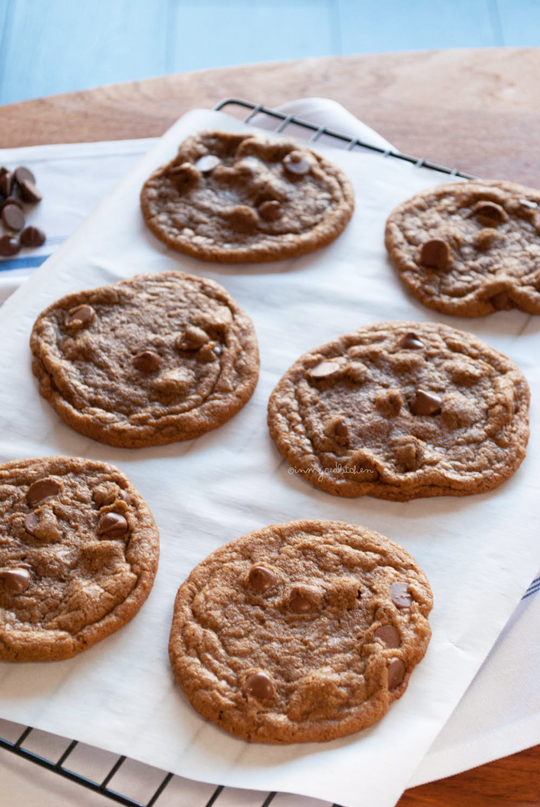 Tis the season for Pumpkin spiced chocolate chip cookies!!
Ingredients
2 sticks unsalted butter
1 cup packed light brown sugar
1 cup packed dark brown sugar
1 large egg
1 large egg yolk
1 ½ tsp vanilla extract
2 tsp pumpkin spice mix
2 ½ cups sifted pastry flour
½ tsp kosher salt
½ tsp baking soda
1 cup semisweet chocolate chips
Instructions
Place butter in a sauce pan and set over low heat until just half is melted. Cool for 5 minutes.
Pour cooled butter into a large bowl. Add sugars and whisk to combine. Whisk in egg and yolk, one at a time, then whisk in vanilla and pumpkin spice mix. Set aside.
In a medium bowl, whisk together pastry flour, kosher salt and baking soda.
Add dry ingredients one third at a time, to wets, mixing with a rubber spatula or wooden spoon to combine. Fold in chocolate chips until evenly distributed.
Wrap bowl with plastic wrap and refrigerate for at least 20 minutes.
Preheat oven to 325 degrees F, with racks in lower and thirds of oven. Line two baking pans with parchment paper.
Form dough into balls about the size of whole walnuts and place 2 inches apart on prepared baking sheets. Push each cookie down gently.
Bake for 10 to 12 minutes, or until edges are light brown and centers are still wet. Don't overbake, they're better off soft.
Let the cookies rest for 2 minutes and then transfer cookies to a cooling rack. Let cool for at least 1 hour before serving.
http://www.inmyredkitchen.com/pumpkin-spiced-chocolate-chip-cookies/
Copyright Ellen Bannink- in my Red Kitchen
Enjoy!