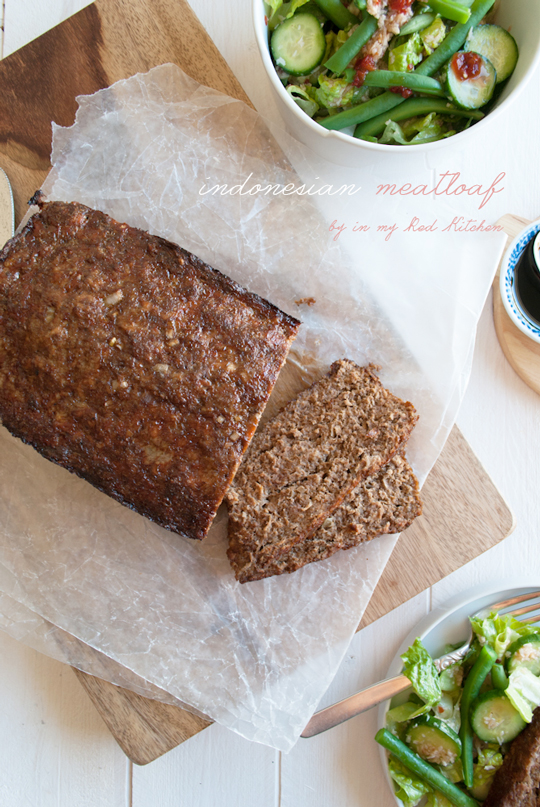 – Click here for this recipe in Dutch -> Indonesisch gehaktbrood –
Talking about food makes hungry right? Well, my friends know that I can talk about food constantly, whole day every day, so that is exactly what I love to do! Yeah d'oh, what do you think? Why did I start this blog in the first place? 😉
Last weekend it happened again, a long talk about food. About Indonesian food this time, the friends that we were travelling from SF to LA with grew up with lots of Indonesian food, something I can really be jealous about! I can't wait until we will be invited over for dinner (this is not a hint. Or maybe it is…). Two days later, when we returned from our roadtrip, I also read article about Indonesian restaurants in LA. Which we still haven't tried btw… Our Indonesian food intake is limited to those two times I've cooked Indonesian food at home. All the more reason to grab my favorite cookbooks (Boekoe Bangsa and Boekoe Kita) and start browsing recipes! Because cooking some Indonesian food, that's what I wanted to do this week.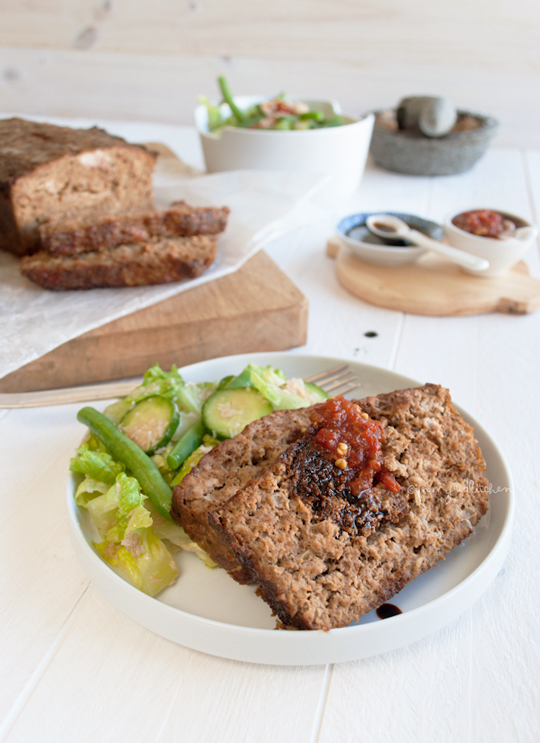 But suddenly I realized that I also had to create a recipe for the Dutch Food Blog Swap* this week, so I had to do that first. This month I had to cook a recipe from Manzjare, the blog of Jolanda. I put my cookbooks aside and spent hours browsing her website. What a lovely blog with great recipes! Jolanda is a good writer and she cooks delicious international recipes, so that's right up my alley! American recipes, but also Turkish, Greek, German and Southern Dutch recipes (from the area where she grew up and still lives).
I was looking for a savory recipe, because I've already posted enough sweet recipes lately. Time for proper dinners on tha blog! But please not too difficult or too savory, because summer is at full bloom in LA so we're eating a lot of salads in the evening. The coleslaw on Jolanda's blog looked appetizing, Mexican salad with kidney beans sounded good too, but I kept coming back to the Meatloaf. Quite easy to prepare and so versatile.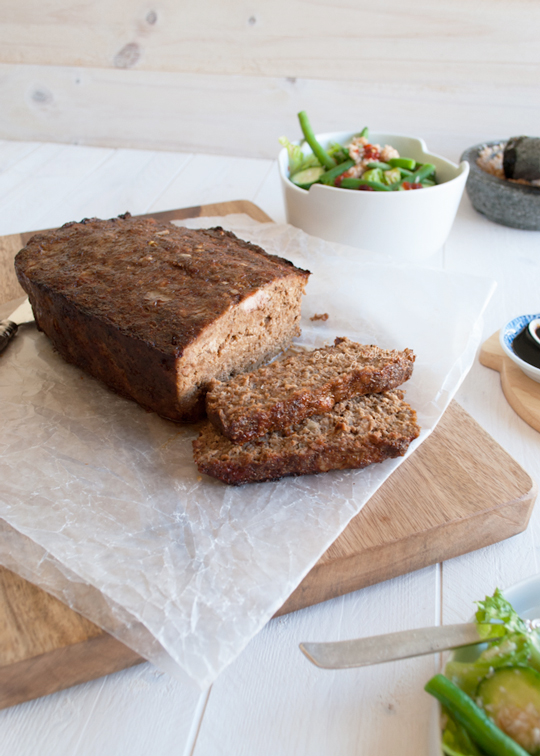 You can eat a slice of it (or two, or three) as part of your dinner, but also cut it in smaller pieces to snack on. And what do you think of thinly sliced on a sandwich? Right, exactly what I put in P's lunchbox today! Serve this meatloaf with a little extra sambal and ketjap manis, because this is not just a meatloaf. It's an Indonesian meatloaf! Because why can't I combine my desire to eat Indonesian food and cooking for the Food Blog Swap?
I read some recipes in my Indonesian cookbooks and created my own recipe. And here it is: an Indonesian meatloaf that I served with a delicious salad of green beans from the book Boekoe Kita. So, what are you waiting for? Make this meatloaf because it's great! And now off to stuff my face in a few slices for lunch. Did I told you that you can also eat it cold? 😉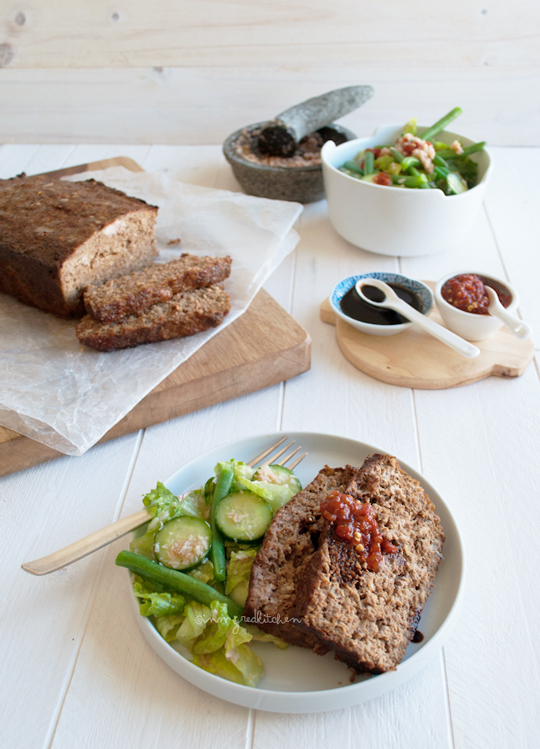 Meatloaf with an Indonesian twist, so delicious! Serve it with a coconut & grean bean salad and your meal is complete!
Ingredients
1 onion
3 eggs
5 Tbsp panko
3 Tbsp Ketjap Manis
1 tsp ground nutmeg
¼ tsp ground cloves
salt & black pepper to taste
1 ½ lbs ground beef
1 lbs ground pork
butter
Instructions
Preheat the oven to 360 degrees F.
Finely chop the onion, beat the eggs and mix this with the other ingredients and the meat.
Use your hands to thoroughly mix it until it feels solid.
Use the butter to grease a cake pan, add the meat and press down:
Transfer to the preheated oven and bake for 45 – 50 minutes until done.
Take out of the oven, carefully drain the fat (use aluminum foil to hold the meatloaf in place) and leave to rest in the pan for 10 minutes.
Serve the meatloaf immediately to serve it hot or leave it to cool in the fridge, wrapped in aluminum foil.
http://www.inmyredkitchen.com/indonesian-meatloaf/
Copyright Ellen Bannink- in my Red Kitchen
Enjoy!
* The Food Blog Swap is a monthly culinary exchange between Dutch food blogs.