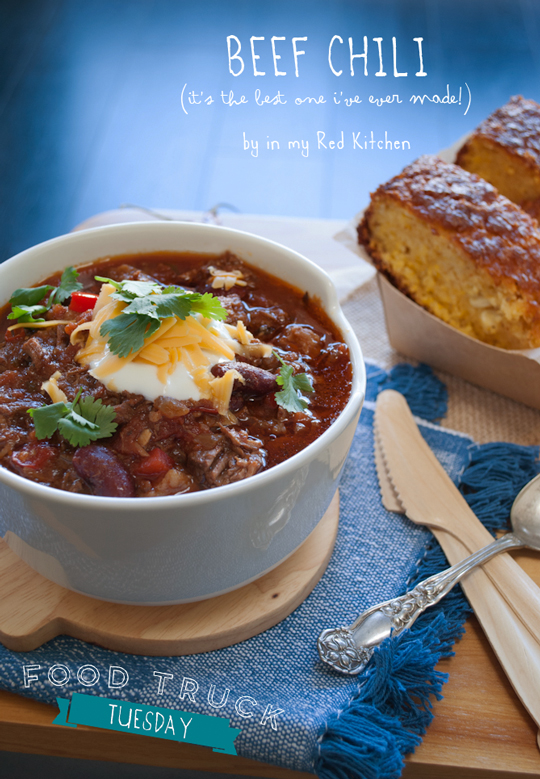 – Click here for this recipe in Dutch -> Chili con carne –
This is seriously thé MOST DELICIOUS beef chili I've ever made. Not that I made chilli that many times before, but still.
I made this beef chili for a new edition of Food Truck Friday, and today we grab some dinner at The Chili Philosopher. This food truck is now driving around LA for 10 months they serve a divinely tasty chili. Since I ate their amazing Turkey chili with jasmine cornbread 4 months ago I'm sold! And now I must admit that I don't even look at the other food trucks anymore when I know The Chili Philosopher is present at the Santa Monica Food Truck Lot.
Because I know it for sure, I must and will eat chili that night. The turkey chili is still one of my favorites but the chili fries (put an egg on it!) and the triple beef chili are also incredibly delicious. Exactly spicy enough, with super soft meat and a very flavorful sauce. And that cornbread! Wow, I was never a fan of cornbread but The Chili Philosopher has converted me. It is the perfect sweet side dish to the spicy chili.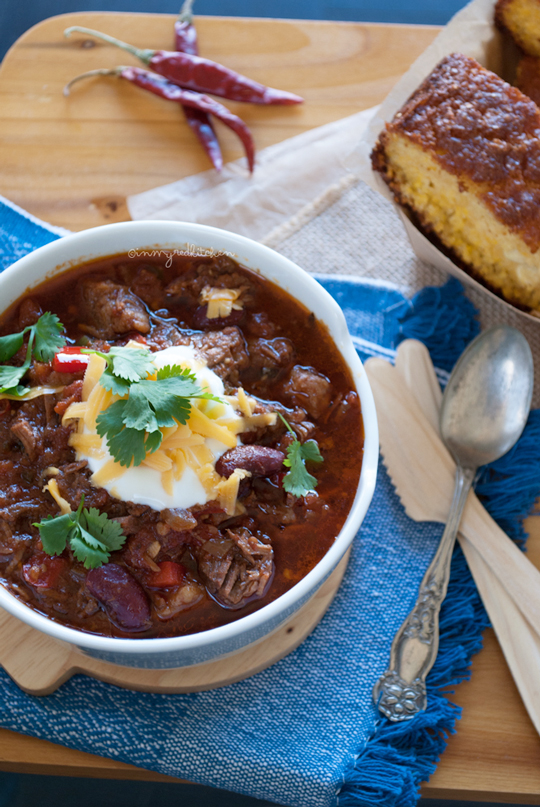 Okay, it's clear now that I'm a secret admirer of this food truck 😉 On Instagram I was asked whether or not I could make the chili for in my Red Kitchen. But uh…. I have no experience with making a good chili, let alone making cornbread. No excuses… the contact with The Chili Philisopher and his muse was easily made and they were willing to share their recipe for that delicious sweet cornbread with me. How nice of them, right?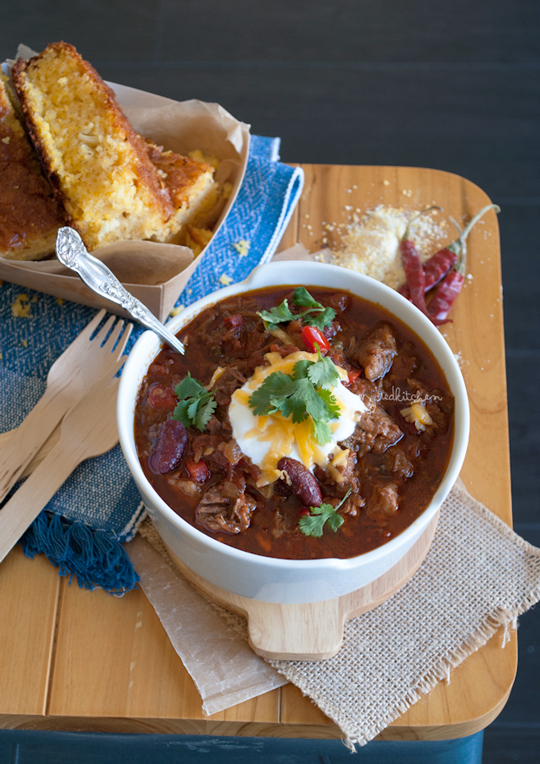 But first we have to make the chili, because that is obviously the base. Without chili no cornbread!
Because of my own inexperience with chili I turned to another food hero of mine, Jamie Oliver. In his book Jamie's America
I found a recipe for chili that was quite appealing to me. This couldn't fail! And indeed, the result was a delicious chili that was just spicy enough, full of flavor with tender soft beef. A tip: the day after cooking it's even more delicious and full of flavor. This is probably because of the coffee used in this recipe. So! Now you know why I soaked those dried chiles in the coffee last week 😉
Time to start making chili!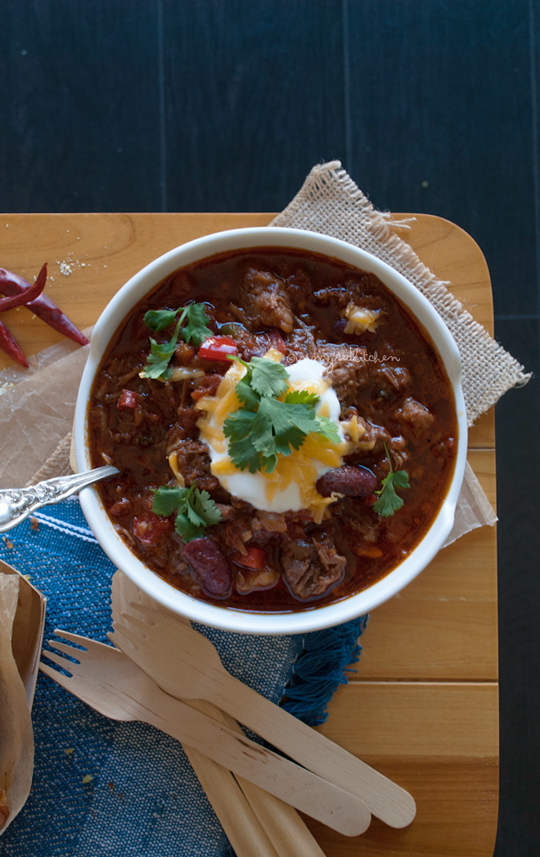 Jamie Oliver's Beef chili is perfect for rainy days. And summer days.... ah what the **, chili all day every day!
Ingredients
2.5 lbs beef brisket or chuck, trimmed and sliced into 1" thick pieces across the grain
1 cup hot coffee
2 dried red chili's
2 Tbsp olive oil
1 red onion, peeled and diced
1 heaped tsp cumin
1 heaped tsp smoked paprika
1 tsp dried oregano
1 bay leaf
1 or 2 fresh chili's
1 cinnamon stick
5 cloves of garlic, peeled and finely sliced
sea salt and freshly ground black pepper
2 14 oz cans of chopped tomatoes
1.5 Tbsp molasses, muscovado sugar or coconut sugar
1 red bell pepper, deseeded and sliced
1 14 oz can of kidney beans, drained

sour cream, grated cheddar & fresh cilantro to serve
Instructions
Ask the butcher to trim and slice the meat. If you're doing it yourself, carefully trim the meat by discarding thick pieces of fat or silver skin. Cut the meat against the grain in 1 inch thick pieces.
Make the coffee and soak the dried chili's in it for a few minutes.
Place a large dutch oven on low heat and heat the olive oil. Add the onions, cumin, paprika, oregano and bay leaf. Fry for 10 minutes until the onions are soft.
Deseed and chop 1 fresh chili. Slice the dried chili's and add them to the pan, along with the fresh chopped chili, the cinnamon stick, sliced garlic, some salt and pepper and a splash of the chili-infused coffee. Stir, then add the rest of the coffee along with the canned tomatoes and the molasses (or sugar).
Add the meat and some more salt and pepper, cover with a lid and let is simmer for at least 3 hours, stirring occasionally.
Remove the bay leaf and cinnamon stick and use 2 forks or a potato masher to break up the meat and pull it apart.
Add the sliced pepper and beans and leave to simmer, stirring occasionally for 30 minutes with the lid off until the meat is completely falling apart and delicious.
Taste the beef chili and add the extra fresh chili if you want more spice.
Serve with the sour cream, grated cheddar, fresh cilantro and fresh baked corn bread.
http://www.inmyredkitchen.com/beef-chili/
Copyright Ellen Bannink- in my Red Kitchen
Enjoy and don't forget the cornbread!
Every first Tuesday of the month it's Food Truck Tuesday at in my Red Kitchen! Curious about the other Food Truck Tuesday recipes? Click here!