Last week we drove up to San Francisco. P had to go for work so we decided I went along plus we extended our stay for two nights. And best of all: we went by car instead of flying so we could drive back over the Pacific Coast Highway on Sunday!
Like, best decision ever! I drove up the PCH once, in October with my brother and his girlfriend. We didn't plan our trip well because by the time we arrived at the beautiful part -Big Sur- it was already getting dark 🙁 So this time P and I decided to do it better!
On Wednesday afternoon we took highway 5 – straight to SF. I packed up some sandwiches (from Mendocino Farms – so good!) and these fennel pork bites to keep us going.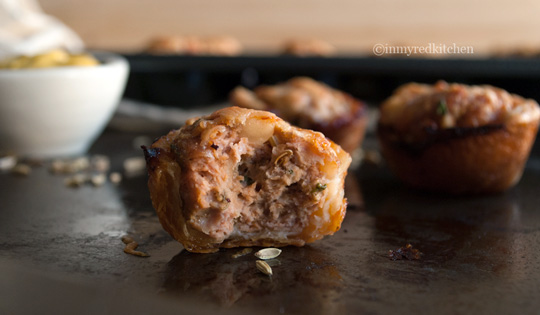 While P was working on Thursday and Friday, I finally started project 'Rebranding my blog', did some shopping and finally bought jeans that fitted me right! Yay for loosing 22 lbs and buying 'normal' jeans at GAP 😉
On Saturday we went to an amazing exhibition of the work of Tyrus Wong. It runs till February 3 so go and see it if you're around. It's super beautiful, we both loved it!
After that we drove over the Golden Gate bridge to go to Point Reyes to see the lighthouse. Only to found out at 3.05pm that the ticket sale for the shuttle bus ended at 3pm. Boohoo! But, nevertheless, it's beautiful out there, we even saw a elephant seal. That was amazing, not knowing that we would see whales the next day – even better and more impressing 😉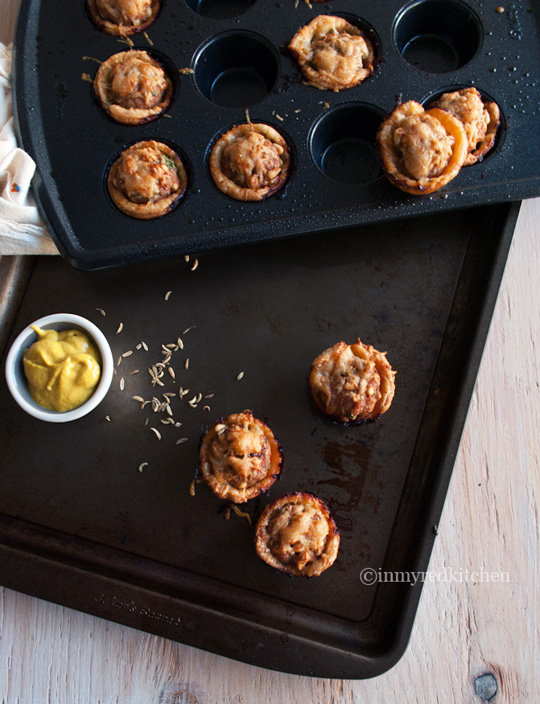 Driving through the wilderness of Point Reyes I suddenly decided that I cóuld live there, without any shops, theaters and restaurants around. I somehow starting to picture myself in a big house with a nice kitchen, a fireplace and huge living room in the woods. Hmmm… I could make that work! Spending my time with cooking, reading books and the news paper instead of wasting time on the internet and watching tv.
But I still see myself as a city girl, and I prefer LA over SF. I don't know, San Francisco looks so small to me and although it's beautiful, everything seems the same.
LA is an ugly city but it keeps surprising me. It has so much to offer! The Santa Monica Mountains with it's huge mansions and beautiful nature for hiking, the arty side of Venice, the great food at the San Gabriel Valley and the funky vibe in West Hollywood. I love it all! And if it's up to me: I'm not leaving, not in a million years! 😉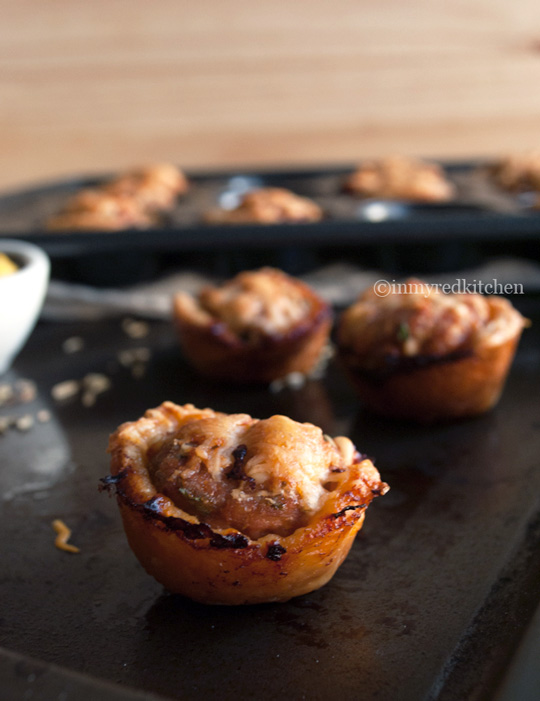 And to celebrate that I've found a home away from home I made these fennel pork bites. They go so well with a glass of sauvignon blanc or -ok- with beer. And that makes them a perfect Superbowl snack. I remember last year, watching the Superbowl in the middle of the night because of the time difference. Me, dancing in my pajamas on Beyonce's music and P explaining the rules of football to me 😉 After the blackout we gave up, we were too tired so we went to bed.
So you understand that this year I'm really excited to watch the Superbowl during day time, with friends, food and drinks.
And with these fennel pork bites! I'm sure you will love them too!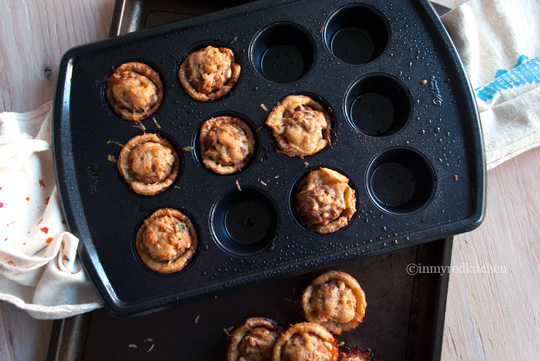 Easy porkbites with just a few ingredients, the fennel and pork go well with a glass of white wine or beer of course. Perfect snack for a Superbowl party!
Ingredients
2 sheets puff pastry
1 lb ground pork
2 Tbsp fennel seeds
1 Tbsp tomato paste
2/3 cup pine nuts
1 ½ cup grated parmesan (divided)
2 sprigs of parsely, leaves only
pepper & salt to taste

mini muffin tin
Instructions
Leave the puff pastry to thaw on the counter for one hour.
Mix the ground pork with the fennel seeds, tomato paste, pine nuts, 1 cup grated parmesan and the parsley leaves. Add salt and pepper to taste, cover and place the bowl in the fridge for one hour.
Preheat the oven to 390 degrees F.
Use a cookie cutter (of 2.5 inch) to cut out 32 rounds of the pastry dough.
Press the puff pastry rounds in the muffin tin and roll little balls from the fennel pork. Press the meatballs in the puff pastry and top with the remaining ½ cup parmesan.
Bake in the oven for about 20 minutes, until golden brown and done.
Serve with yellow mustard to dip.
https://www.inmyredkitchen.com/fennel-pork-bites/
Copyright Ellen Bannink- in my Red Kitchen
Enjoy!